Andrés Carrión new Junior European Champion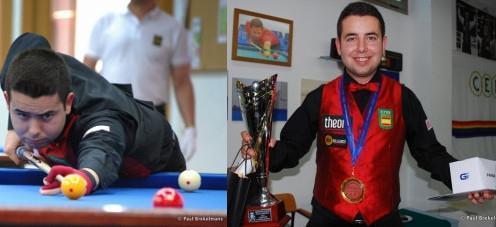 The 20 year Spanish champion Andrés Carrión has conquered the European junior title in front of his home crowd in Los Alcázares, Spain. The Spanish national team coach, Jose Maria Quetglas, says that Carrión is seen as one of the great talents for the future. The gold winner defeated the strong German Tom Löwe after a blistering start (18-4) with 30-21 in 27 innings.
The new European champion, one of three Spaniards in the tournament, showed himself very pleased with the title. "I practiced a lot for this championship and at least, the big success is there. My average, 1.050, makes me happy. I hope that I can play so good later this year at the World championship in Hurghada'', said the champion, who has stopped with his studies and is working in a furniture company.
Read the entire story from our friends at Kozoom.