Professor-Q-Ball Puts "3C" Billiards in Super Billiards Expo
The Allen Hopkins Super Billiards Expo, held this year in Oaks Pennsyvania at the Greater Philadelphia Expo Center April 14-17 is well-known to pool players everywhere. With the multiple events and an array of vendors it's a pocket-billiard players dream. But there is another game that was on display again this year at the event. A game that can challenge the skills of any pool player who can stroke a cue-stick - three-cushion billiards. Played on a larger 5'X10' table, and with simple rules, the game continues its re-birth in the USA. And Paul Frankel aka Professor-Q-Ball continues to be one of its greatest ambassadors.
Holding even one event is a challenge for any promoter or tournament director. So you can imagine the challenges faced by Professor-Q-Ball as he coordinated three separate events at this year's SBE. From bringing in two beautiful Gabriels three-cushion billiard tables, to organizing tournaments, matches and clinics, Paul was able to do it all to promote the game of 3-cushion. And the amazing thing is he made it look as easy as 1-2-3.
One - Three Cushion Invitational Team Tournament
Twelve players with all skill levels were invited to play in a team challenge event. The captains were selected and the teams were chosen by draw. The format was a round robin race to 12 capped by 25 innings. Former national champions, women stars, and some great names from USBA history played side-by-sde. Here is the chart which tells the tale: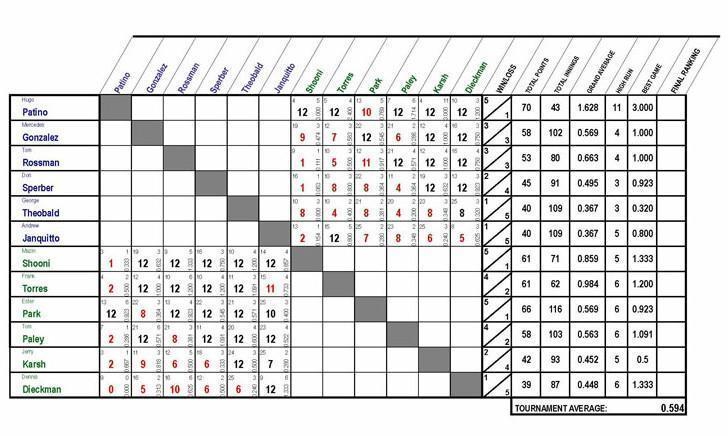 Best game and high run went to Hugo Patino with 12 in 4 innings (he did that twice!) and an unbeatable high run of 11. But his 5-1 record was not enough to carry his team who fell to Team B. Team B collected $$3000 in prize money while Team A received $1800. Pictures of the players and a short bio of each is found in the Image Gallery below.
Two - Three Day Three Cushion Open Tournament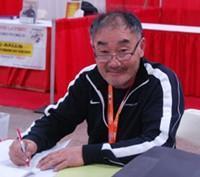 Each evening for three nights an open tournament with a race to 5 was held. This short format gave every player, skilled or beginner, a chance to win. The play was limited to 32 players with a $20 entry. First place received $1000, second $250 and third $100. The event was fully subscribed every night and attracted both 3-cushion and pocket billiard players to take the challenge. Pictures of the winners for each night can be found in the Image Gallery below. Many thanks to our generous sponsor Yura K Ra and his company Nothing But Billiards.
Three - Special Three Cushion Clinic for Youths 18 & Under
There is no denying that youth is the future of any sport and billiards is no exception. On April 15, 2016, a very special event took place at the Super Billiards Expo in the 3 – Cushion arena before a standing room only audience. Over a dozen juniors (18 years of age and younger) participated in a unique "lag challenge" on the two beautiful Gabriel billiard (carom) tables. There was no charge to take the challenge and each player was presented with one or more billiard gloves valued from $8.00 to $24.00 each (donated by IBS).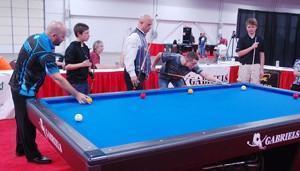 After taking the challenge, each player was given a "once in a lifetime" opportunity to receive "free" clinic lessons from two National Champions of the "carom art" – Hugo Patino (current) and Mazin Shooni. Learning the basics of the "no pocket" game and taking the 3 – Cushion Lag Challenge was a hit "combo," establishing a foundation of enhanced cue sport skills for our youth while providing special moments in billiard history to last a lifetime for all in attendance.
This year's triple play at the Allen Hopkins Super Billiards Expo would not have been possible without the help, support and generous contributions of so many billard players and lovers of the game. Thanks goes out to Dennis Dieckman, Yura K Ra, Tom Rossman, Hugo Patino, Mazin Shooni, Tom Paley and most of all Mr. Paul Frankel - Professor-Q-Ball.