Ahmet Ozan Qualifies for USBA National Championship
Houston player Ahmet Ozan has won the USBA National Qualifying Tournament held at Goodays Billiards on April 9. A small field was nonetheless very competitive and two games including the decisive final match were settled by one carom. Pictured above (L to R) Doug Deitel, Ahmet Ozan, Jorge Gonzalez and Jay Karahan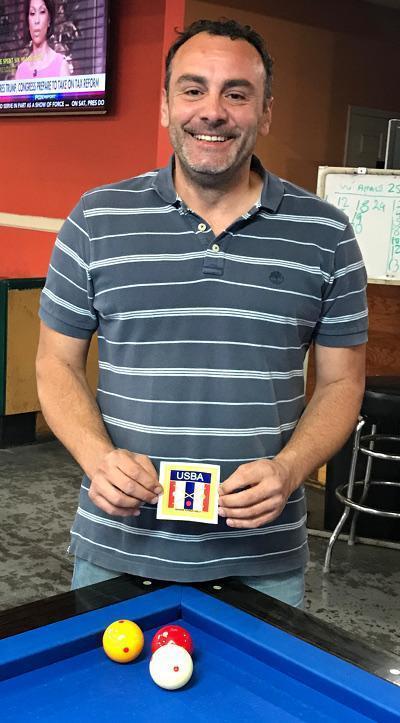 Goodays Billiards in Houston Texas has been a big supporter of 3-cushion billiards ever since new owners Tim and Eric Nguyen took over management just a few years ago. Their semi-regular one-day handicapped tournaments have attracted players from all over Houston to compete for cash prizes and even HP Laptop computers! So it was only natural that Goodays was selected to host the USBA National Qualifying Tournament in the Houston area.
Although Houston is known as a hot-bed of 3-cushion action, with 9 places to play and more than 40 top quality tables in town, very few players in the city are active members of the USBA. Most players will tell you they love the sport, and support the game, but just cannot budget the time and expense to travel to play in tournaments. Nevertheless, a small group of players got together this past Sunday and mustered up a one-day event to send one lucky winner to the USBA 3-Cushion National Championship to be held in Tucson, Arizona June 6-11.
Turkish player Ahmet Ozan, new to the Houston area but not new to billiards, has been playing down at Goodays for some time now and is known by many as a fierce competitor with a great depth of knowledge. His most recent success was a third place in one of Goodays' handicapped events.
On Sunday Ahmet's skills were again on full display as he went undefeated in the qualifier, capping his victory in the final match against Jorge Gonzalez who placed second. In that decisive game, in a race to 25, Ahmet jumped out ahead quickly with a run of 7 in the third inning. Jorge battled back and eventually took the lead. Then it was Ahmet who had to fight! He trailed, but stayed in the hunt, until finally catching Jorge who had first reached 24. With both players tied and on the hill in the tense closing moments, it was Ahmet who prevailed 25-24 to claim the victory. His high run of 7 was best in the event.
If Ahmet can sharpen his game even more he may be ready to surprise the field when he plays in his first USBA National Championship in Tucson this June. Congratulations and best of luck to Ahmet Ozan, our Houston National Qualifier.