Jae Ho Cho Wins 2017 Verhoeven Open
Exhibiting his typical calm and confident style, Jae Ho Cho (3rd from left above) of Korea won the 2017 Verhoeven Open Tournament held at the 3-cushion billiard palace - Carom Cafe in Flushing, New York. Facing some of the toughest competitors in the world in the final single-elimination stage, Cho bravely knocked down win after win.
Along the way Cho defeated Frederic Caudron in the quarter-final round and current World Champion Dani Sanchez in the semi-final round. His last match against Eddie Leppens (left) of Belgium was never in doubt as Cho notched a beautiful 40-19 win in 16 innings with a high run of 8. Also pictured above are 3rd place finisher Dani Sanchez (2nd from left) and 4th place finisher Semih Sayginer (right.)
The group picture (below) at the Verhoeven Open, a long-standing tradition, says it all. Men and women, young and old, talented and novice, all come together for a week of non-stop billiards. The smiles on their faces belie the competitive nature of the event. With an advertised prize fund of $34,750, but one that often exceeds the advertised level many times over, the players fought hard for every postion. The top prize this year was one of the highest ever at $9,000. The tournament format that led to that payoff consisted of three stages: Qualification Stage 1 where 132 players battled in 22 round robin groups of 6. Fifty players moved on to join the six seeded players in the Semi-Final Stage 2 where they were divided into 8 groups of 7 to play round robin. Finally, the top two from each group formed a 16-man Knockout Stage 3 to determine the champion.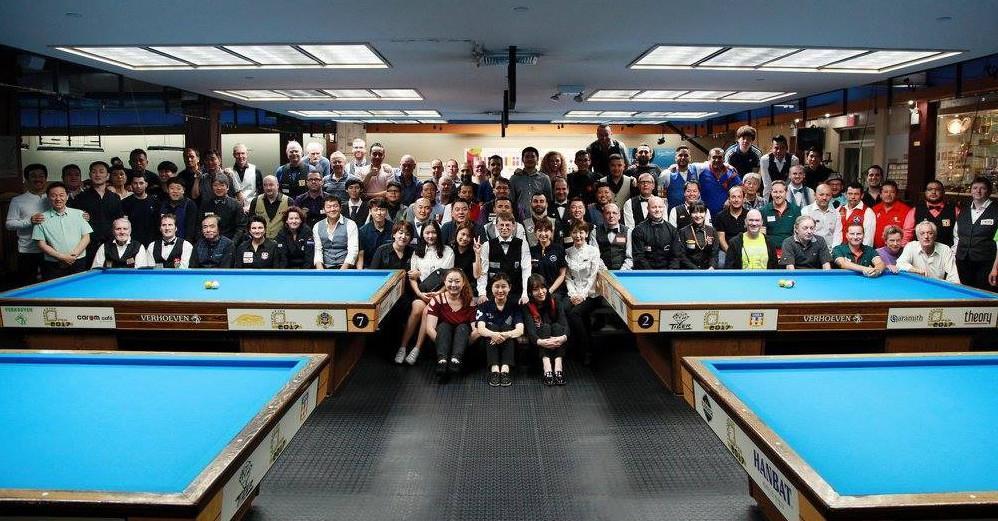 Tbe results and stories about the battles that took place in Stages 1 and 2 can be seen here: 2 Qual Stages Lead To Main Event At Verhoeven Open.
Coming out of the qualification stages the 16-man final group consisted of four Koreans, four Vietnamese, four Belgians and one each from Spain, Sweden, Netherlands and Turkey. A field of 8 Europeans facing 8 Asians. The battle was on! Here are the final rankings and players list of those that made it through to the final phase of the event. The order of finish assigned here determined the brackets of opponents for the knock-out round (see image on the right, below.)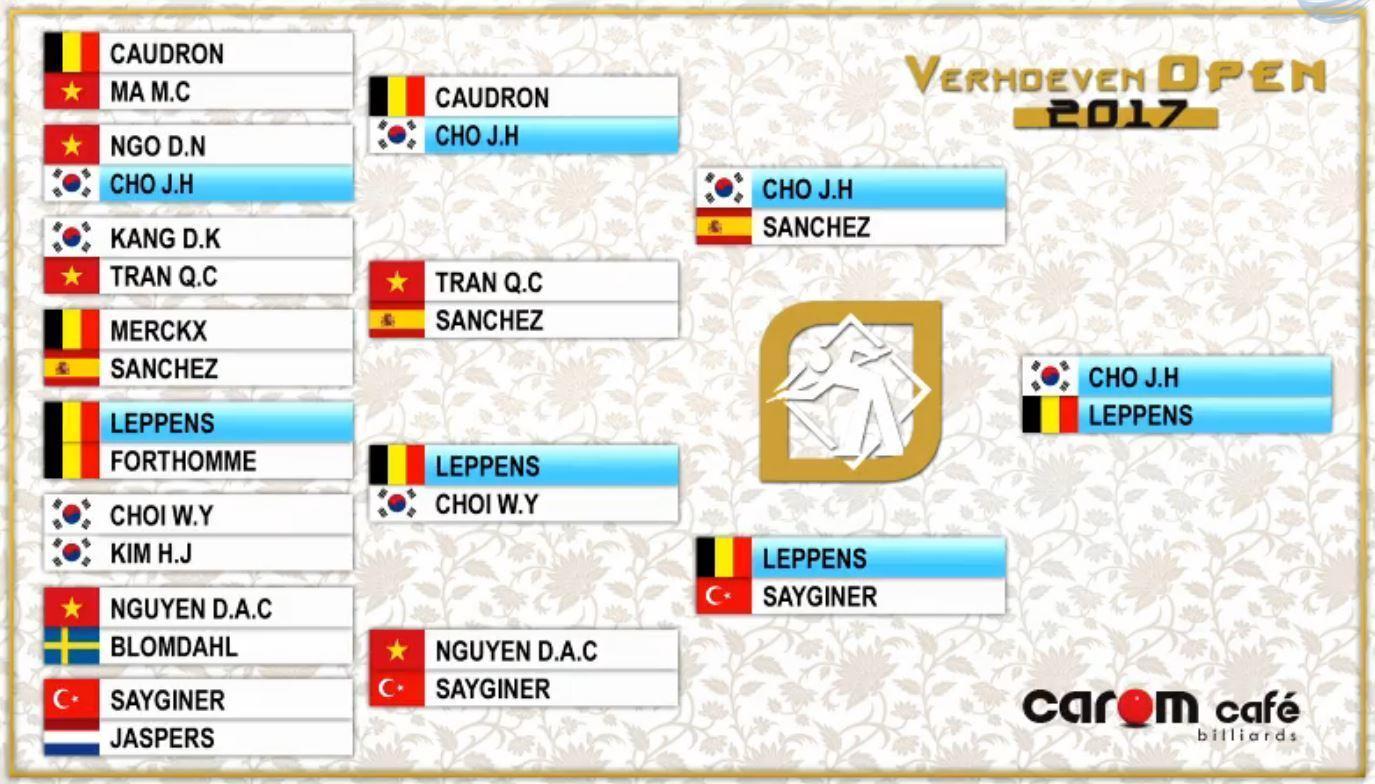 1 Frédéric Caudron 12-2.234
2 Dick Jaspers 12-2.211
3 Eddy Leppens 12-2.111
4 Dani Sánchez 12-2.165
5 Dong-Koong Kang 12-1,963
6 Haeng-Jik Kim 12-1.892
7 Duc Anh Chien Nguyen 12-1.591
8 Jae-Ho Cho 10-1.486
9 Dinh Nai Ngo 10-1.943
10 Torbjörn Blomdahl 10-1.821
11 Wan Young Choi 10-1.584
12 Quyet Chien Tran 10-1.571
13 Eddy Merckx 10-1.427
14 Roland Forthomme 8-1.904
15 Semih Sayginer 8-1,789
16 Minh Cam Ma 8-1.623
Jae Ho Cho, who was undefeated as a seeded player entering in Stage 2, having won all six games in his qualification round, was positioned right in the middle of the pack moving into the knockout phase. But his play only strengthened as the tournament went on as Cho marched to his historic victory.
In the round of 16 Cho defeated Dinh Nai Ngo or Vietnam who up until then was having a fantastic tournament and looked to be a contender. In his quarter-final round Cho faced former World Champion Frederic Caudron, the group leader out of the prelims who was averaging 2.234. But Cho was undaunted and consistently frustrated the Belgian, with the result Caudron played his worst match of the tournament, averaging only 1.190 with a high run of four. Caudron was out and Cho again moved on.
In his semi-final round the next to fall was current World Champion and number 1 ranked Dani Sanchez. Once again Cho baffled his opponent with consistent offensive runs and defensive moves. And once again one of the world's best suffered a sub-par performance as Sanchez went down averaging only 1.105 in a 40-21 loss. Jae Ho Cho was just one more win away from victory. He had faced some of the toughest players in the world and had prevailed.
In the final match Cho faced off against Eddie Leppens of Belgium Leppens had defeated fellow countryman Roland Forthomme and then barely squeaked past Korean revelation Wang Young Choi in a 40-39 nail-biter in his first two matches. In his semi-final match Leppens had faced former World Champion Semih Sayginer who has steadily upped his game since his return to competitive play. But the great Sayginer also met defeat as Leppens posted a strong run of 13 to seal his fate. Nonetheless, in the final showdown, it was the calm, steady play exhibited by Cho that ultimately prevailed. Jae got off to a quick start, opened a lead and was never in trouble as he marched to victory. Not since the late, great Sang Lee, the Korean/American player in whose room (and name) thie tournament was held, has a Korean occupied the top spot on the podium. The win for Cho surely will rank with his World Cup victory three years ago as one of his best and most memorable performances.
Here is the final ranking of the top 16 at the tournament close: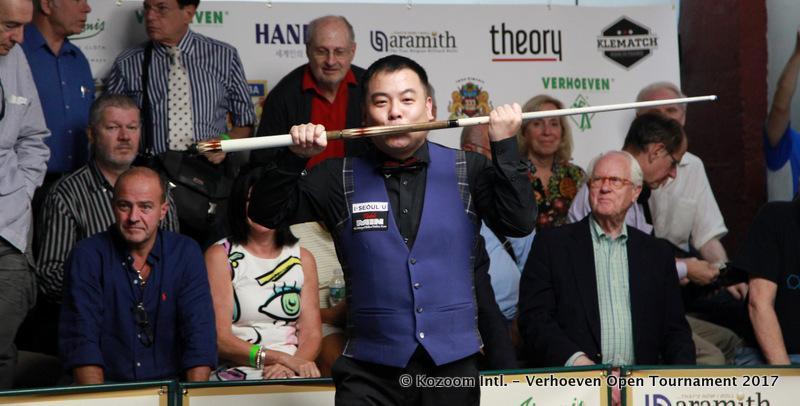 1 Jae-Ho Cho 1.650-10
2 Eddy Leppens 1.897-10
3 Dani Sánchez 1.847-11
4 Semih Sayginer 1.683-12
5 Duc Anh Chien Nguyen 1.602-12
6 Frédéric Caudron 2.055-14
7 Wan Young Choi 1.592-12
8 Quyet Chien Tran 1.573-12
9 Dong-Koong Kang 2.050-11
10 Roland Forthomme 1.960-14
11 Dick Jaspers 2.011-13
12 Minh Cam Ma 1.712-11
13 Haeng-Jik Kim 1.927-10
14 Dinh Nai Ngo 1.793-15
15 Torbjörn Blomdahl 1.724-15
16 Eddy Merckx 1.330-8
Complete charts and final rankings for each stage through the finals can be found here: 2017 Verhoeven Open Results
Thanks to Kozoom for their fantastic live-stream and replays of the event. Kudos to Charles Brown, Tournament Director. But most of all congratulations to the 2017 Verhoeven Open Champion - Jae Ho Cho of Korea.