USBA National Qualifier Tournaments Bring Upcoming Championship to Center Stage
The United States Billiard Association 3-Cushion National Championship is scheduled May 16-19, 2019 at US Bida/Billiards in Houston, Texas. The USBA has been holding a series of qualifying tournaments across the country sending the best players to Houston with paid entry. Pictured above Houston qualifiers Cong Nguyen (left) and Dung Nguyen (right). Below are more results from the events held so far:
First Event at Carom Cafe Sends Six Players
Date: March 9, 20019
Where: Carom Cafe, Flushing, New York
Winners: Sang Jin Lee, Young Gull Lee, Tae Kyu Lee, PLUS Lloyd Wallace, Edward Gomez and Mike Kang
Tournament Host US Bida Sends Four To Nationals
Date: March 16, 20019
Where: US Bida/Billiards
Winners: Cong Nguyen, Dung Nuyen PLUS John Nguyen and Joel Rivera
Charts:
Carom Cafe Second Event Adds Three More Contenders
Date: March 23, 20019
Where: Carom Cafe, Flushing, New York
Winners: Kang Lee, Julian Molina and Tommy Park
New Wave Billiards In Miami Florida Qualifies One
Date: March 23, 2019
Where: New Wave Billiards, Miami, Florida
Winner: Victor Cuzzi
Charts: Waiting on tournament director
Tacoma Elks Club In Tacoma, Washington Continues Tradition
Date: April 5, 2019
Where:Tacoma Elks, Tacoma, Washington
Winners: Neal Olson and Ertan Tarhan
Charts: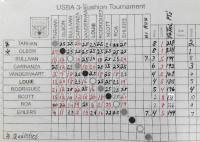 Edgie's Billiards in Milpitas, California Caps Busy Season
Date: April 6, 2019
Where: Edgie's Billiards, Milpitas, California
Winner: Allen Castillo
Charts: Waiting on tournament director
There is still time to enter before the May 1st cutoff. For more information on the event CLICK HERE or visit the USBA Website.