Hugo Patino Wins Fourth US Title
At US Bida in Houston, Texas, Hugo Patiño won his fourth USBA three-cushion national title, defeating defending champion Miguel Torres, 40-32, in the finals. Multiple-time champion Pedro Piedrabuena finished third, and local player John Park finished fourth. But the story of the tournament was Patiño's majestic run of 18 from the break in the finals. Patiño's streak tied the USBA record set by Mazin Shooni in Miami in 2006 for the longest run in a national championship. For his victory, Patiño won $3250 and another $100 for the high run. (Pictured above L to R: Patrick Tran, owner of US Bida and Hugo Patino)
The tournament began on May 16 with 45 players drawn into 5 groups of 9 for the preliminaries. After 2 and a half days of round robin play, the best 3 players from each group advanced to the finals along with the best fourth place finisher. The 16 finalists were seeded into a single elimination bracket. The first round saw many tight games. Phuong Le of Houston eked out a 40-39 victory over Tae Kyu Lee of New York, Thai Tran of Boca Raton, Florida, slipped by Houston player Dung Nguyen by the identical score, and, in a near-shocker, Miguel Torres survived Edward Gomez of New York, 40-39. Gomez was at the table with 39 tallied to his side, but his three-rail natural missed going in by a millimeter and missed going out after two more rails by less than a millimeter. Torres, down two, breathed a sigh of relief and promptly shut the door to secure the W. In another close game, John Park topped Lloyd Wallace, 40-37.
The quarter finals were marred because Michael Kang, who won his first round, defeating Eric Kwon, 40 to 23, took ill and had to forfeit his game to Patiño. Piedrabuena won effortlessly, 40-22, in 23 innings (1.739). Torres struggled again, 40-37 in 50 innings, in his win over Kang "Kenny" Lee of New York. John Park jumped out to a 22-3 lead and, after a slow middle, finished strong in a 40-29 win over Thai Tran.
In the semi-finals, Patiño had a strong showing, reaching 40 in 20 innings (2.000) but his opponent, Piedrabuena, struggled with bad positions, making only 10 in 19 innings (0.526). In the other match-up, Torres and Park traded billiards for 8 innings, with Park ahead 14 to 11, but Park hit the doldrums, scoring only 2 in the next 19 innings. He regained his form, but it was too late. Torres, still playing below his skill level, finished with 40 in 38 innings.
Run Of 18 Ties USBA Championship Record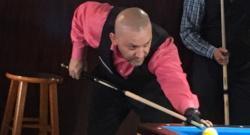 The finals were marked by Patiño's run of 18, close misses, and Torres's perseverance and fortitude as he tried to climb back into the game. Patiño followed his 18 with 4 more billiards in the next 2 innings, building a 22 to 1 lead. In his next 10 innings, he scored but 1, just missing billiard after billiard by the slightest of margins in the other innings. Patiño soon regained his form, running a 3 and, a few innings later, a 4, to open up a 30 to 10 lead. Showing his mental toughness, Torres scored 19 billiards in the next 9 innings, closing the gap to 33 to 29, but the surge was too late. Patiño finished strong, scoring the final 7 in 4 innings. It was Patiño's fourth title, having previously won in 2003, 2009 and 2016.
New York players had a strong showing, advancing seven to the finals: Tae Kyu Lee, Eric Kwon, Michael Kang, Sang Jin Lee, Lloyd Wallace, Kang Lee, Edward Gomez and Hugo Patiño. Michael Kang had to settle for 8th place after he withdrew from the quarterfinals. Kang "Kenny" Lee finished seventh. For fifth place, Thai Tran topped Phuong Le of Houston, 40 to 13 in 16 innings. For his 2.500 effort, Tran won the Best Game $100 prize. Over $15,000 in prize money was dispensed. Patiño and Torres will advance to the Pan American championship in Lima, Peru, in June.
The USBA thanks Patrick Tran (pictured above with Hugo), the owner of US Bida, for hosting the event. The four-day tournament ran smoothly and on time and was thoruoghly enjoyable to both players and spectators under the able direction of Tournament Director Charles Brown.
The USBA also thanks all our sponsors including: Simonis and Aramith for donating the cloth and balls used in the tournament. The beautiful eight trophies were donated by Merryland Gifts of Houston, Texas. Accommodations were provided by Clarion Inn & Suites at a fantastic tournament rate. USBA expresses deepest gratitude to Chinese-American community leaders Shelley & Francis Ding for securing Clarion Hotels as the official tournament hotelier and Merryland Gifts as our trophy maker. Live stream of the event was provided by Doug Deitel publisher of 3cushionbilliards.com. Finally, the USBA thanks David Levine, Jay Karahan Law, Bob Jewett, Paul Frankel and Golden Bank for their generous donations, sponsorship and support.