Jeremy Bury Wins the 2016 Verhoeven Open Tournament
Capping a tournament where Jeremy Bury went undefeated at 6-0 in the qualification stage, and 5-2 in the second phase to move into the finals, the French star signaled he is now a player to contend with on the International stage. Jeremy Bury came to Carom Cafe in New York determined to erase all his second place finishes of the past. And that he did, by taking the 2016 Verhoeven Open title. Along the way, Bury beat some of the best players in the world.
Bury's March to Victory
With 105 players entered in the tournament, the competition would unfold in three phases. The first phase (Qualifications) consisted of 15 groups of 7 playing in round robin to 25 points. The top two from each group plus the two best third place finishers (and auction and lottery winners) would move on to the next phase joining the five seeded players.
Bury was the top player in his qualification group and showed why, with a consistent mix of both offense and defense. Bury began his ascent to victory by going undefeated in his flight, winning all six of his games. With no game averaging below 1.0, a grand average of 1.500 and a best game of 2.500 Bury easily cruised past the first group of players he faced. None of his first phase opponents could score more than 10 points against him, while he posted a high run of 9 in his effort. Jeremy Bury was on his way.
Phase Two Signals Bury is Ready to Win
In the next phase, semi-final phase two, the 40 players were divided into 5 flights of 8 playing round robin to 35 points. In this round of matches the seeded players entered the tournament and Bury drew into a group that included two former world champions (Semih Sayginer pictured below and seeded player Eddy Merckx.) Also in the group was current USBA National Champion Hugo Patino. Jeremy was ready for the challenge.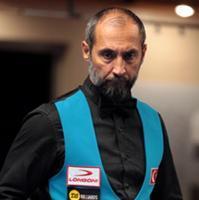 With the top three players in the flight moving on to the final round Bury knew that every game and every point would be critical. And so in this second phase of the tournament Bury again stepped up his game. He posted wins against Merckx 35-27 and Sayginer 35-33 the two pre-flight favorites. Losing two matches to Patino and Vietnamese player Duc Anh Chien Nguyen, Bury scored 5-2 for the flight. Merckx also had a 5-2 score, but with two more caroms than Bury was awarded second place. Sayginer won the flight with a record of 6-1. And so the order of finish was Sayginer, Merckx and Bury. Jeremy Bury had made the finals!
The Final Phase Where Bury Really Shined
The 16-man single elimination finals were played in knock-out format. Win your game, you move to the next round -- lose your game and you are out. The players who made it through included World Champions, World Cup Winners, National Champions and Jeremy Bury. Although Jeremy had won many tournaments in his native France, he had yet to win a big International event, having placed 2nd in three past World Cups. But here, in New York, in 2016, he was determined to change all that.
In the round of 16 Bury faced Quet Chien Tran of Vietnam. His win at 40-29 in 28 innings with a high run of 7 was never in doubt. In the quarter final round he faced another Vietnamese star Le The Vinh. This time Bury prevailed with a 40-20 match in 19 innings to average 2.105 while posting a high run of 9. With his game clearly up another notch he had reached the semi-finals! Two more matches to go... and they would both be against former World Champions.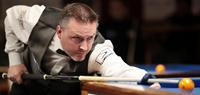 In the semi-final round Bury had to face Frederic Caudron (pictured at right), number 1 in the world, who was at the top of his game having won two World Cups in a row this year (Ho Chi Minh City in May and Porto in July.) With Caudron in the lead Bury dug deep and put together a run of 10 to take control of the match. Taking advantage of small errors by Caudron, and remaining cool under pressure, Jeremy finished the match at 40-36 in 19 innings. Jeremy Bury was once again in a finals for an International title. And this time he was ready!
In the championship match Bury faced former World Champion Dick Jaspers (pictured below.) Jaspers had entered the tournament as a seeded player, by-passing the qualification stage. He had lost only one game in his 8-man round robin flight, a close match with Tayfun Tasdemir who went 7-0. Along the way Jaspers posted his best game at 3.889 and a high run of 13. Jaspers stats looked better on paper, and he was the defending champion from 2015. But Jeremy Bury would not be denied.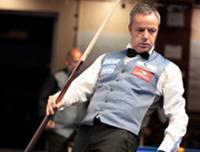 The match against Jaspers for the championship was a see-saw battle, where both players exchanged the lead several times. The match was tied once at 12 and again at 18. But after a break, it was in the 11th inning that Bury made a statement that would change the nature of the fight. A run of 10 put Bury ahead 34-20, and put Jaspers in a deep hole late in the match. Jaspers fought hard and two innings later put up his own high run of 9. The match stood at 35-30. Would Jaspers get another chance? Would Bury fold under the pressure? NOT A CHANCE! Each man would add two to his score. And in the 16th inning, leading 37-32, Jeremy Bury made history, running 3 and out and finishing with an exciting and difficult bank shot. The final score: 40-32 in 16 innings (2.500 average) and a high run of 10. Jeremy Bury had triumphed to win his first major title and was the 2016 Verhoeven Open Champion.
Congratulations to the winner of the 2016 Verhoeven Open - Jeremy Bury of France. Click here for our complete round-by-round coverage of the event including all the charts from each stage. Pictures copyright Kozoom/Kozoom Korea.