2016 World Cup Guri - Part 2 Thru The Finals!
Jeremy Bury of France wins his first World Cup event at the 2016 UMB World Cup held in Guri, Korea. Below is our Part 2 coverage of the 32-man single elimination knock-out phase leading to Bury's historic and well-deserved victory. Part 1 coverage of the qualification stages can be found here - Part 1 Guri Qualification Rounds. More about Bury and his ascent to the top can be found here - Jeremy Bury Wins His First World Cup. Image Gallery with pictures and charts can be found below.
The 2016 UMB World Cup in Guri Korea reached the end of the Qualification rounds on Thursday September 1. The main tournament commenced the next day where 12 seeded, 5 wildcard and 15 tested players entered a round robin knock-out event to determine the champion. Pictured above with his coach is 18-year Korean phenom Myung Woo Cho (left) who qualified to play in the main event and placed fourth overall.
The 32-man single elimination final matches are known as the Main Event. In this phase the top twelve in the world from the UMB rankings automatically gain entry as the seeded players. They are: Frédéric Caudron, Torbjörn Blomdahl, Eddy Merckx, Dick Jaspers, Dani Sanchez, Marco Zanetti, Tayfun Tasdemir, Roland Forthomme, Sameh Sidhom, Dong Koong Kang, Jae Ho Cho and Nikos Polychronopoulos. In addition, five wildcard entries are awarded to the regional confederations and the organizing country who also receive an automatic entry. Receiving this coveted invitation are: Huberney Catano (CPB), Adnan Yüksel (CEB), Magued Elias (ACC), and from Korea Jae Guen Kim & Young Hoon Lee.
Finally, the top 15 players from the four days of qualification rounds continue in the competition to complete the 32-man field. In order of placement they are: Jeremy Bury, Lufti Cenet, Dinh Nai Ngo, Quyet Chien Tran, Myung Woo Cho, Jung Han Heo, Hyung Kon Kim, Murat Tuzul, Javier Palazon, Wung-Won Choi, Choong-Bok Lee, Ruben Legazpi, Xuan Cuoung Ma, Duc Anh Chien Nguyen and Murat Naci Coklu.
The Round of 32 - The Most Dangerous Round
The initial matches of the main event - the "Last 32" as the group is called - are notably the most dangerous. The seeded players have not yet played a match, and have only had time to practice in order to stay sharp. Sometimes a player may start out cold and suffer! The same holds for the wildcard entrants as well. On the other hand, the players who made it through the Qual stages are honed and eager to prove themselves and advance further. It is not unusual for some of the best players in the world to get knocked out early. And that leaves the field open to anyone, and the competition ripe for surprises.
The opening matches in the round of 32 immediately signified that the Guri World Cup will in fact continue with exciting play and unexpected results. In the very first match world number 1 ranked Frederic Caudron got a slow start and never recovered losing to former world champion Korean star Sung-Won Choi. Choi managed a 17-inning 2.352 game to start the event. The hometown crowd was already beginning to celebrate the win of the first of nine Koreans who were on the stage in the main event.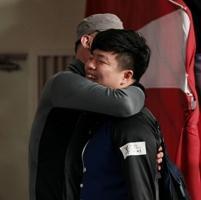 Perhaps the most shocking upset, and yet the most gratifying was the continuing consistent and admirable play of 18-year old Myung Woo Cho. This young man who entered the event in the Pre-Qualification stage represents the best of the future stars coming out of the robust Korean 3-cushion billiard scene. Cho lead Sameh Sidhom all the way, posting an upset win over the number 7 ranked player 40-36 in 20 innings. And so another Korean advanced.
In other games Murat Naci Coklu (TR) beat a weaker Roland Forthomme (BE.) Lufti Cenet (TR) dispatched Colombia's wildcard Huberney Catano. In a reversal it was wildcard Adnan Yuksel (TR) over Dinh Nai Ngo (VN.) And Tayfun Tasdemir (TR) eliminated Vietnam's Duc Anh Chien Nguyen. Only Turkish player Murat Tuzul lost his match to Korean Dong-Koong Kang. Thus four Turks advance to the round of 16. Oh... and one more Korean!
Expected wins came from Jeremy Bury (FR) over Xuan Cuoung Ma (VN), Eddy Merckx (BE) over Hyong Kon Kim (KR), Dick Jaspers (NL) with a round leading high run of 16 over Jae Guen Kim (KR), Quyet Chien Tran (VN) over Choong-Bok Lee (KR) and World Champion Torbjorn Blomdahl (SE) over wildcard Elias Magued (EG) 40-6 in 13 innings (3.076 average.)
Additional upsets to the natural order signified the early exit of some star players. Javier Palazon (ES) ran 12 and posted the best game of the round beating number 5 ranked Marco Zanetti of Italy 40-31 in 12 innings (3.333 average.) Ruben Legazpi surprised his Spanish countryman number 6 ranked Dani Sanchez 40-31. Dani will not be repeating his 2015 win in this very event. Number 8 ranked Nikos Polychronopoulos of Greece lost his match to Korean wildcard Young Hoon Lee. And finally number 9 Jae Ho Cho lost to fellow Korean Jung Han Heo.
The Round of 16 - More Knock-Outs and More Surprises
When the 2016 World Cup in Guri Korea began everyone expected the Korean players to show up in every round. And in the round of 16 the Koreans still represented the largest group... but just barely. With 5 of the locals still in contention they just out-represented the great Turkish players by one. There were still two Spanish players represented along with one each from Vietnam, and the remainder of the European survivors from France, Belgium, Netherlands and Sweden. The spectators from around the world would not be disappointed with the exciting matches that resulted.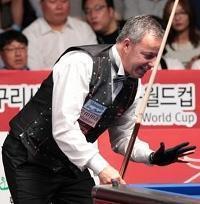 Former World Champion Sung-Won Choi continued his comeback defeating fellow Korean Dong-Koong Kang in a close 40-37 match. Wildcard from Korea Young Hoon Lee matched that score against Spain's Ruben Legazpi. Javier Palazon (ES) eliminated Turkey's Lufti Cenet at an even closer score 40-38. Some of the matches were runaways. Dick Jaspers with the best game of the event destroyed Adnan Yuksel 40-12 in 9 innings (4.444 average!!!) He opened with a high run of 11 and led 25-2 after three innings. YIKES! Jaspers has proven himself the favorite in the event at this point. Jeremy Bury (FR) also continued to dominate besting Belgian Eddy Merckx 40-23. Merckx never got his game going and had no chance. And Vietnamese star Quyet Chien Tran easily handled a slow to start Tayfun Tasdemir to advance with a nice 40-21 win in 14 innings (2.857 average.)
Which leaves two games to report... and they are both incredible... each for their own reason. 18-year old Korean uber-talent Myung Woo Cho had been fearless up to this stage. Entering in the PQ round he had not lost a game. With so little experience and such big challenges who could say if or when his streak would end. Facing Turkish player and World Cup winner Muract Naci Coklu the streak continued. Cho opened a lead right from the beginning with a run of 9 and dominated the whole way. His 40-28 win in 22 innings had helped the young man reach the quarter-finals of his first World Cup.
And then there was Blomdahl. With a tough year, and having lost his number 1 ranking, Torbjorn Blomdahl (SE) was looking for a chance to regain his top form. His first match was a cakewalk. In contrast Korean Jung Han Heo proved to be an almost unbeatable challenge - almost. Trailing late in the match 34-20, and missing shots he ordinarily made, Blomdahl's fate seemed hopeless. But he showed his grit and fighting spirit by giving his all every turn at the table. When the score was 39-31 it looked all but over - Heo needed just one. Then the billiard gods, if there are such things, either smiled on Blomdahl or frowned on Heo. Incredibly Heo had six tries to end the match, but failed. And so point-by-point it was in fact Blomdahl who first reached 40 forcing Heo to equalize. The shoot-out was anti-climactic. Blomdahl made only two. But Heo, surely under stress from his failure to close... missed his breakshot... and the match was over. Blomdahl had survived to move on.
The Quarter Finals - Where the Last 8 Become the Final 4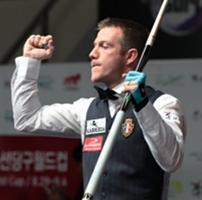 With eight players remaining, the World Cup in Guri Korea had seen the last of the Turks who were all eliminated in the Round of 16. The Koreans still had three in the hunt, one of whom was the wildcard Young Hoon Lee. But Lee faced Dick Jaspers (NL) who was blowing everyone out of the water... which is what he proceeded to do in a 40-14 shellacking, with a high run of 11. Jeremy Bury of France also playing well knocked off Javier Palazon (ES) who could not run but four although he did manage to reach 34 to Bury's 40 in 22 innings. And then there were once again the matches of Cho and Blomdahl. What can we say. The match between Myung Woo Cho and Sung-Won Choi could not have been closer. The difference was one carom. And the miss before the final point was scored was surely by but one millimeter. But the miracle-boy who was before our eyes maturing into the miracle-man came out on top. Myung Woo Cho defeated Sung-Won Choi 40-39 in 22 innings to reach the semi-finals.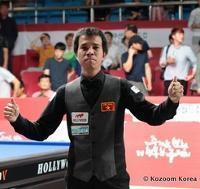 But the tale of the quarters is not over. Torbjorn Blomdahl faced Quyet Chien Tran. Once again Blomdahl, behind virtually the entire match, had to find a way to come back. And that comeback began with Tran leading 38-28, when Blomdahl ran 5 to close the gap. Then Tran stepped up and made one to reach match point... but missed. Blomdahl had another opening, another chance, just as he had in defeating Heo in the previous round. This time Blomdahl wasted no time, and with a run of 7 reached 40 forcing Tran to equalize. For the second consecutive match Blomdahl had come from behind and managed to force a shoot-out. Remember those billiard gods? Their smile for Blomdahl shifted ever so slightly. In the shoot-out once again Torbjorn was only able to make two, getting an ugly kiss on his third attempt. Then Tran stepped up. But unlike Heo before him Tran made the first point from the spots (albeit by a whisker!)... and his second... and a third... and it was over. Blomdahl was out and Tran had become the fourth of the final 4.
The Semi-Finals and Finals - And A New Champion Is Crowned
The first semi-final match was a prelude of things to come. The incredible winning streak of 18-year old Korean Myung Woo Cho finally came to an end with his match against eventual winner Jeremy Bury of France. Bury jumped out to an early lead only to see Cho squeak past just before the break. But by the 20th point Bury was back in charge and never looked back. He advanced to the finals with a 40-35 win in 20 innings with a high run of 9. Myung Woo Cho gained much from his performance in Guri - ranking points, experience at the world class level, but most of all the respect and admiration of his countryman and the world. We will be seeing a lot more of Myung Woo Cho in the future.
In the second semi-final match Dick Jaspers (NL) came in looking like the favorite to take it all with the best average, best game and highest run. And with a very early lead in a slow starting game Jaspers seemed to be on his way to another world cup final. But his opponent Quyet Chien Tran of Vietnam proved the sharper of the two. The slow start may have been due to the table playing ever so slightly long for Jaspers who began missing shots he had made in earlier rounds with ease. Tran seemed to figure things out and took the lead by the mid-point break. Except for a brief period after the break where Tran went six innings without scoring, he was never really in trouble. Jaspers could not put together a run greater than 4, and Tran never yielded. In the 23rd inning the agony for Jaspers was over. With a 40-24 win Tran was on his way to the finals.
The Championship match between Jeremy Bury of France and Quyet Chien Tran of Vietnam was a refreshing change from countless World Cup finals going back years where the top spot was held by one of the top 12 seeded players. This year all the seeded players had been eliminated, and the two players competing for the title were Tran ranked 16 and Bury ranked 17. Both players had beaten some of the best in the world on their way to the ultimate game, and both had played with consistency and with high averages. The crowd surely had hoped one of the great Korean players was competing, but they were no less enthusiastic to watch the battle between Bury and Tran. At the world class level players are capable of running nines and tens... and more at any time. In the final match it was Bury who struck first and early with a run of 10 in inning 2. That put Tran in a hole from which, unfortunately, he would never recover. Bury kept up the pressure with runs of three and four, while Tran struggled. Finally in the 16th inning came Tran's one surge with a run of 9. But it was too late. Two innings later Bury finished with a run of four, followed by a run of 5 to close out the match 40-30 in 20 innings (2.000 average). After his historic win at the Verhoeven Open in New York last month, Jeremy Bury had continued his world class winning ways by taking his first World Cup victory in Guri. Congratulations to Jeremy Bury of France.
Please enjoy the charts and pictures in our Image Gallery below. Don't miss our coverage of the qualifcation round action in Part 1 of our story. Our feature story about the winner is here - Congratulations Jeremy Bury World Cup Guri Champion. Remember - videos are available for re-play on Kozoom for Premium Pass Members. Many thanks to our contributing sources: Union Mondiale de Billard for the playes list, charts and final rankings. and Kozoom for their background stories, pictures and videos.