Jeremy Bury Wins His First World Cup - Guri 2016
Jeremy of Bury of France has joined the ranks of the world's elite 3-cushion billiard players by winning his first world cup tournament - the 2016 UMB World Cup tournament held in Guri, Korea. In what was surely a whirlwind month for Bury he added the world cup title only weeks after winning his first international event in New York at the Carom Cafe/Verhoeven Open. With his most recent win Bury returns to the top ten in the UMB world rankings for 3-cushion billiards.
Jeremy Bury of France was one of 20 players who first entered the Guri World Cup in the Qualification round. There they were joined by the 16 players who made it through the Pre-Qualification Stage for a round robin elimination in groups of three. Each player had to play just two matches for a chance to move on. In Group H Bury met and easily vanquished his two opponents Birol Uymaz of Turkey and Jose Juan Garcia of Colombia. Anyone handicapping the event at that stage could have easily selected Bury as a favorite to perform at the highest levels in the main event to follow. After all, he was sharp from coming off his recent win in New York, and he ranked number 1 in the qualification stage with the highest overall average of 2.580. His further efforts in the tournament would easily prove that out.
Jeremy Bury Unstoppable in the Main Event
The main tournament in the World Cup is run in a 32-man single elimination knock-out format. One loss and you are out. To win the tournament you must win all five of your games as the field is narrowed from 32 down to 2 in the championship match. Three times in the past Bury had made it to the final match, only to lose and settle for the runner-up position. This time he was determined to go all the way.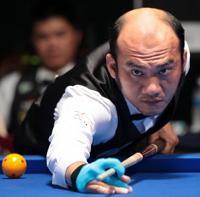 In the Round of 32 Bury met his first challenge from Vietnamese player Xuan Cuong Ma. Ma had placed best of the second place finishers in the Qualification round to reach the knock-out stage. Bury literally destroyed Ma with a 40-11 victory in 15 innings for a 2.666 average. He had played his third game in the tournament and had improved once again. His run of 9 was consistent with his prior matches. Bury appeared confident and ready.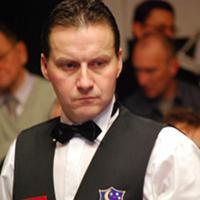 In the Round of 16 Bury faced former world champion and the number 3 player in the world Eddy Merckx. The Belgian champion was known to be both disciplined and dangerous, with a deadly focus that can cut an opponent down at any stage of a match. But Bury, with his methodical and analytical approach to the game was relentless in both scoring and leaving tough positions for his opponent to solve. Merckx got off slow, got behind, and could never catch up. Bury won the match 40-23 in 22 innings, a 1.818 performance. Merckx was out with an atypical 1.045 game and Bury continued his march.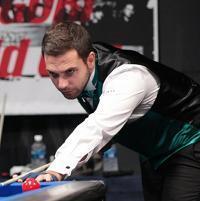 The Quarter-Finals brought Spain's Javier Palazon to the table with Bury. Palazon had proven his own capabilities in eliminating former world champion Marco Zanetti 40-31 in 12 innings in the opening round. Zanetti had put in a great performance (2.583) but Palazon had averaged an incredible 3.333 with a high run of 12. Bury knew he faced a tough opponent. And once again Bury seemed to baffle his antagonist with a combination of consistent runs and tough leaves. Suddenly Palazon was struggling where he once seemed so fluid and accurate. Bury won the match 40-34 in 22 innings with another 1.818 performance and a high run of 9. Palazon, who had the high run of 12 in the round of 32 was relegated to the lowest run of 4 in the round of 8... and was out.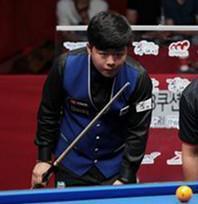 The Semi-Final match brought the surprising crowd favorite 18-year old Myung Woo Cho to the test. After 54 Korean players had entered the event, including world champions, world cup winners, and top twelve-ranked superstars, the lone Korean left to vie for the title was this young man who entered the tournament in the Pre-Qualification stage, and to this point had vanquished every player he faced. And so Jeremy Bury girded himself for what he surely felt would be two opponents that he faced -- the young and talented Cho, and the hundreds of spectators from the home country of Korea who would surely be showing their vocal support. In a testament to the gracious and fair-minded ways of the people of Korea, they did indeed cheer loudly for every point made by their favorite son. But they also applauded equally the great shots and long runs of the player from France. In the match Bury led most of the way. Cho managed to catch him at one point before the break with his best run of 9. But at the 20th point Bury was back on top and never yielded. His victory of 40-35 in 20 innings was close because Cho made a steady advance late in the match, showing his grit and poise in spite of facing elimination. In the end it was Bury's final surge in the last three innings that clinched the victory. Everyone, especially Jeremy Bury, admired the play of Myung Woo Cho, this up and coming Korean star. Cho's time will come one day. But today it was Bury's time, and for the fourth time in his career Jeremy Bury had made it to the championship match in a World Cup.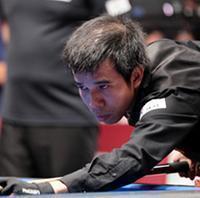 The final match of the tournament was historic. Bury's opponent was Vietnamese player Quyet Chien Tran. Tran had beaten Korean Choong-Bok Lee, world cup winner Tayfun Tasdemir of Turkey, former world champion Tobjorn Blomdahl (SE) and former world champion Dick Jaspers (NL) to reach the finals. All the seeded players and former world cup winners had been eliminated by both Bury and Tran. So for both players, if successful, it would be their first World Cup win. For Tran it would be the first time that a player from Vietnam would win a World Cup event. The pressure was on! The crowd perhaps would have loved to have seen one of their favorite Korean players competing. But the Korean people love the game of billiards, and supported the great play of both Bury and Tran.
Up to this point the two opponents had both demonstrated their ability to put together high runs and play at 2.0 and better. In the final match it was Bury who struck first with an early run of 10 in the second inning. Tran found himself down immediately and struggled to recover. Such is the nature of world class billiards, a game of both skill and psychology. Knowing the strength of your opponent you must balance your play between offense and defense. With his lead in hand Bury simply kept up the pressure with bursts of three and four, while Tran could not find his rhythm to mount a comeback. In the 16th inning Tran finally strung together a big run of nine for his one surge. Unfortunately by then it was too late. Just two innings later Bury finished with a run of four, followed by a run of five and the match was over. Bury was on top 40-30 in 20 innings (2.000 average and high run of 10). Jeremy Bury of France had won his first World Cup event - the first for him and the first for France since Richard Bitalis in 1989. Congratulations to Jeremy Bury 2016 Guri World Cup Champion.
Many thanks to Kozoom for video replays of all the matches and pictures.