Dani Sanchez Wins the 2016 UMB World Championship
For the fourth time in his career, Spain's Dani Sanchez has been crowned World Champion of 3-Cushion Billiards. The 69th edition of the UMB World 3-Cushion Billiards Championship was held for the second year in a row in Bordeaux, France (November 15-19, 2016.) Forty-eight of the world's best competed in a round-robin preliminary phase followed by a 16-man knock-out phase. The title and first place prize of 10,000 Euros ($10,717 USD) also included 120 ranking points and Sanchez win immediately moved him up to number 3 in the world. Read our complete coverage that follows.
Forty-eight players from 25 countries (pictured above) were divided into preliminary-round groups of 3 to play round robin. Only one player from each group moved on to the 16-man single-elimination knock-out phase to determine the champion. The United States sent two players this year. Number 17 ranked Pedro Piedrabuena was joined by dual USBA National Champion and Pan-American Champion Hugo Patino. Charles Brown, also from the USA, was the Tournament Director. The tournament organizer Kozoom selected Mr. Brown for his extensive experience directing many US Championships and the annual Verhoeven Open held in New York.
The Players for 2016
Group A:
Torbjörn Blomdahl (Sw)
Christadkis Christoforou (Cyp)
Ramon Rodriguez (Per)
Group B:
Frédéric Caudron (Bel)
Jérôme Barbeillon (Fr)
Erick Tellez (CR)

Group C:
Dick Jaspers (Neth)
Arnim Kahofer (Aus)
Antoine Gholam (Lib)

Group D:
Eddy Merckx (Bel)
Jae Guen Kim (Kor)
Raimond Burgman (Neth)

Group E:
Marco Zanetti (It)
Hyung Kon Kim (Kor)
Hugo Patino (USA)

Group F:
Dani Sánchez (Sp)
Christian Rudolph (Ger)
Pierre Soumagne (Fr)

Group G:
Sameh Sidhom (Eg)
Ma Minh Cam (Viet)
Kostas Kokkoris (Gri)

Group H:
Nikos Polychronopoulos (Gri)
Javier Palazón (Sp)
Cetin Behzat (Swi)

Group I:
Jérémy Bury (Fr)
Eddy Leppens (Bel)
Cédric Melnytschenko (Fr)

Group J:
Quyet Chien Tran (Viet)
Ihab El Messery (Eg)
Robinson Morales (Col)

Group K:
Dong Koong Kang (Kor)
Semih Saygıner (Tur)
Ryuuji Umeda (Jap)

Group L:
Jae Ho Cho (Kor)
Riad Nady (Eg)
Radek Novak (Cze)

Group M:
Roland Forthomme (Bel)
Huberney Cataño (Col)
Lars Dunch (Den)

Group N:
Tayfun Tasdemir (Tur)
Nguyen Quoc Nguyen (Viet)
Jean-Christophe Roux (Fr)

Group O:
Haeng-Jik Kim (Kor)
Pedro Piedrabuena (USA)
Marc Boigneres (Fr)

Group P:
Jung-Han Heo (Kor)
Murat Naci Coklu (Tur)
Guillermo Perez (Arg)
Day One - Quick Takes!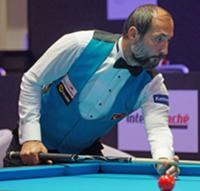 Best Game: Turkey's Semih Sayginer (left) defeated former World Champion Ryuuji Umeda (Japan) 40-13 in 10 innings for an astounding 4.000 average! His effort would stand as the best game of the event.
High Run: 11 by Nguyen Quoc Nguyen (Vietnam) in his 40-29 victory over Jean-Christophe Roux (France)
Worst Performance: Cetin Behzat (Switzerland) could only score 5 in 17 innings (.294 average) against Javier Palazon (Spain) in a brutal 40-5 loss.
Surprises(s): Jerome Barbeillon and Marc Boingneres were both wildcard entries selected by the tournament organizer. And in the first round they both won! Jerome Barbeillon (France) bested Erick Tellez (Costa Rica) 40-21 while Marc Boingneres (France) defeated American Pedro Piedrabuena 40-34. Pierre Soumagne (France) was a last minute substitute when Henry Diaz (Colombia) lost his travel documents. Soumagne also won his game against Germany's Christian Rudolph 40-34.
The day's over "2" games: Jerome Barbeillon (France) 2.000; Javier Palazon (Spain) 2.352; Robinson Morales (Columbia) 2.857; Semih Sayginer (Turkey) 4.000!!!
Day Two - More Quick Takes!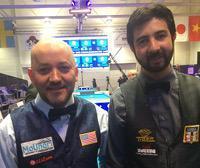 Best Game: Dani Sanchez of Spain rolled over Christian Rudolph (Germany) 40-11 in 16 innings for a 2.500 average. His strong entry into the event signaled he had arrived ready to compete. Dani's effort was matched by Dong Koong Kang of Korea in his match against Ryuuji Umeda (Japan) 40-20 in 16 innings also a 2.500.
High Run: Sameh Sidhom (Egypt) ran 13 in a comeback win against Konstantinos Kokkoris of Greece. Sidhom was matched by Dick Jaspers who scored his 13 in defeating Antoine Gholam of Liberia. Of note Torbjorn Blomdahl ran 12 in his win against Christakis Christoforou of Cypress.
Worst Performance: Cetin Behzat (Switzerland) unfortunately takes the booby prize for the second time. His 11 caroms in 19 innings averaged .578 in losing, this time to Nikos Polychronopoulos. Still, almost twice as good as yesterday.
Surprise(s): Hugo Patino and Pedro Piedrabuena (above), both from the USA disappointed with a second (and final) losing day turning in sub 1.0 performances. Their fans were surely disappointed that neither played up to their potential.
The day's over "2" games: Eddy Merckx (Belgium) 2.000; Nikos Polychronopoulos (Greece) 2.105; Dick Jaspers (Netherlands) and Haeng Jik Kim (Korea) 2.222; Eddy Leppens (Belgium) 2.352; Dani Sanchez (Spain) and Dong Koong Kang (Korea) 2.500.
Day Three - The End of the Beginning...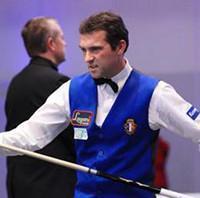 On the final day of preliminary round action the undefeated players from each group met to determine who would advance to the single elimination 16-man main tournament. Here are the highlights with all rounds of play complete:
Best Game: Marco Zanetti's score of 40-14 against Hyung Kon Kim in 14 innings yields the round-leading average of 2.857.
High Run: Dani Sanchez runs a 13. He opened with 13 playing yellow and reached 25 in 3 innings! But then he stalled and eventually had to equalize against Pierre Soumagne who was first to reach 40. Still... the tie allowed Sanchez with a better overall average to advance. Soumagne walked out a hero to the fans nonetheless for hanging in against one of the world's best and eventual event winner!
The day's over "2" games: Eddy Merckx and Dick Jaspers 2.000; Tayfun Tasdemir 2.666; Marco Zanetti 2.857. A lot of cautious play and defense coupled with the tension to qualify brought the averages down a bit from yesterday.
Upsets!:
Jerome Barbeillon (picured above), hometown favorite and wildcard entrant continued his exciting march, knocking out the number 2 player in the world Frederic Caudron 40-31 in 25 innings. Barbeillon to the delight of his countrymen now moves on to the final phase.
Minh Cam Ma of Vietnam (No. 30) spoils No. 9 Sameh Sidhom's effort and so enters the knock-out round. Sidhom fell behind and could not muster one of his super runs to get back in.
Robinson Morales (No. 93) beats Quyet Chien Tran (No. 15.) We call it an upset just because of the ranking. Morales is a top player who is merely not as active as Tran in international (ranked) events.
Eddie Leppens (No. 29) stuns Jeremy Bury (No. 10) who was first to reach 40... then sat and watched from his chair as Leppens ran 7 to tie. With Leppens' better first round performance he advances with a higher overall average.
And finally Huberney Catano (No. 47) ends (No. 14) Roland Forthomme's chances going 40-31 in 22 innings.
Who Made It Through? In Group Order: A- Torbjorn Blomdahl, B- Jerome Barbeillon, C- Dick Jaspers, D- Eddy Merckx, E- Marco Zanetti, F- Dani Sanchez, G- Minh Cam Ma, H- Nikos Polychronopoulos, I- Eddie Leppens, J- Robinson Morales, K-Semih Sayginer, L-Jae Ho Cho, M- Huberney Catano, N- Tayfun Tasdemir, O- Haeng Jik Kim and P- Murat Naci Coklu. The official ranking order of finish in the prelims as used for first round pairings: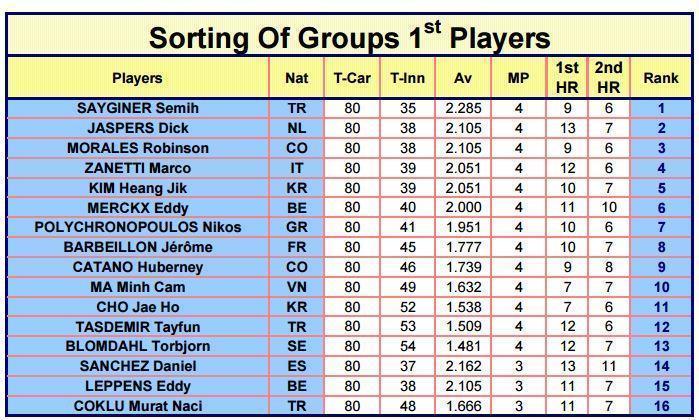 Day Four - Let The Games Begin!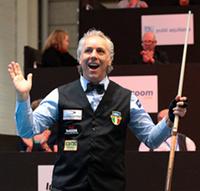 The final phase of the World Championship was played in a 16-man single-elimination knock-out format. One game - one chance to move on. The 1/8 matches yielded some incredible level of play as the world's best fought to determine who will reign as champion.
First 1/8 Round: Semih Sayginer defeated Turkish countryman Murat Naci Coklu 40-25 in 19 innings (2.105) with a high run of 11; Jerome Barbeillon delighted his hometown fans winning 40-17 in 14 innings (2.857) over Colombian Huberney Catano; Korean Haeng Jik Kim eliminated Tayfun Tasdemir (Turkey) 40-25 in 18 innings (2.222); and Marco Zanetti (right) of Italy had the best game of the session knocking current world champion Torbjorn Blomdahl out of the tournament with a 40-21 in 11 inning 3.636 average performance.
Second 1/8 Round: Dani Sanchez crushed Robinson Morales 40-9 in 16 innings (2.500); Sanchez continued his strong play with a great stroke mixing offense and defense to confound his opponents. Jae Ho Cho upended Eddy Merckx 40-33 in 24 (1.667); Nikos Polychronopoulos came back against Minh Cam Ma to win 40-36 in 23 (1.739); and Eddy Leppens ran 18 to take the lead against Dick Jaspers and finished 40-32 in 19 (2.105).
Best Game 1/8 Round: Marco Zanetti 3.636 - High Run 1/8 Round: Eddy Leppens 18 (ultimately remained as best in the entire event.)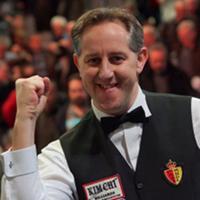 The 1/8 final round games were immediately followed by the quarter-final matches played on two tables. Play tightened up as caution and tension prevailed.
First 1/4 Round: Semih Sayginer ekes out a win against Jerome Barbeillon, ending Barbeillon's fantastic performance as a wildcard entrant. The score was 40-34 in 40 innings (1.000); Haeng Jik Kim outplayed Marco Zanetti who could not equalize and exits in a 40-38, 24 inning match. Kim's average of 1.666 leads the round.
Second 1/4 Round: Dani Sanchez is best with a 40-34 in 27 performance (1.481) and Jae Ho Cho is eliminated. Sanchez was in the semi-finals. Eddy Leppens (left) continues to surprise and run big knocking out Nikos Polychronopoulos 40-37 in 30 innings. Only a 1.333 average but Eddy again puts in the high run, this time of 12.
Best Game 1/4 Round: Haeng Jik Kim (1.666) - High Run 1/4 Round: Eddy Leppens 12
Day Five - The Finals!
The two semi-final matches took place on one table Saturday Nov 19 at 1:00PM and 3:00PM local time.
First Semi-Final Game: In the first semi-final match Semih Sayginer of Turkey met Haeng Jik Kim of Korea. A former World Champion representing the old guard... and a multiple World Junior Champion representing the bright, up-and-coming stars of the future. In this match... at this time... it was youth who prevailed. Haeng Jik Kim performed brilliantly, including a final run of 11 at the end, to win 40-18 in 16 innings averaging 2.500. Sayginer is out after a great tournament where he had the best game of the event (4.000 average.) Kim moves on to the final match for the championship.
Second Semi-Final Game: In 2010 Sanchez and Leppens met in the finals of the world championship. There Leppens got close but lost to Sanchez. Now, six years later they meet again in a World Championship event. And once again Dani Sanchez stunned Eddy Leppens to take the win. Leppens ahd two chances to close when he reached 39, but missed both. Both were tough shots but a miss is a miss. And after the second chance Sanchez showed his coolness and class as playing yellow he ran 8 and out to take the match 40-39 in 24 innings (1.666 average).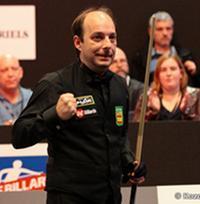 The Championship Game: In the title match it was 3-time World Champion Dani Sanchez of Spain representing Europe's best, facing off against 4-time World Junior Champion and curent Asian Champion Haeng Jik Kim of Korea. Sanchez won the lag and opened with a run of 5, and except for a brief inning early on led the whole way. At the break Sanchez was ahead 20-14 in 10 innings. At his first turn back at the table Sanchez ran 7 to go ahead 27-15. The pressure was on! Kim struggled to put together a big run and in inning 13 was still behind 31-19. By inning 15 things were looking very bleak indeed, with Kim trailing 36-25. But a run of 6 brought the score to 36-31 and Kim was suddenly within striking distance. A Sanchez miss then gave Kim an immediate turn back at the table and he was able to add 3 more. With Kim now trailing by only two at 36-34 Sanchez stepped up in inning 17. He could only add 2 more. With the game almost at its end each player would miss! Tough positions? Pressure? Surely both...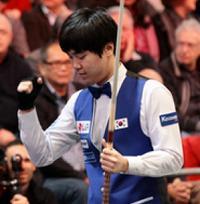 Kim first had a tough double the rail shot which he missed badly. Sanchez then played a difficult 5-railer that came up 1 inch short - a miss. That left Kim a tough plus two bank shot which he also missed. And then, in inning 19 Sanchez closed the door and ran the two he needed to reach 40. Playing yellow Kim gets an equalizer inning from the spots needing 6 to tie. He made his first 3, then watched as his fourth attempt scooted past the third ball by a fraction and the match was over. Dani Sanchez had won his fourth World Championship and was the 2016 UMB 3-Cushion Billiards World Champion.
Haeng Jik Kim played a great tournament and was competitive till the end. He will continue to be a force in international 3-cushion billiards for years to come. But on this day in Bordeaux, France, the great Dani Sanchez proved best. Congratulations to the new World 3-Cushion Champion Dani Sanchez of Spain.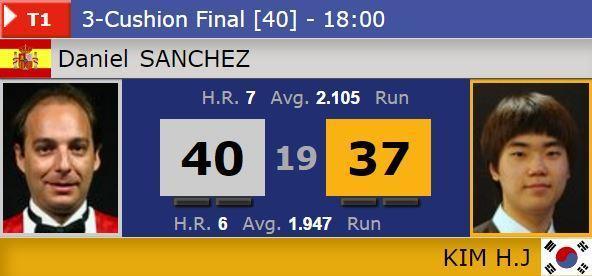 Thanks to Kozoom for sponsoring the event, live-streaming the matches, and providing many of the pictures in this article. Thanks to the UMB for results and statistics. Also thanks to Charlie Brown for his tremendous effort as tournament director and for his providing some of the images as well (where noted in Image Gallery.)