Jung-Han of Korea Wins the 2016 World Cup El Gouna Hurghada Egypt
Jung-Han Heo is the winner of the 2016 UMB Hurghada World Cup. For the first time since January 2014 a Korean player has taken a world cup title. Heo's performance began in the qualification round where he led the day, winning his group. He then overcame a lackluster start in his opening match in the main tournament to catch fire at the very end and win to advance. Along the way to the championship top players from Belgium (twice), Korea (twice) and finally Netherlands fell as Heo joined the ranks of the world's elite players. Our complete coverage with stories, pictures and results follows.
The 2016 UMB World Cup season came to an end in the resort town of El Gouna near Hurghada Egypt. The seventh and final event in this year's series began on December 11, 2016 and culminated in the championship match on December 17. Five stages of play including multiple pre-qualification rounds yielded 15 finalists who joined 17 seeded players for the single elimination 32-player main tournament. Once again the maximum number of players had entered the event - 149 players from around the world - all battling for a chance to join the world's elite players with a world cup victory.
The seeded players - the world's top 12 - for the main event were Frédéric Caudron, Torbjörn Blomdahl, Dick Jaspers, Eddy Merckx, Marco Zanetti, Dani Sánchez, Sameh Sidhom, Nikos Polychronopoulos, Jérémy Bury, Quyet Chien Tran, Dong Koong Kang and Jae Ho Cho. Five wild cards were distributed to Hyung Kon Kim (ACBC), Roland Forthomme (CEB), Henry Diaz (CPB), Riad Nady and Khaled Erfan (organization). Once again US player Pedro Piedrabuena participated and entered the tournament in the final Qualification round before the main event. Four days of qualification rounds, each in 3-man round robin groups advanced winners from each group to the ultimate test. Each day more of the world's top player entered the event, making the challenge tougher and tougher for the aspiring cuemen.
This last World Cup event of 2016 has added signicance as it determined the overall winner of the world cup cycle which as the event began was still up for grabs. Frederic Caudron led gong in to the event, but his play in recent events has been sub-par. That left the door open for either Dani Sanchez the current world champion and number 3 in the world, or world ranked number 2 Dick Jaspers to emerge on top. The world watched as play began. Here are our day by day highlights:
Day One - PPPQ Round
On the first day in the pre-pre-pre-qualification round the weakest group of hopefuls began the tournament. Rarely does a player from the first day make it through to even the qualification round, let alone the main event. But among the players starting that climb were Martin Horn of Germany and Dave Christiani of Netherlands, two seasoned players who are easily able to compete on a world-class level. They both showed the world they were back and ready!
Best Game: Martin Horn 30 in 15 innings
High Run: Martin Horn and Dave Christiani - 12
Games Over 2.0: Martin Horn 2.000 (the day's best)
The 16 Who Advanced (match points-average-high run):
Martin Horn 4-1.714-12
Dave Christiani 4-1.538-12
Tae-Kwan Kim 4-1.224-5
Ahmed Hatem 4-1.000-5
Martin Olesen 4-0.923-4
Jiseung Han 4-0.869-4
Jesus Rico 4-0.833-9
Wilco van Wijk 4-0.750-
Jordy de Kruijf 4-0.714-6
Gürhan Kabak 4-0.638-5
Alfred Nebuda 4-0.600-4
Medhat Hosny 4-0.594-7
Giuseppe Tiranno 4-0.560-4
Zayed Mohamed 2-0.903-5
John van Essen 2-0.852-7
Walter Jurado 2-0.556-5
Day Two - PPQ Round
Play continued in the next day's pre-pre-qualification round and the two best from day one continued as the best on day two. This time Christiani was on top of the group that advanced one more round. And once again Horn and Christiani enjoyed game honors.
Best Game: Dave Christiani 30 in 15 innings
High Run: Martin Horn 14
Games Over 2.0: Dave Christiani 2.000 (the day's best)
The 16 Who Advanced (match points-average-high run):
Dave Christiani 4-1.463-8
Juan David Zapata 4-1.428-8
Martin Horn 4-1.333-14
Savas Gungor 4-1.333-6
Omer Karakurt 4-1.250-7
Tonny Carlsen 4-1.250-6
Manol Minaoglu 4-1.090-6
Jung-Wan Lim 4-1.052-7
Jose Antonio Carrasco 4-0.983-6
Jan Hudak 4-0.909-6
Hiroshi Sasaki 4-0.714-6
Radek Novak 4-0.645-5
Ahmed Hatem 4-0.588-4
Jung-Ju Shin 3-1.363-10
David Martinez 2-1.035-9
Sung-Kyu Oh 2-0.951-5
Day Three - PQ Round
As the tournament continued, the pre-qualification round brought still more skilled players to challenge the survivors from the earlier rounds. And the level of play seemed not to just jump up... but explode! More players had 2.0+ performances signaling that the top players who will soon enter must bring their best if they expect to win. Sadly, Jean Paul De Bruijn averaged 2.000 in his performance but found himself in the group with Dave Christiani and was knocked out! Horn and Christiani are still in it and were joined by Tonny Carlsen who produced a sparkling 3.750 game and a double digit run of 10 for the fans.
Best Game: Tonny Carlsen 30 in 8
High Run: Dave Christiani & Sang Fu Kang - 11
Games Over 2.0: Tonny Carlsen 3.750 (the day's best); Dave Christiani 2.500 & 2.307; Jean Paul De Bruijn 2.307; Martin Horn 2.142; David Martinez 2.307 & 2.000; Gokhan Salman 2.000
The 16 Who Advanced (match points-average-high run):
Dave Christiani 4-2.400-11
Tonny Carlsen 4-2.000-10
Martin Horn 4-1.621-7
Hakan Incekara 4-1.395-7
Myung-Woo Cho 4-1.395-7
Ivo Gazdos 4-1.276-8
Juan David Zapata 4-1.200-6
Kwang Yeol Park 4-1.176-6
Jiseung Han 4-1.153-6
Ahmed Hatem 4-0.625-8
David Martinez 3-2.142-8
Kostas Kokkoris 3-1.224-5
Ahmet Alp 3-1.071-9
Dustin Jäschke 3-1.052-5
Birol Uymaz 2-1.157-5
Therese Klompenhouwer 2-1.137-5
Day Four - Qualifications
For many fans and certainly players it may be called the qualification round... but here the real tournament begins. It is the last chance for the early round players to "hang in" and make it to the main event. And it is the ONLY chance for some of the world's top talent to advance, entering the tournament for their first matches. Even for many who own trophies from the past, they may still play only two games and be out - a long trip for such a short stay. Fifteen from this round advanced to the main event. And what is untypical for this level of competition there were two tragic mistakes that marred the day. Dave Christiani, who had been playing a fantastic tournament, lost his first game. Not necessarily a tragedy. But then he missed his next round, thinking it was scheduled for later and was disqualified and out of the event. He was both embarrassed and saddened by that unfortunate mistake. Incredibly another player, Czech player Ivo Gazdos, made the same unforced error, missed his round, and he too was disqualified.
In this round US player Pedro Piedrabuena entered the event. He was the opponent that Dave Christiani was to play. No game there... and then Pedro lost his first and only game to Korean Kwang-Yeol Park. One and done for the American.
And it was at this stage that the ultimate winner Jung-Han Heo first made his appearance. And what an appearance it was, surely signaling what was to come later. Heo not only won his group, but averaged over two in both games, and vanquished the always dangerous Tonny Carlsen who had the best game in the previous session. Heo was on his way!
Best Game: Eddy Leppens 40 in 12 innings
High Run: Tayfun Tasdemir 15
Over Two: Tayfun Tasdemir & Hakan Incekara 2.000 (Two Turks playing each other to a tie!); Heang-Jik Kim 2.500 and 2.000; Tonny Carlsen 2.105; Jung-Han Heo 2.500 & 2.000 to lead the day; Murat Naci Coklu 2.222; Murat Tuzul 2.857; David Martinez 2.000; Semih Sayginer 2.222; and the day's best Eddy Leppens 3.333
The 15 Who Advanced (match points-average-high run):
Jung-Han Heo 4-2.222-9
Haeng-Jik Kim 4-2.000-9
Eddy Leppens 4-1.951-12
Murat Naci Coklu 4-1.818-13
Jae Guen Kim 4-1.777-6
Kwang-Yeol Park 4-1.600-7
Choong-Bok Lee 4-1.509-7
Myung-Woo Cho 4-1.454-9
Lütfi Cenet 4-1.269-9
Semih Sayginer 2-1487-8
Kostas Kokkoris 2-1.460-7
Ahmet Alp 2-1.102-4
Martin Horn 2-1.780-7
Murat Tüzül 2-1.622-7
Tonny Carlsen 2-1.615-9
In spite of slipping at the end and losing a game, Martin Horn beat the odds and made it from the pre-pre-pre-qualification round all the way to the main event... the only one to survive the brutal competition in these early rounds. Now on to the main event.
The Main Tournament Begins - 1/16 Final Round of 32
It's knock-out time! The first round of the final phase of the 2016 El Gouna World Cup yielded some incredible play and high drama. In the first game world number 1 ranked Frederic Caudron was beaten by Korean Hyung-Kon Kim (a wild card entry!) 40-36 in 24 innings. Kim's run of 12 iced the match. Both Dani Sanchez and Dick Jaspers won their matches setting up one of those two to win the world cup cycle. Recent World Junior Champion Myung-Woo Cho had his winning effort cut short by fellow Korean Dong-Koong Kang 40-24 in 22. Kwang-Yeol Park showed his defeat of Dave Christiani and Pedro Piedrabuena was no fluke by knocking out Jae Ho Cho 40-21 in 17. Heang-Jik Kim confounded Lufti Cenet who had to equalize only to lose the shootout. Eddy Leppens who had the best game on the last day of the prelims fell far from grace losing to Ahmet Alp 40-16 in 17 innings.
In what was the most dramatic and what proved to be the most significant match of the day, Jung-Han Heo faced Roland Forthomme. Forthomme led the whole way in what was initially a sub-par performance by Heo. When the 40th point was made, Forthomme sat down in his chair leading 40-33. But then, the incredibile happened. Heo literally woke up, and in a stunning come-from-behind effort, ran 7 to tie the match, sending it to a shootout. Surely shell-shocked from his opponent's fearless end-game play, Forthomme stepped up and watched his World Cup hopes vanish as he missed his break shot. With only one point needed Heo nailed it, sending Forthomme home and taking one more step toward the title.
Best Game: Kwang-Yeol Park & Ahmet Alp 40 in 17 innings
High Run: Quyet Chien Tran 13
Over Two: Kwang-Yeol Park & Ahmet Alp 2.352; Jeremy Bury 2.222; Dani Sanchez 2.105; and Marco Zanetti 2.000
The 16 Survivors: Hyung-Kon Kim, Quyet Chien tran, Dong-Koong Kang, Sameh Sidhom, Kwang-Yeol Park, Jung-Han Heo, Eddy Merckx, Dick Jaspers, Ahmet Alp, Dani Sanchez, Murat Naci Coklu, Martin Horn, Jeremy Bury, Heang-Jik Kim, and Torbjorn Blomdahl
Day Six - 1/8 and 1/14 Final Action
The tension was high on Day six where two rounds in the main event were scheduled. Five Koreans remain, as do two Turks and one each from Vietnam, Egypt, Italy, Belgium, Netherlands, Spain, Germany France and Sweden. The matches and results in the 1/8 final round:
Quyet Chien Tran over Hyung-Kon Kim 40-28 in 24 innings with a high run of 10
Sameh Sidhom the lone Eqyptian made his home country fans proud winning in a shootout after equalizing against Dong-Koon Kang
Kwang-Yeol Park is the real deal as he dealt a fatal blow to Marco Zanetti 40-36 in 32 innings to move on
Jung-Han Heo one of the prelim day's leaders and having beaten one top Belgian player already, was now on a roll and stunned Eddy Merckx 40-27 in 25
Dick Jaspers rolled on 40-27 in 19 innings against Ahmet Alp
Dani Sanchez over-powered a weakened Murat Naci Coklu 40-24 in 24
Martin Horn continued his incredible run from the first day defeating Jeremy Bury 40-22 in 22
Heang-Jik Kim blew out one of the best stinging Torbjorn Blomdahl 40-12 to complete the round
With Dick Jaspers win in the 1/8 final round, he ensured that he had enough points to reign as the 2016 World Cup winner for the fifth time in his career (1997, 1998, 2008 and 2010.) Jaspers now looked ahead to winning the event and claiming the number one ranking... but at this point he had no idea he would have to overcome the Korean powerhouse Jung-Han Heo.
Best Game: Heang-Jik Kim 40 in 14 innings
High Run: Martin Horn 12
Over Two: Heang-Jik Kim 2.857; Dick Jaspers 2.105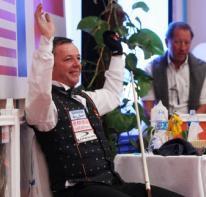 Immediately following the 1/8 final rounds came the quarter-finals. Three Koreans and one each from Vietnam, Egypt, Netherlands, Spain and Germany met to determine the final four. Each quarter-final matches was significant in its own way. Quyet Chien Tran of Vietnam met Sameh Sidhom of Egypt. The crowd watched in hope that their favorite son would advance even further in the event. It was not to be as Tran outplayed his opponent 40-30 in 20 with a run of 11. The Egyptian's hopes were ended. Martin Horn once again showed his incredible touch, form and position play with a cake-walk over Asian Champion Heang-Jik Kim 40-19 in 18 with a high run of 12. Dick Jaspers with grit and determination came out on top in his match with world champion Dani Sanchez further cementing his position at the top as the 2016 world cup cycle winner. Sanchez will have his chance to avenge the loss when overall world cup winner Jaspers faces 2016 world champion Sanchez in the Super Cup event in Antwerp on March 4, 2017. And finally the match between the two remaining Koreans. The surprise of the tournament Kwang-Yeol Park had played well so far, but he finally met his match in the form of fellow Korean Jung-Han Heo 40-20 in 19. Heo had notched another win and had reached the final four.
Best Game: Dick Jaspers 40 in 15 innings
High Run: Martin Horn 12
Over Two: ALL THE WINNERS AVERAGED OVER TWO!!! Dick Jaspers 2.666; Martin Horn 2.222; Jung-Han Heo 2.105 and Quyet Chien Tran 2.000
The Final Rounds
The semi-final match-ups took place in the morning session on the final day.
Jung-Han Heo was now at the most tension filled moment of both the tournament and his career. He faced top-12 seeded player Quyet Chien Tran of Vietnam. As it often is in these semi-final matches, there was more strategy and caution and fewer high runs. But Heo proved he can play that game as well, taking the match 40-28 in 25 innings. In the second match-up Dick Jaspers ended Martin Horn's Cinderella run with a similar styled match ending 40-28 also in 25 innings. Jaspers run of 9 was the best of the round.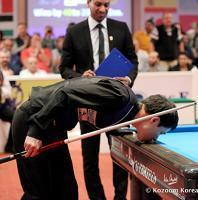 And so the final final match of the Hurghada World Cup was at hand, pitting East against West. The 3-time world champion and this year's World Cup leader Dick Jaspers of the Netherlands against the Korean upstart Jung-Han Heo. The match started with Jaspers winning the lag and then opening a small lead. Heo closed with a strong run and jumped ahead to lead at the break. Jaspers fought back and closed an 8 point gap down to one. But Heo strung together multiple runs of 7 in the second half of the match to reach the penultimate 39th point. Would Jaspers put together one final run to pull it out? Would Heo fold? In fact, it took Heo four tries at match point to finish... but the last shot was a difficult and well executed bank shot finally giving Jung-Han Heo his first world cup title. His uncharacteristic display of emotion at the end was not unexpected as this 39-year-old father of two erupted in joy at his accomplishment. Heo had vaulted into the world's top twelve and became only the fourth Korean ever to win a World Cup title. Congratulations to Jung-Han Heo the 2016 UMB Hurghada World Cup Champion.
Thanks to Kozoom for the live-stream and replays for premium pass members, and for providing results and pictures. Pictures copyright Kozoom Korea.