Dani Sanchez Wins World Cup in Luxor, Eqypt
Dani Sanchez proved why he is the current World Champion and 2016 Player of the Year by winning the UMB World Cup in Luxor, Egypt in a record-setting performance. Dick Jaspers, the current world number one on the UMB ranking was runner-up. The final match score of 40-28 in 10 innings gave Sanchez the title and lifted his general average for the event to 2.777, a record for the best average by a winner. This surpassed the previous record of 2.739 jointly held by Dani and Torbjorn Blomdahl. The 80 ranking points Sanchez earns moved him into second place in the world with 396 points, only ten behind Jaspers at 406.
This is Part 2 of our coverage of the Luxor World Cup. For our story on the qualifications stages see: 2nd UMB World Cup of 2017 - Luxor, Egypt Qualification Rounds (Part 1)
The top 14 players in the world were joined by three wildcard entrants and the 15 players who made it through the qualification stages to open the main tournament in the final UMB World Cup to be held in the city of Luxor, Egypt. Little did we know at the tme we would be witnessing a record-settng performance. For the top 14 and the wildcard entrants this would be their first game of the event. For some it would also be their last.
The round of 32. The Main Tournament Begins
Play in the first round of the main event often brings surprises as the greats sometimes fall to a young upstart, a wildcard entry or an up and coming player hungry for victory.
What was expected: Dick Jaspers ended qualifier Birol Uymaz dream. Former world champion Sung-Won Choi had no problem dispatching Xuan Cuong Ma (VN). Quyet Chien Tran prevailed over Jean Paul De Bruijn. In the battle of the Turks, Murat Naci Coklu defeated countryman Adnan Yuksel. Nikos Polychronopoulos over Dong-Koong Kang. Jung Han Heo had no problem with Ihab El Messery. Marco Zanetti squeaked past wildcard Erick Tellez. Jeremy Bury breezed past a weak Hyung Bum Hwang and Tayfun Tasdemir had to go to a shootout to end up on top of Choong-Bok Lee.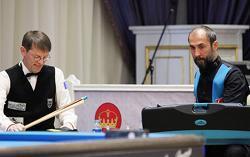 What surprised us: World Team Champion member Jae Guen Kim bested Egypt's Sameh Sidhom (ranked #9.) Young Korean star Myung-Woo Cho shocked #6 in the world Eddie Merckx who played one game and left the tournament. Number 11 in the world Jae Ho Cho lost in a heartbreaking shoot-out to Turkey's Can Capak. Semih Sayginer knocked out world #3 Torbjorn Blomdahl. Eddy Leppens in a rare victory against perennial rival and world number #2 Frederic Caudron.
And in what was a prelude of things to come, Dani Sanchez demolished Egypt's Riad Nadyn 40-6 in 11 innings for a 3.636 start and the tournement high run of 17. Seven of the 16 winners played above 2.0. And so the field was down to 16.
The 1/8-final round. Play continues on Day 6.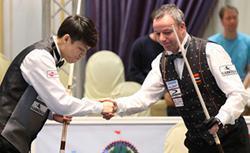 In the 1/8 finals round of 16 Dick Jaspers continued his strong play eliminating Sung-Won Choi. In the Korean battle of the Kims it was former junior champion Haeng-Jik over Jae-Guen. Myung-Woo Cho exhibiting poise and skill hung in to beat Quyet Chien Tran in a close 40-38 match. Semih Sayginer kept his hopes and the hopes of fans alive in his win over fellow countryman Can Capak. Nikos Polychronopoulos confounded a weak Jung-Han Heo. Marco Zanetti got hot and topped Jeremy Bury.
In the best game of the round and the tournament so far Tayfun Tasdemir rolled through a dumbfounded Eddy Leppens with a shocking 40-3 score in 10 innings. Tasdemir averged 4.000 and Leppens only 0.300. The defeater of Caudron must have felt demoralized as he exited the event.
And of course the eventual champion Dani Sanchez posted a comfortable 40-29 win in 15 innings against Murat Naci Coklu. Five of the eight winners in the round played above 2.0.
The quarter final round
With eight players remaining time to assess where they came from. Sanchez, Jaspers, Zanetti, Kim and Polychronopoulos were seeded from the top 14. Tasdemir, Sayginer and Cho were numbers 2, 3 & 4 from the qualification round. Clearly some of the best in the world for the 1/4-final round and play would prove it out.
Jaspers continued his domination with another strong game, although truly Haeng-Jik Kim, his hapless opponent, played way under his usual strength. 40-11 in 19. Jaspers 2.105. Kim 0.578... OUCH!
Myung-Woo Cho played Semih Sayginer and both players broke 2.0. But Cho was on top at the end 40-34 in 16. This kid can play!
Sanchez faced the always dangerous Nick "Poly" who can run. Surely the 2016 World Cup in Ho Chi Minh City must have been on Dani's mind where Nick ran 22 and out to turn the game that Dani was leading 26-18 into a 40-26 loss. And when Nick was on a run that ended at 12 Dani must have been thinking that lightning may strike again. But this time Dani's run of 11 and consistent play got him first to 40... and Nick could not equalize. 40-35 in 19 innings.
The final game saw Zanetti battling back problems and struggling against Tayfun Tasdemir who won 40-19 in 16 innings.
All four winners played over 2.0. And so the final four consisted of World Champion Dani Sanchez. World Number 1 ranked Dick Jaspers. World Junior Champion Myung-Woo Cho. And World Cup Winner Tayfun Tasdemir of Turkey, who had the best game of the event so far at 4.0. The last day had come and a champion will be crowned.
The semi-final round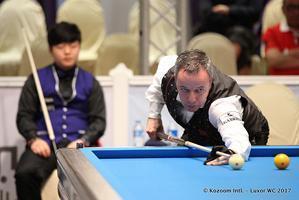 The way the draw brought the players together it was Jaspers-Cho in the first match, and Sanchez-Tasdemir in the second. A seeded player in each case against a worthy qualifier. Surely the fans were torn between seeing a World Cup with a surprise ending and one of the qualifiers coming out on top. Or seeing the two top players face off in another epic battle of the giants.
Jaspers ended the upset story of Cho rather quickly. He won the lag, broke and ran 8. Then followed that with a 7. With a 15-1 lead it was hopeless for the young Korean. Jaspers was in the finals with a 3.333 performance to boot.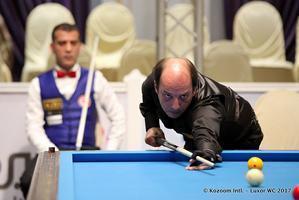 Sanchez in championship fashion followed suit as well, taking his semi-final match against Tayfun Tasdemir 40-30 in 16 innings. A 2.500 average game. With both Sanchez and Jaspers averaging around 2.500 at this point either player could win, and either player had a chance for a record. And so it was...
The final round
What a show in Luxor. The final World Cup event to be held in this beautiful city could not have had a more beautiful finish. Dick Jaspers, number 1 in the world and the 2016 overall World Cup winner facing Dani Sanchez, World Champion, 2016 Player of the Year and winner of the Supercup event against none other than Dick Jaspers. And so the rematch was on!
Jaspers wins the lag, steps up and runs 10! Wow... what a start! Sanchez can only make 4, then must take his seat. By only the 3rd inning it turned around as it was Dani's turn running 14 to take the lead. Jaspers replied with a five, and suddenly the players were at the break with Jaspers ahead 20-18 after only 4 innings. When the players returned to the table Sanchez literally caught fire. With only 3 innings work, in the sixth, eighth and finally in the tenth he ran seven each time. The final run of 7 and out was for the title. Dani Sanchez had won the his 12th World Cup, the final World Cup for the city of Luxor Egypt.
With his final game of 40 in 10 innings Dani Sanchez also set a new world record for the general average of the winner of a World Cup at 2.777, surpassing his own prior record of 2.739 (shared with Torbjorn Blomdahl.) The record was first declared as 2.812 but only days later it was revealed that a referee error in an earlier Sanchez match miscounted the innings. Even with the correction Sanchez earned the new record. His final game of 40 in 10 matched the best game of the event to that point played by semi-finalist Tayfun Tasdemir. And Sanchez also enjoyed the tournament high run honors of 17. Truly a championship performance.
With this World Cup win Dani earns 80 ranking points and moves into the number 2 spot in the world ranking. With his total of 396 only 10 behind Dick Jaspers, Dani surely has his sights set on that number 1 position. For now, the joy of winning the World Cup in record fashion will carry him forward to his next great challenge.
Congratulations to Dani Sanchez winner of the 2017 UMB World Cup in Luxor, Egypt.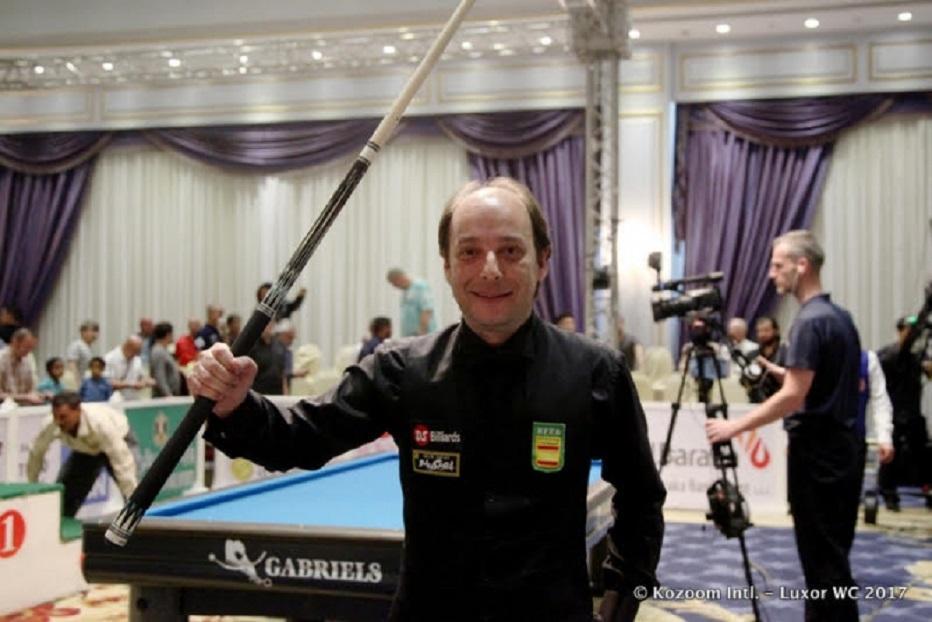 Live-stream was provided by Kozoom. Selected replays are available on Kozoom for premium members. Pictures courtesy of our friends at Kozoom Intl.