Marco Zanetti Wins LG U+ Cup in Seoul Korea
Marco Zanetti has once again proven why he is one of the world's top 3-cushion billiard players. His latest feat was topping a strong field in Seoul Korea in the LG U+ Cup, the most lucrative tournament in all of 3-cushion billiards. Zanetti becomes the first European player to win the annual event.
The LG U+ Cup, which ran from September 5-8, is the richest tournament of the year. The prize fund, topping $200,000, is the largest in all of three cushion billiards. Held for the third year in a row in Seoul, Korea, sixteen players, eight from South Korea and eight from the rest of the world, competed for the first place prize of $72,000. The 2016 winner Korean Choong-Bok Lee, who beat the Vietnamese Quyet Chien Tran was there. Also on hand was his countryman Dong-Koong Kang, who beat Dick Jaspers in 2015, the first year the event was held. Among the world's top players who attended were current world champion Dani Sánchez, Dick Jaspers, Frédéric Caudron, Torbjörn Blomdahl, Marco Zanetti, Nikos Polychronopoulos , Nguyen Quoc Nguyen, Haeng-Jik Kim and Jae-Ho Cho.
The current Italian and European champion, 55-year old Marco Zanetti celebrated with victory great joy as he took the title in the highest prize money tournament in the world. To win Zanetti had to beat both Dick Jaspers and Frédéric Caudron. In his final match he faced a relatively unknown but surprisingly strong Korean player Jin-Pyo Hong. When the match was over, at 40-19 in 16 innings, even the admittedly biased hometown crowd leaped to their feet to congratulate the winner. Marco was the undisputed star in Seoul showing once again what he is known for - class, confidence and a fierce fighting spirit.
This marks Zanneti's third big success of the year, after the European title in Brandenburg and his 26th Italian national championship. No wonder he is always found at the top of the world ranking. Today he is in the top 3 just behind number one Dani Sanchez and number two Dick Jaspers.
Zanetti was strong right from the start of the event, posting the highest average in the preliminary stage among all players (2.622.) That resulted from a victory and a draw against two strong Koreans, former world champion Sung-Won Choi and world cup winner Jung-Han Heo. Only Dick Jaspers got the better of him in the group, but in the quarterfinal, Zanetti took his revenge with a 40-34 win in 14 innings.
Other key results included Frédéric Caudron beating Nikos Polychronopoulos, Torbjörn Blomdahl's win over defending champ Choong-Bok Lee and the surprising Jin-Pyo Hong who bested 2015 winner Dong-Koong Kang to reach the semi-finals. With so much money on the line, the pressure on all the players was doubly intense. But Zanetti exhibited an unusual calm and was able to withstand the relentless attacks from his oppoents, including Jaspers and Caudron in the final stage after the pressure from the Koreans Choi and Heo in the group stage.
Zanetti only seemed to get stronger as the event went on. In his match with Caudron he ran nine points to open, then delivered what was surely the knockout blow only four innings later, with a magnificent run of 18. That run equalled the high run of the tournament, made earlier by Torbjorn Blomdahl. Zanetti finished Caudron off in 12 innings 40-19 to average 3.333.
Jin-Pyo Hong, only ranked 74th in the world, faced another European legend in his semi-final match. Torbjorn Blomdahl had already demonstrated why he is one of the greatest players of all time with an earlier match against Nguyen Quoc Nguyen of Vietnam, finishing in 8 innings with a run of 18 and a 5.0 average! The 31-year old Korean truly had his work cut out for him. But unlike last year, where he as knocked out in the semi-final round by eventual winner Choong-Bok Lee, Hong showed his grit with an inspired game. As it turned out Blomdahl had maybe his worst performance, and so Hong advanced winning 40-21 in 22 innings with runs of 8 and 6 in his last two innings.
And so it was Zanetti versus Hong in the final. But it was Zanetti who showed his superiority and experience. Taking a quick lead Zanneti lead all the way, was never in trouble, and finished with a run of 9 in the 15th inning that could have gone on save for a close miss. One inning later Zanetti was the champion 40-19 in 16 innings for a 2.500 average and the title.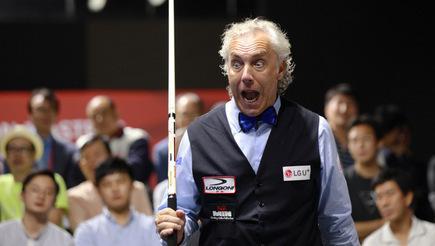 The incredibly generous prize fund (by 3-cushion billiard standards) was shared by the eight finalists:
1 Marco Zanetti, $72.000
2 Jin-Pyo Hong, $36.000
3 Frédéric Caudron and Torbjörn Blomdahl, $18.000
5-8 Dick Jaspers, Dong-Koong Kang, Choong-Bok Lee, Nikos Polychronopoulos, $9,000
Thanks to Kozoom for stats, color commentary and pictures. And our deepest admiration goes out to Marco Zanetti the 2017 LG U+ Cup Champion.