Haeng-Jik Kim Wins World Cup - AGAIN!
Repeating his winning effort of barely three months back, Korea's Haeng-Jik Kim won his second World Cup, this time in his home country in Cheongju City, Korea. Rarely does a player win back-to-back world cups. Caudron did in 2016 but before that it was Jaspers in 2008! Kim has surely established himself as one of the greats and is destined to achieve many more milestone achievements in his already illustrious career.
With another full inscription, and a huge contingent from Korea and the other Asian Federation countries, the 2017 UMB World Cup held in Cheongju, Korea September 25 - October 1 was both surprising and exciting. Many unknown players made themselves known to the world with high runs, high averages and exciting wins over the world's top players. The best run of the tournament (and best day's average in the pre-qual stages) came from Day Three leader Jong Won Kim who turned in a beautiful run of 20 and a 2.608 average! (He lost next round and did not advance.)
The four days of qualification rounds in round robin groups of three saw two players from the early pre-qualification stage make it through to the finals. Min Gu Kang of Korea entered in the PPPQ round on Day One and was still in the top group who advanced on Day Four. Thanh Tien Le of Vietnam entered on Day Two and advanced as first runner-up on Day Four. A great effort by both these players. Here are the daily leaders, each advancing as new players entered. The players advancing on Day Four joined the seeded players in the main event - a 32-man knockout format.
Top 16 on Day One
Top 16 on Day Two
Top 16 on Day Three
Top 16 on Day Four

1 Kyung-Nam Ko 4-1.818-10
2 Jun Hyuk Im 4-1.714-10
3 Young Won Kim 4-1.428-8
4 Guk In Lee 4-1.395-9
5 Daelyeon Jang 4-1.395-9
6 Duy Han Nguyen 4-1.333-5
7 Min Gu Kang 4-1.276-7
8 Nam Ho Shin 4-1.052-5
9 Sangeun Sung 4-1.034-6
10 Mauricio Aguilar 4-0.845-6
11 Tan Hoi Vo 4-0.731-4
12 Shin Young Lee 4-0.521-4
13 Bong Chul Kim 3-1.463-3
14 Jun Tanaka 3-0.833-5
15 Hae Myoung Jung 2-1.183-5
16 Seong-Gwang Kim 2-1.139-9

1 Byung Seob Kim 4-2.222-5
2 Min Gu Kang 4-1.818-7
3 Hae Myoung Jung 4-1.538-7
4 Tolgahan Kiraz 4-1.395-8
5 Young Won Kim 4-1.304-7
6 Seong-Gwan Kim 4-1.304-10
7 Hee Eung Moon 4-1.304-5
8 Guk In Lee 4-1.276-7
9 Hyun Woo Kim 4-1.276-7
10 Jun Hyuk Im 4-1.276-7
11 Carlos Campino 4-1.200-8
12 Sangeun Sung 4-1.153-8
13 Mauricio Aguilar 4-1,153-6
14 Tanh Tien Le 3-1.224-9
15 Bong Chul Kim 3-1.176-7
16 Jun Tanaka 2-1.062-11
1 Jong Won Kim 4-2.608-20
2 Jun Hyuk Im 4-1.935-10
3 Hyung Bum Hwang 4-1.875-8
4 Tolgahan Kiraz 4-1.764-8
5 Duc Anh Chien Nguyen 4-1.666-6
6 Jung Ju Shin 4-1.621-9
7 Kwang Yeol Park 4-1.538-11
8 Woo Chai Gil 4-1.500-8
9 Min Gu Kang 4-1.428-8
10 Birol Uymaz 4-1.428-7
11 Kostas Kokkoris 4-1.395-8
12 Tanh Tien Le 4-1.395-8
13 Jan Tanaka 4-0.983-4
14 Jean Paul de Bruijn 3-1.052-6
15 Hyun Woo Kim 2-1.575-7
16 Quang Hao Trupng 2-1.160-7

1 Semih Sayginer 4-2.222-12
2 Choong-Bok Lee 4-2.105-9
3 Min Gu Kang 4-1.777-10
4 Chi Yeon Cho 4-1.739-10
5 Dinh Nai Ngo 4-1.702-9
6 Hyung-Kon Kim 4-1.702-9
7 Roland Forthomme 4-1.632-10
8 Tayfun Tasdemir 4-1.509-8
9 Sung-Won Choi 3-2.162-11
10 Birol Uymaz 3-1.777-9
11 Anh Vu Duong 3-1.250-7
12 Tolgahan Kiraz 2-1.520-9
RU1 Thanh Tien Le
RU2 Xuan Cuong Ma
RU3 Lütfi Cenet
RU4 Seung Jin Lee.
The seeded players for the main event included: Dani Sánchez who leads the world ranking, followed by Dick Jaspers, Marco Zanetti, Frédéric Caudron and Haeng-Jik Kim. Then came Torbjorn Blomdahl and Nikos Polychronopoulos. Jeremy Bury the winner in Guri, Korea last year was a last minute cancellation due to health reasons, which is why a fourth runner-up from the Qual round advanced. And finally there was Murat Naci Coklu, Eddy Merckx, Sameh Sidhom, Jung Han Heo, Nguyen Quoc Nguyen and Tran Quyet Chien. The wildcard spots went to Riad Nady, Jae Ho Cho and In-Won Kang.
in the first round of the main event the two miracle players finally were eliminated. Thanh Tien Le ran into Eddy Merckx losing 40-12. Min Gu Kang had a chance to advance as he reached 40 ahead of Lufti Cenet. But Cenet equalized and in the shootout Kang could only post one. Cenet made two and Kang was gone. Also out of note in the Round of 32 were Frederic Caudron losing to Anh Vu Duong, Marco Zanetti losing to Sung-Won Choi, Nick Poly losing to Xuan Cuong Ma, and Quyet Chien Tran falling to Tolghan Kiraz. The tournament winner faced a determined Dinh Nai Ngho but managed to hang on in a tough 40-36 win to start his march to victory.
The Round of 16 brought more upsets as the field was narrowed down. Dani Sanchez lost in a lop-sided match to Lufti Cenet. Off-day for Dani and he was out. Torbjorn Blomdahl had a tough fight where he had to equalize playing yellow, only to lose in a shootout to Sameh Sidhom. Sung-Won Choi continued to keep the Europeans guessing as he beat Eddie Merkx 40-39. Merckx missed a chance to equalize in his losing effort. Haeng-Jik Kim had no trouble with fellow countryman Jung Han Heo to notch his second win.
The Quarter-Final round found the classic split - 3 from Korea and 1 from Vietnam from the Asian Federation facing 2 from Turkey, 1 from the Netherlands and 1 from Eqypt from Europe and the African Federation. Lufti Cenet was having a great event, coming out on top in very close matches. It was no different here as he beat Sameh Sidhom 40-37. Kim won handily against Jae Ho Cho. Murat Naci Coklu finally stopped the steam-rolling Sung-WIn Choi who came up way short 40-13. And Dick Jaspers dispatched Xuan Cuong Ma 40-17.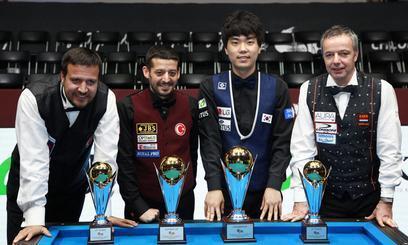 The final four were set. Lufti Cenet of Turkey faced Haeng-Jik Kim and Murat Naci Coklu, another Turk! faced the Dutchman Dick Jaspers. In the first semi-final game Kim played strong and steady, was never in trouble, and ended Lufti Cenet's hopes of a World Cup win in a 40-30 decision. The second semi-final match ended with a similar score but in a stronger performance. Turkish star Coklu got the better of Dick Jaspers in a 14 inning game where each player had a nice run (Coklu 9, Jaspers 8) but Coklu was never in trouble averaging 2.857.
The final match had the home town fans cheering every point, Kim's performance can only be described as rock solid. He won the match 40-30 in 16 innings. Another stellar performance (average 2.500). Yet he only had a high run of 5, signifying his overall game was strong and consistent. And that's what it takes to beat any of the world's best, a feat that Haeng-Jik Kim has done for the second World Cup in a row.
Congratulations to 25-year old Haeng-Jik Kim of South Korea on winning another UMB World Cup event - the 2017 World Cup in Cheongju.
Thanks to Kozoom for pictures, stats and video replay (available to members.)