Torbjorn Blomdahl Rises Again to Win World Cup La Baule France
Torbjorn Blomdahl has once again proven why he is one of the greatest players of all time in the game of 3-Cushion Billiards. In a consistent and strong showing the 55-year old Swedish star defeated all comers including the great Frederic Caudron in the final match to win the sixth UMB World Cup of the 2017 cycle. Held for the second year in the city of La Baule France the event ran from October 23-29. The result moves Blomdahl into the number 4 spot on the UMB Ranking. (Dani Sanchez retains number 1 followed by Haeng-Jik Kim and Dick Jaspers.)
With another full field of hopefuls, 149 players were inscribed into the event, with 41 more on the reserve list. The Asian contingent was not as prominent as the last event held closer to home in Korea, but the players represented some of the best both known and unknown as the results proved out.The four days of qualification rounds were played in round robin groups of three. The days results can be found in the chart below.
The players advancing on Day Four joined the seeded players in the main event - a 32-man knockout format.
Top 16 on Day One
Top 16 on Day Two
Top 16 on Day Three
Top 15 on Day Four

1 Jung Ju Shin 4-1.818-14
2 Jacob Sörensen 4-1.764-7
3 Juan Bouterin Bote 4-1.395-7
4 Xavier le Roy 4-1.052-5
5 Sangeun Sung 4-0.952-7
6 Mikaël Devogelaere 4-0.952-5
7 Maxime Panaia 4-0.937-8
8 Wilco Meusen 4-0.937-5
9 Kévin Perrotin 4-0.937-4
10 Philippe Malsert 4-0.779-7
11 Allan Jensen 4-0.740-6
12 Rafael Perez 4-0.625-7
13 Francis Forton 3-1.090-6
14 Thibaut Espada 3-0.923-8
15 Georges Demos 3-0.759-5
16 Bernard Baudoin 2-0.950-7

1 Francis Forton 4-2.000-11
2 Jose Maria Mas 4-1.714-5
3 Jacob Sörensen 4-1.538-10
4 Juan David Zapata 4-1.428-7
5 Dave Christiani 4-1.395-9
6 Savas Güngör 4-1.176-8
7 Bernard Baudoin 4-1.111-5
8 Sung Il Jeong 4-1.016-10
9 Apostolos Balogiannis 4-1.016-7
10 Xavier le Roy 4-1.016-5
11 Manol Minaoglu 4-0.984-6
12 Lars Dunch 4-0.967-5
13 Adrien Tachoire 3-0.857-7
14 Chang Hoon Seo 2-1.180-6
15 Kévin Perrotin 2-0.980-7
16 Wilco Meusen 2-0.700-5

1 Christakis Christoforou 4-1.875-6
2 Sang Ku Kang 4-1.764-15
3 Birol Uymaz 4-1.578-9
4 Hideaki Kobayashi 4-1.578-9
5 Chang Hoon Seo 4-1.500-11
6 Juan David Zapata 4-1.500-6
7 Lars Dunch 4-1.463-9
8 Kwang Yeo Park 4-1.395-8
9 Rui Costa 4-1.276-8
10 Jacob Sörensen 4-1.276-6
11 Jung Wan Lim 4-1.000-5
12 Atsushi Kiyota 4-0.967-6
13 Dustin Jäschke 3-1.395-8
14 Young-Hoon Lee 2-1.552-7
15 Glenn Hofman 2-1.368-8
16 Tonny Carlsen 2-1.228-15.

1 Dong-Koong Kang 4-2.758-4
2 Jae-Ho Cho 4-1.904-7
3 David Martinez 4-1.860-9
4 Can Capak 4-1.860-9
5 Adnan Yüksel 4-1777-6
6 Young Hoon Lee 4-1.739-9
7 Chi Yeon Cho 4-1.632-5
8 Dinh Nai Ngo 4-1.568-8
9 Birol Uymz 4-1.509-10
10 Myung-Woo Cho 3-1.568-9
11 Jae-Guen Kim 3-1.454-10
12 Eddy Leppens 2-1.644-6
RU1 Xuan Cuong Ma 3-1.428-6
RU2 Hyung Kon Kim 3-1.355-9
RU3 Semih Sayginer 2-1.820-15.12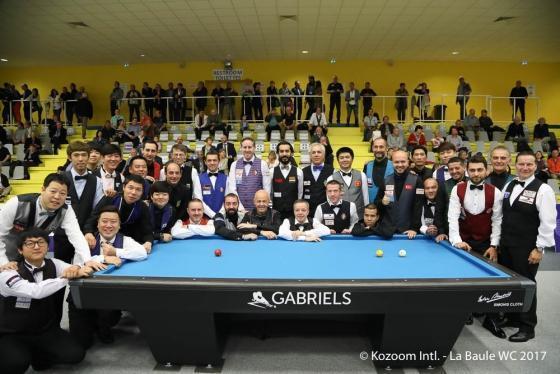 The fourteen seeded players for the main event in La Baule were Dani Sánchez, Dick Jaspers, Marco Zanetti, Frédéric Caudron, Haeng-Jik Kim, Torbjörn Blomdahl, Nikos Polychronopoulos, Jérémy Bury, Murat Naci Coklu, Eddy Merckx, Sameh Sidhom, Jung Han Heo, Nguyen Quoc Nguyen and Quyet Chien Tran. The wildcards positions were awarded to Jérôme Barbeillon, Sung-Won Choi and Jean Paul de Bruijn. The mix of players in the 32 that started the event was roughly split between the Asians and European countries. That would prevail all the way through the semi-final round. There were 10 from Korea, 4 from Vietnam, 5 from Turkey, 3 from Belgium, 2 each from Netherlands, Spain and France, and 1 each from Egypt, Sweden, Italy and Greece.
In the first round of the main event six players achieved a 2.0 average or better (all advanced) and the high run went to Dick Jaspers (11). Blomdahl faced his first challenge in former World Champion Semih Sayginer of Turkey. The result was never in doubt as Torbjorn won going away 40-29 in 20 innings. Frederic Caudron met fellow Belgian Eddy Leppens. The utter destruction of Leppens in a 40-13 runaway was not an example of Eddy's usual competitive play.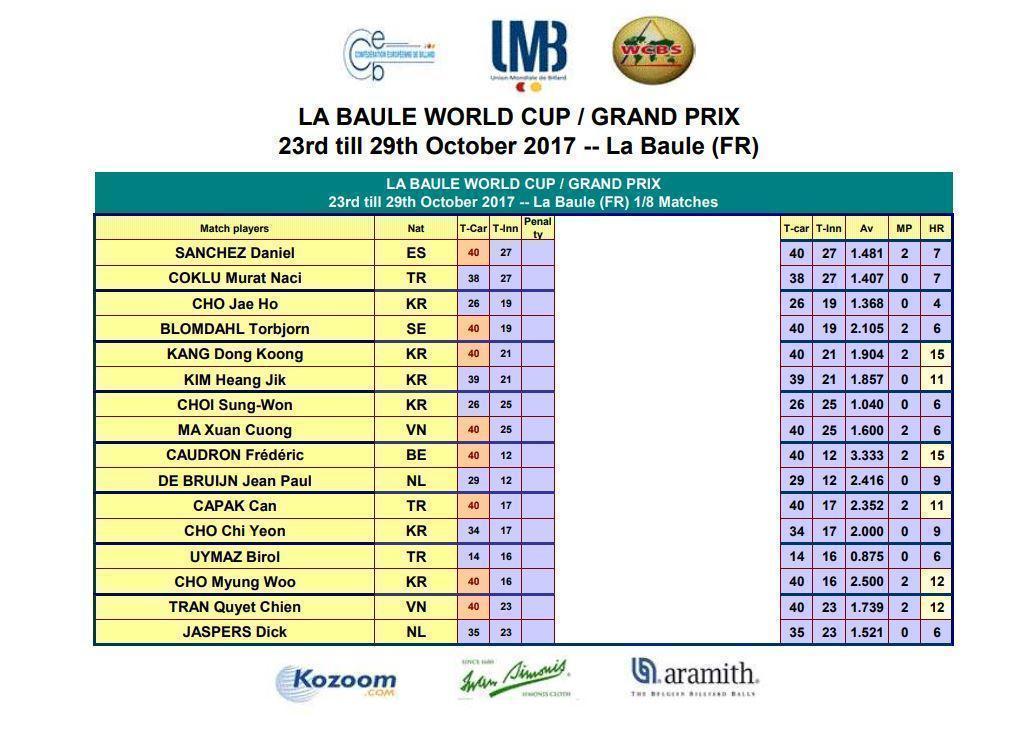 In the 1/8 final round the play intensified with six players again averaging over 2.0 (two in losing efforts!) Frederic Caudron had the best game defeating Jean Paul De Bruijn 40-29 in 12 innings (3.333) with a high run of 15. That high run was shared by Dong-Koong Kang who eliminated Haeng-Jik Kim's hopes of a third world cup win a row in a tough 40-39 loss. Blomdahl knocked out Jae Ho Cho while continuing to average over 2.0. Click the thumbnail to the left to expand the charts for the round.
Then came the quarter-finals... and the quality of play went into the stratosphere. Two matches ended in 13 innings (that's a 3.076 average!) as Blomdahl defeated a tired Dani Sanchez 40-17 with a high run of 12. The other match saw Xuan Cuong Ma of Vietnam defeat the Korean Kang 40-15 setting the stage for a semi-final battle of the two 3.076 quarter-finalists. Caudron had no trouble getting by Can Capak, while the young Korean Myung Woo Cho ended the hopes of Vietnam's Quyet Chien Tran of making the podium.
The semi-final and final rounds were played on Sunday. In the first match Blomdahl faced Ma in a cautious defensive game. The two players had great respect for each other, especially after the performances in the prior round. But in the end the experienced Blomdahl ended on top and in the finals once again with a 40-30 win. Frederic Caudron faced the young Korean sensation Myung Woo Cho who was on the podium once before in the World Cup. Cho is a player with so much skill and so much promise. That he was again in the semi-finals was a testament to his dedication and technique. But in the second half of the match he missed a few makeble shots (close... but misses nonetheless) and Caudron closed it out 40-25 in 17 innings.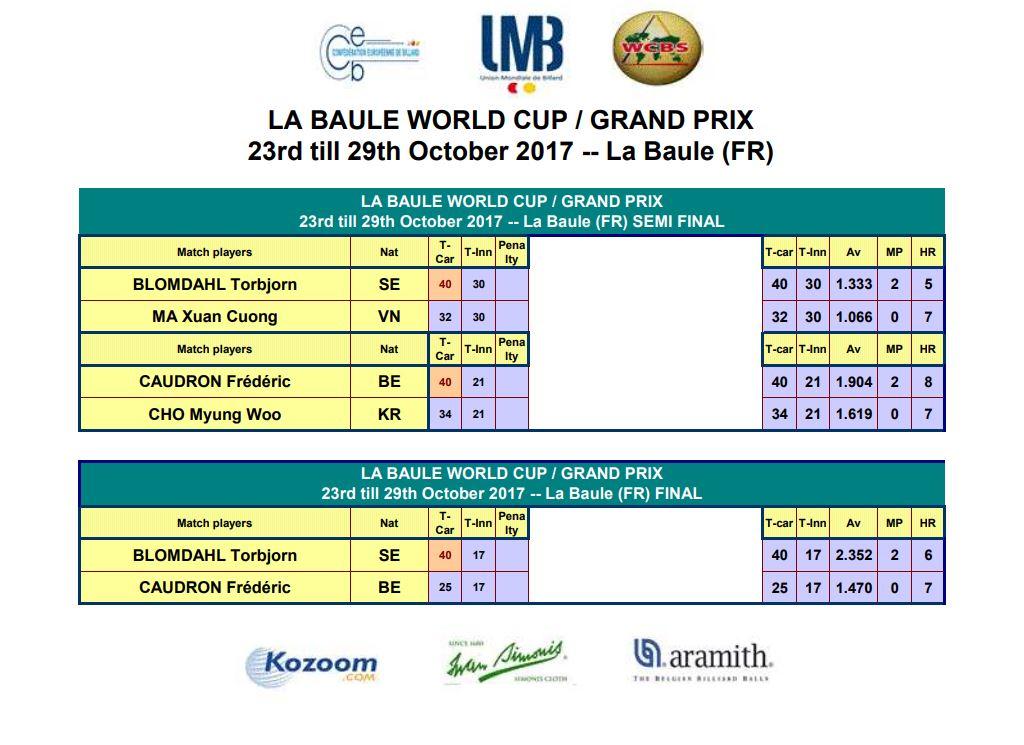 And so the Asian players were relegated to third and fourth as the two long-time friends and rivals Torbjorn Blomdahl of Sweden and Frederic Caudron of Belgium once again met in a decisive final match for a title. Caudron struck first winning the lag for the break and he opened with a run of 7. A few innings later Blomdahl answered with a five but still trailed. With good play from both players the lead changed twice before they were tied at 15. Then Blomdahl made his move running six to lead at the break. When the players returned to the table Caudron attempted to mount a comeback... but it was not to be. Blomdahl maintained his lead in a steady march to 40. Caudron found too many holes, and had too many close misses, unable to find a way to put together another high run. When the final billiard was made it was Torbjorn Blomdahl winning 40-25 in 17 innings (2.352) to be crowned the 2017 UMB World Cup La Baule champion. Congratulations Torbjorn for your fine performance, adding to your incredible 44 lifetime World Cup titles.
Thanks to the UMB and Kozoom for pictures, stats and of course the video replay of key matches available to members.