Frederic Caudron Leaves No Doubt He Is World No. 1 With Win in Turkey
Frederic Caudron of Belgium has cemented his position as the world's best 3-cushion billiard player with a win at the first UMB World Cup of 2018. Held in Antalya Turkey, the maximum field battled from April 23-April 29 culminating in a final match-up between home town favorite Murat Naci Coklu and the mighty Caudron. The result was never in doubt as Caudron cruised to a 40-23 victory over the Turk in 13 innings with a high run of 13 and a stratospheric 3.08 average. Pictured above are the final four (L to R) Frederic Caudron, Murat Naci Coklu, Jae Ho Cho (Korea) and Dani Sanchez (Spain.)
With his victory Caudron starts 2018 on the same high note as 2017 with a World Cup win in Turkey. His opening win in Bursa 2017 was the beginning of a year that ended with his reclaining the world championship title. Will he do it again? Well, handicappers will note that Caudron now leads the world's best with 492 UMB ranking points. His nearest rival is fellow Belgian Eddy Merckx at 359. The coveted top 14 positions receive an automatic entry into the main events at World Cup tournaments, so every win at this level is critical. And beginning with the next UMB World Cup event scheduled for May 21 in Ho Chi Minh City, Vietnam, the top 20 players will be invited to the newest UMB event - The Masters Tournament - another high prize money event.
The player rankings as of the completion of this event (April 29, 2018) were:
1 Frederic Caudron 492
2 Eddy Merckx 359
3 Marco Zanetti 327
4 Haeng-Jik Kim 322
5 Dani Sánchez 299
6 Dick Jaspers 292
7 Torbjorn Blomdahl 288
8 Jae Ho Cho 275
9 Murat Naci Coklu 260
10 Sameh Sidhom 220
11 Sung-Won Choi 214
12 Jung-Han Heo 208
13 Nikos Polychronopoulos 202
14 Jeremy Bury 187
15 Nguyen Quoc Nguyen 176
16 Dong-Koong Kang 175
17 Minh Cam Ma 155
18 Quyet Chien Tran 152
19 Eddy Leppens 150
20 Tayfun Tasdemir 146
The 2018 World Cup season opens with a level of play that is at long last matched by the increase in prize money to the top players who compete. In Antalya, Caudron earned a first prize of 16.000 euro's, the highest amount ever in a World Cup. The Turkish number two took 10.000 euro's.. Players and fans alike can't help but marvel at the level of play and how it will only increase with the financial incentives of the new prize structure.
The high run in the event went to Jae Ho Cho of Korea who dashed off a sparkling 21 point run in his opening round win against Dutchman Jean Paul de Bruijn. Until the semi-final round where he stumbled against Coklu, Cho seemed almost invincible. But a small error on a short angle shot when the match was tied 38-38 handed the win to Coklu. To the crowd's delight a Turk had made it to the finals.
Caudron reached the final by crushing the field in every round, holding all but his final opponent to under 20 points. His semi-final match with Dani Sanchez proved no different. In the previous five matches where these two world chanpions have met, Caudron was the better four times, including at the World championship in Bogóta, where the Spaniard lost his world title and the Belgian showed up as his successor. In Antalya Caudron took advantage of an unlucky start by Dani and finished in 12 innings for the second time in the tournament: at 40-16.
As the final match between Caudron and Coklu unfolded, the great Turkish billiard fans rooted hard for their player. Caudron made his move at point 16 when he unleashed a run of 13. Not the 18 he had scored earlier in the tournament in his first round match against Hugo Patino (40-5!!!) but enough to put the match with Coklu out of reach. In the end the fans were both respectful to the champion and certainly filled with admiration watching the performance of the winner. Congratulations to Frederic Caudron, champion in Antalya 2018.
The final ranking for the main tournament (top 20 players):
1 Frédéric Caudron 2.739-18
2 Murat Naci Coklu 1.906-13
3 Jae-Ho Cho 2.393-21
3 Dani Sánchez 1.563-7
5 Marco Zanetti 1.806-12
6 Lütfi Cenet 1.803-10
7 Dinh Nai Ngo 1.750-7
8 Semih Sayginer 1.676-9
9 Nikos Polychronopoulos 1.941-11
10 Jung-Han Heo 1.638-8
11 Eddy Leppens 1.581-8
12 Dong-Koong Kang 1.571-10
13 Javier Palazón 1.463-10
14 Nguyen Quoc Nguyen 1.463-8
15 Haeng-Jik Kim 1.428-8
16 Quyet Chien Tran 1.173-12
17 Martin Horn 1.944-10
18 Dick Jaspers 1.933-5
19 Jean Paul de Bruijn 1.750-8
20 Sameh Sidhom 1.500-9.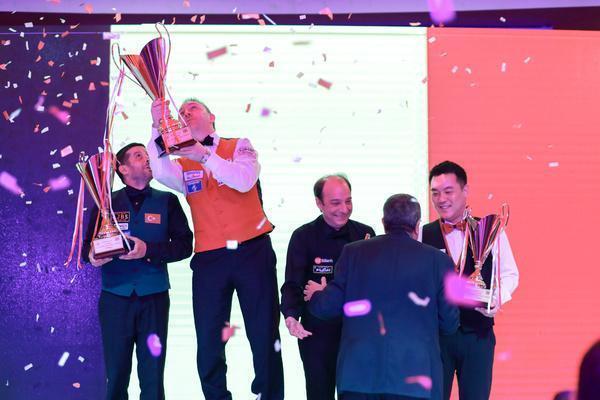 Photos courtesy of Kozoom Studio c Kozoom. Used by permission.