Dick Jaspers Wins 4th World Championship Title
Dick Jaspers of the Netherlands proved best of all in the 2018 3-Cushion World Championship held in Cairo, Egypt October 2-6, 2018. The Dutch superstar and now world number two ranked player defeated Jeremy Bury of France in an epic final match that went all the way to a shootout to determine the winner.
Jaspers and Bury were two deserving finalists who each defeated top competition to reach their ultimate final match-up. Jaspers overcame tough opposition facing Ruben Legazpi of Spain who was playing a strong tournament, and finally third place finisher Semih Sayginer of Turkey in his semi-final game. Not only did he win all his matches, he played the best average of the event along the way, finishing with a 2.353. Bury mowed through two strong Asians, Korean Jae Ho Cho and Quyet Chien Tran of Vietnam. Perhaps even more significant, Bury was responsible for sending home the reigning world champion Frédéric Caudron. In his semi-final match Bury knocked out the last Vietnamese player in the field, Nguyen Quoc Nguyen, who shared 3rd place with Sayginer.
The final match between the two European survivors was truly epic. The first half was exactly even as the players were tied at the midpoint 20-20 after 11 innings. In the second half neither player could take a commanding lead. With Bury leading 37-36 he was the first to reach forty in inning 21. But facing the challenge, Jaspers coolly stepped up to the table in the equalizer and ran four to force a shootout. In the penalty round Bury shot first but only could manage two, missing a short angle shot by a fraction. And once again Jaspers stepped up to the table, making the three he needed to claim his the 2018 World Championship Title.
For Jaspers this was title number four and a stepping stone to overtaking Frederic Caudron for the world number one ranking. Caudron is still on top but will be shedding ranking points from some of his older tournaments in the months to come. Former world champion Semih Sayginer had to be pleased with his effort as he has struggled to return to his former form. Asian Champion Nquyen Quoc Nguyen one of four Vietnamese in the final 16 had early chances but ran out of steam in his losing effort against Bury. Here are the final standings of the top 16:
1 Dick Jaspers 14-2.353-12
2 Jérémy Bury 10-2.022-8
3 Nguyen Quoc Nguyen 10-1.629-11
3 Semih Sayginer 8-1.568-10
5 Tonny Carlsen 8-1.920-19
6 Minh Cam Ma 8-1.571-9
7 Tayfun Tasdemir 8-1.544-12
8 Quyet Chien Tran 6-1.598-12
9 Frédéric Caudron 6-2.211-12
10 Jung-Han Heo 6-1.540-11
11 Eddy Leppens 6-1.435-14
12 Ruben Legazpi 5-1.648-6
13 Torbjörn Blomdahl 4-1.746-10
14 Dinh Nai Ngo 4-1.579-14
15 Sameh Sidhom 4-1.441-11
16 Robinson Morales 4-1.394-7
Congratulations to Dick Jaspers, 2018 UMB 3-Cushion World Champion.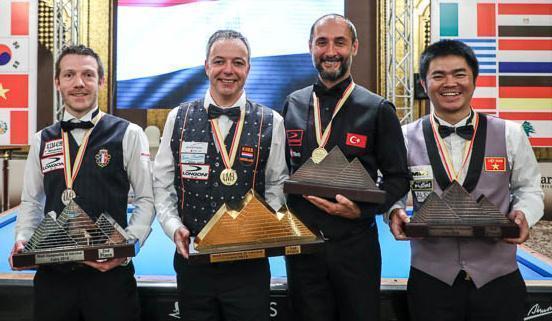 Pictured on the podium from left to right: Jeremy Bury (2nd), Dick Jaspers (1st), Semih Sayginer (3rd) and Nguyen Quoc Nguyen (3rd)
Results for all matches are available: CLICK HERE!
Thanks to Kozoom Studios for pictures and to UMB and Kozoom for statistics and other material in preparing this report.