Martin Horn of Germany Wins World Cup in La Baule
Germany's Martin Horn returns to the world's top stage in 3-cushion billiards in defeating Korean Jae Ho Cho 40-39 in a nail-biter final match to win the La Baule (France) World Cup. This was the second world cup title for the great German champion.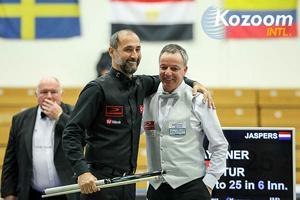 The world cup tournament in La Baule, France was historic in so many ways. It marked the return to top form of two of the world's great players - Martin Horn the winner, and the Turkish Magician Semih Sayginer who placed 3rd/4th. In addition, two world record's were set at the tournament. Semih Sayginer and Dick Jaspers met in the quarter-final round and played one of the greatest matches ever played. Semih Sayginer finished 40-25 in 6 innings with a high run of 12. His average: an incredible 6.667! Jaspers thrilled the crowd with a heroic run of 12 to average 4.166 in a heartbreaking loss. The combined average for the two players of 5.417 was also a record.
And finally consider the journey to victory made by Horn. He had last won a world cup event back in 2009 in Antalya, Turkey. His self-imposed absence from world cup play had him ranked only 46 in the world at the start of the event. Therefore he had to start the tournament in the pre-qualification round. His consistent play in a tough series of matches over five grueling days is a testament to his fortitude and determination. And thus Horn became the first player to win a world cup event having entered in the pre-qualification stage. The ranking points earned catapult him to number 23. Sadly, he will miss the next world cup event in Hurghaa, Egypt in December as he prepares to meet his next personal goal - the German National Championship.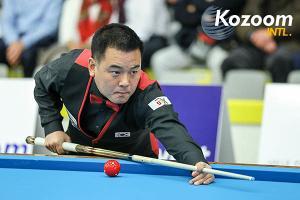 Jae Ho Cho had nothing to be ashamed of in a tough second place finish. He fought hard and even held the lead several times in the final match. But Horn was first to reach 40. In the equalizer Cho needed four, and barely missed his final point - a tough bank shot just one half ball long of the mark. Always a gentleman he immediately went to congratulate Horn for his win.
Horn had victories over some of the world's best, proving he truly deserved the trophy. His wins in the knock-out stage over Marco Zanetti, Frédéric Caudron and Jae-Ho Cho, three players from the world's top five signify Horn is back and ready to compete at the world-class level. His earlier victories over Jung-Han Heo and Torbjörn Blomdahl were a prelude of things to come.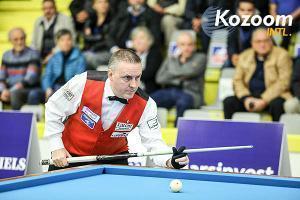 Caudron still maintains his world number one ranking, after a strong performance including the tournament high run of 18. His skill and artistry are in no way diminished by his one loss to the eventual winner. World Champion Dick Jaspers maintains the second spot in the world ranking, while Semih Sayginer jumps up to number three. Marco Zanetti and Eddy Merckx are tied for fourth while Jae Ho Cho's effort earns him the sixth spot.
Semih Sayginer at one point looked unstoppable. But after his record-breaking performance against Jaspers he faced Cho in the semi-final round and could not maintain the pace. The lone Korean and former world cup winner (Istanbul, Turkey 2014) was just too much to handle on that day. Thus came the setup for the final match that gave Horn his victory.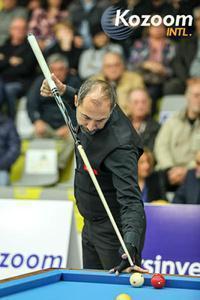 Final ranking of the top 16, average and high run:
1 Martin Horn 2.020-13
2 Jae Ho Cho 1.970-11
3 Frédéric Caudron 2.053-18
3 Semih Sayginer 1.921-12
5 Dick Jaspers 2.282-12
6 Minh Cam Ma 1.919-9
7 Marco Zanetti 1.864-12
8 Dani Sánchez 1.830-11
9 Jérémy Bury 2.172-11
10 Tayfun Tasdemir 2.121-9
11 Jung Han Heo 1.921-9
12 Murat Naci Coklu 1.809-11
13 Dinh Nai Ngo 1.666-15
14 Quyet Chien Tran 1.543-6
15 Dion Nelin 1.512-11
16 Birol Uymaz 1.428-11
Congratulations to Martin Horn for his historic comeback victory at the 2018 La Baule, France World Cup.
Thanks to the UMB and Kozoom for pictures and statistics used in this report. For results of all matches CLICK HERE!