Dick Jaspers is the Next Survivor Among the 3C Masters
The Netherlands' Dick Jaspers has added the $50,000 first place prize to his growing list of accomplishments as he wins the third installment of the 3C Masters Survival tournament held in Guri Korea. The Dutchman's win follows the previous two installments of this new format, won by Eddie Merckx and Dani Sanchez, and further adds to the European players dominance in International competition.
What an incredible year for Dick Jaspers. He became world champion for the fourth time. He was among the best at the Verhoeven and consistently at the top in the World Cups. He set a world record of 40 points in 4 innings. Surely he will finish the year with even more on his impressive list of accolades. And now add his win in the Survival Masters held in the Korean city of Guri, a tournament format that was launched just this year and restricted to only the top international players. Jaspers received the trophy at the ceremony, and the main prize of $50,000, bringing his total earnings for 2018 to $175,000. Professional billiards has surely come into its own in 2018, with Dick Jaspers, Holland's top player, as one of the big money makers on the circuit.
Jaspers and 23 3-cushion masters entered the event meeting in six groups of four. Through a series of matches players were eliminated from round to round until the final four met on one table for "all the marbles" For more details on the unusual format of play see our article: New Survival 3C Masters Event - 1st Time On World Stage for the rules of the game.
World Champion Dick Jaspers not only survived this incredibly tough competition, he seemed to thrive on it as his game improved with each round, making his ultimate victory well-deserved. In his semi-final meeting against Semih Sayginer, Marco Zanetti and Murat Naci Coklu he thrilled the crowd with not just one, but two runs of thirteen. In the final match he cemented his victory with three strong runs of 9, followed by 8 and 10. Unstoppable!
Said Jaspers of his performance:
Actually, I realize that 2018, in my 53rd year of life, is quite another peak in my career. I never think about how long I can go on, but this is a highlight with which every top player should be happy.
Congratulations to Dick Jaspers on his brilliant performance and victory.
The standings for the top 16 with the prize payouts (in USD):
1 Dick Jaspers $50,000
2 Quyet Chien Tran 21,000
3 Semih Sayginer 18,000
4 Chi Yeon Cho 15,000
5-8: Jae-Ho Cho, Dinh Nai Ngo, Murat Naci Coklu, Marco Zanetti: 9,000
9-16: Dong-Koong Kang, Eddy Merckx, Jung-Han Heo, Frédéric Caudron, Torbjörn Blomdahl, Nikos Polychronopoulos, HaengJik Kim, Tonny Carlsen: 6,000.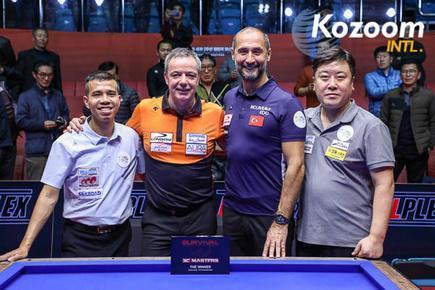 The Final Four (L ro R): Quyet Chien Tran (2nd), Dick Jaspers (1st), Semih Sayginer (3rd) and Chi Yeon Cho (4th)
Thanks to Kozoom for pictures and statistics in preparing this report.