Tayfun Tasdemir Wins Antalya 2019 World Cup
In front of an adoring hometown crowd Turkish star Tayfun Tasdemir defeated Jae Ho Cho of Korea in the finals to win his second career World Cup, kicking off the 2019 UMB World Cup cycle.
This is a continuation of our Antalya 2019 coverage. For early round play please see: First World Cup of 2019 - Antalya, Turkey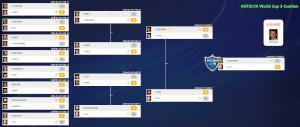 Thirty-two players started the final phase with eight 4-man round robin groups. After the battle for the final spots were over the 16 remaining players met in a single elimination event. Click on the chart image to the left to expand and see all the matches.
As the single elimination group whittled down to the final four, the world's top players fell one-by-one. At the start of the final day, it would be nearly impossible to pick a winner. Both Turkish players, Murat Naci Coklu and Tayfun Tasdemir had won World Cups before. But the same was true for the Korean and the Vietnamese semifinalists, Jae Ho Cho and Quyet Chien Tran. Four stylish, technically outstanding players, all capable of making 40 points in well under 20 innings: who would hold the trophy?
The earlier days had seen several highlights. Martin Horn ended a match with a run of 18. Nikos Polychronopoulos and Myung Woo Cho had averaged very close to 3 (80 points in 27 innings), and the audience had been delighted by the steady strong play of their countryman Serdar Bas. With Semih Sayginer, Coklu, Tasdemir, Capak and wildcards Cenet and Uymaz, the tournament had Turkey written all over it. So it was fitting that half the final four were Turks!
On his way to World Cup gold, Tasdemir had to deal with two strong countrymen: first with Lütfi Cenet in the quarter finals (40-33 in 18), later in the semi-finals with Murat Naci Coklu 40-37 in 27.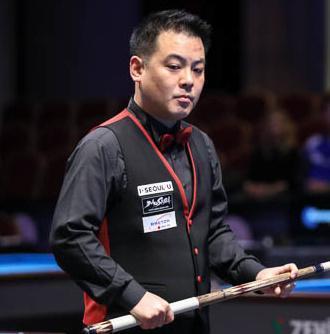 The final match proved Tasdemir's greatest challenge, where met Jae-Ho Cho. The smooth Korean was known for his steady hand and deadly accuracy. Adding to the pressure for the Turk was the prospect of performing in front of his home countrymen who were brimming with anticipation. Would Tayfun be up to the task? Absolutely! In fact he turned the final match into a convincing victory with a decisive attack just before and just after the break with 7, 6 and 3 runs. That brought him from 19-16 up to a comfortable 35-19 and resulted in a 40-21 score in 21 innings.
Accepting the Turkish flag from his federation chairman immediately after the winning point Tayfun proudly displayed it to crowd who had cheered him on. Jae-Ho Cho, who eliminated Dani Sánchez and Pedro Piedrabuena, was blown away by his opponent in the final fight. Still Cho's performance moves him up in the world rankings and we expect to see him once again in the final stages of a world cup event.
Final rankings - match points, average, high run: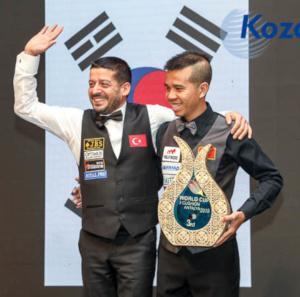 1 Tayfun Tasdemir 8-1.758-10
2 Jae-Ho Cho 6-1.516-15
3 Quyet Chien Tran 4-1.963-15
4 Murat Naci Coklu 4-1.746-9
5 Sung-Won Choi 2-1.818-11
6 Lütfi Cenet 2-1.738-8
7 Martin Horn 2-1.904-18
8 Pedro Piedrabuena 2-1.l196-9
9 David Martinez 0-1.888-9
10 Torbjörn Blomdahl 0-1.636-11
11 Dinh Nai Ngo 1.360-10
12 Roland Forthomme 0-1.347-12
13 Eddy Merckx 0-1.272-13
14 Dani Sánchez 0-1.150-11
15 Dick Jaspers 0-1.090-7
16 Frédéric Caudron 0-1.000-15
Congratulations to Tayfun Tasdemir of Turkey in his World Cup win, the first in 2019.
Many thanks to UMB and Kozoom for pictures, statistics and material used here.