Javier Palazon of Spain Wins His First World Cup
Three times Junior World Champion Javier Palazon of Spain, at age 31 adds his first world cup victory in Blankenberge, Belgium to his list of accomplishments. Palazon defeated a favored Martin Horn of Germany in the finals with a combination of tenacious will and disciplined defensive strategy to achieve his career first victory.
The 2019 edition of the UMB World Cup held in Blankenberge was truly one of the greatest World Cup tournaments ever. The play was of the highest level, the tables were in perfect condition and the organizers created an incredible ambiance with music, lighting and dramatic introductions. But most of all it was the steady, high-level play of the winner Javier Palazon that exemplified the professional nature of this fantastic tournament. Although he never seemed to dominate at any point, along the way Palazon simply out-played each opponent with consistent skill and strategy. His ultimate opponent and runner-up Martin Horn of Germany also played a great event, but fell behind to Palazon in the first half of the final match and never recovered.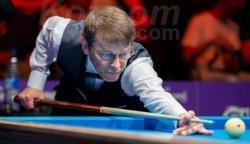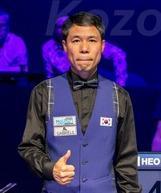 For the third World Cup tournament of the 2019 season the top players attending included World Champion and number one ranked Dick Jaspers, Frédéric Caudron, Jae-Ho Cho, Semih Sayginer Tayfun Tasdemir, Quyet Chien Tran, Marco Zanetti, Eddy Merckx, Nguyen Quoc Nguyen, Murat Naci Coklu, Jérémy Bury, Jung-Han Heo, Sameh Sidhom and Ngo Dinh Nai. All entered the main event as the top 14 in the rankings. The organizer's also nominated two wild cards, Belgians Roland Forthomme and Eddy Leppens. The UMB wildcard went to Korean Haeng-Jik Kim of Korea. Among the 149 players there were 24 Belgians, 23 Turks, 17 Dutch, 15 Koreans, 11 French, 8 Germans, 8 Spaniards, 7 Vietnamese, 7 Danes, 6 Greeks, without Filippos Kasidokostas, five Portuguese, 4 Austrians, 3 Egyptians, 3 Japanese, 2 Italians, 2 Swedes, 2 Colombians and 2 Czechs, all together 18 representative countries. The United States did not send an entry this time, as Pedro Piedrabuena elected to join the PBA and will likely miss future World Cups until the dispute between the UMB and PBA is somehow resolved.
The pre-qualification rounds were notable for two players who traveled all the way to the main event. As it happens many times, those who enter in the pre-qual rounds have a grueling road to follow, with day-after-day of play. More often than not they will flame out when facing the top players, if they can hang in even to the Qualifcation stage, let alone the main draw.
Peter De Backer of Belgium was surely the hometown favorite playing the tournament of a lifetime. He entered in the earliest pre-qualification round and faced ten opponents until he was finally stopped by Italian Marco Zanetti 40-21 in the round of 16. Korean Chang Hoon Seo entered one day after De Backer and also saw great success, making it all the way to the quarter-finals where he finally fell to Torbjorn Blomdahl 40-34. A tip of the hat to the great play of both De Backer and Seo.
Frédéric Caudron treated the crowd to an incredible display against Semih Sayginer in their round of 16 match-up. Down 40-28, Caudron stepped up in the equalizing inning and ran 12 to tie and then win in the shootout. Caudron almost pulled off a miracle a second time in the quarter-finals when down 40-26 against Jung Han Heo he once again started a huge run in the equalizer. But this time he would only manage 10 in his only loss 40-36.
Quyet Chien Tran of Vietnam had high run honors with a beautiful 18 in his 40-17 win against Blomdahl in the round-robin 32 player stage. But sadly he took a loss and a draw in that round and missed the final cut.
The road to success for Palazon was no cake-walk as he struggled early with a loss in the last qualification to none other than Peter De Backer. Palazon was able to reach the main draw as the best runner-up. It was there that he remained unbeaten in the first phase with victories over Jae-Ho Cho, Roland Forthomme and Dinh Nai Ngo. Then it was on to the single elimination stage where he continue his winning ways besting Lütfi Cenet, Sung-Won Choi, Torbjörn Blomdahl and finally Martin Horn.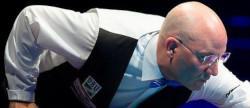 Runner-up Martin Horn defeated Ronny Lindemann and Do Nguyen in the Qual round followed by Sameh Sidhom, and Myung Woo Cho in the round of 32. There he took an early loss to Semih Sayginer but still advanced to the next stage where he completed his run to the final with wins against Murat Naci Coklu, Marco Zanetti and Jung-Heo. Even Horn would say in an interview that though he was tired in the last match, Palazon was nonetheless a deserving champion for his outstanding strategic play.
The final ranking at the World Cup in Blankenberge (average, high run):
1 Javier Palazón 1.666 -12
2 Martin Horn 1.954 -15
3 Jung-Han Heo 2.090
3 Torbjörn Blomdahl 1.580 -13
5 Frédéric Caudron 2.153 -12
6 Marco Zanetti 1.689 -11
7 Sung-Won Choi 1.689 -11
8 Chang Hoon Seo 2.031 -11
9 HaengJik Kim 2.205 -12
10 Dani Sanchez 1.891 -10
11 Dick Jaspers 2.323 -14
12 Murat Naci Coklu 2.046 -7
13 Semih Sayginer 1.712 -16
14 Roland Forthomme 1.648 -10
15 Lütfi Cenet 1.383 -10
16 Peter De Backer 1.326 -11
17 Quyet Chien Tran 1.734 -18
18 Nikos Polychronopoulos 1.978 -10
19 Myung-Woo Cho 1.842 -11
20 Tayfun Tasdemir 1.762 -10
The overall average in the main tournament with the last 32 players was 1.762 That is one of the best averages ever in a World Cup event.
Once again, congratulations to Javier Palazon of Spain on winning his first UMB World Cup tournament.
Complete results of all pre-qual rounds through to the finals are available here. Thanks to UMB, Cuesco and Kozoom for pictures and stats used to compile this report.