A Star Is Born At Verhoeven Women's Open: Ji-eun Han
Ji-eun Han emerged as a new star on the International women's billiard scene with an epic undefeated performance to win the 2019 Verhoeven Women's Open Tournament at Carom Cafe in New York.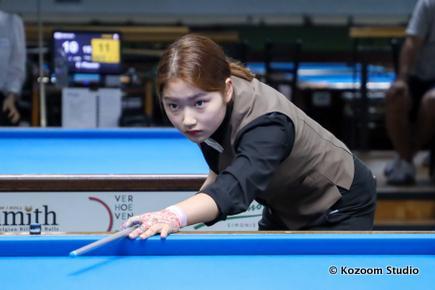 Along the way the diminutive 18-year old showed her skills and killer instinct. After a brilliant performance in the preliminary rounds she continued her winning ways all the way through to the end. In the semi-final match she defeated former women's world champion from Japan Orie Hida. That set up the ultimate match for the championship. There Han faced current world champion and defending Verhoeven champion Therese Klompenhouwer of the Netherlands. Therese had the best average up to that point. But it was Han who showed the confidence and consistency under pressure to surprise Klompenhouwer and take the crown 30-28 in 31.
We hope to see more of this great young player as she makes her mark on women's billiards worldwide.
The final ranking in the Jennifer Shim (Verhoeven Open) ladies: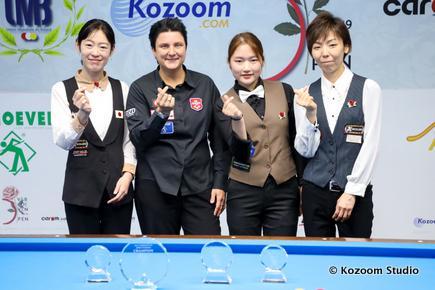 1 Jieun Han (Korea), 3000 US dollars
2 Therese Klompenhouwer (Nederland), 2000 US dollars
3 Orie Hida (Japan), 1000 US dollars
4 Yuko Nishimoto (Japan), 1000 US dollars
5-8:
Ester Park (USA)
Hyun Ji Yong (Korea)
Ayako Sakai (Japan)
Jackeline Perez (Peru).
Thanks to Kozoom for pictures and stats in this report. Read more about Ji-eun Han's great win here.