Jae Ho Cho Wins the 2018 Asian Championship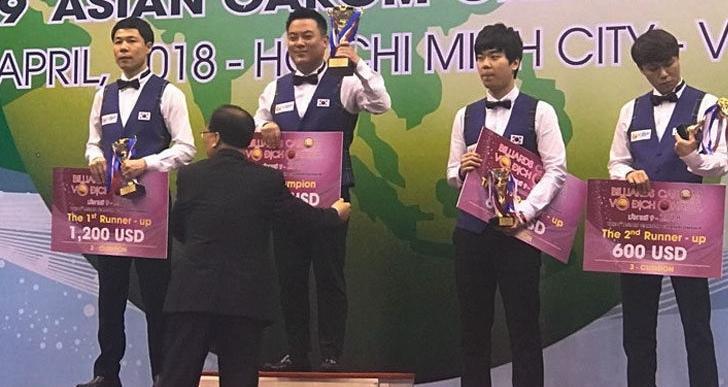 Jae Ho Cho of Korea has won the 2018 Asian Federation Championship. The event held in Ho Chi Minh City Vietnam saw an all Korean podium in the final rounds on April 8. Seen above (L to R): Jung-Han Heo (2nd), Jae-Ho Cho (1st) Haeng-Jik Kim (sharing 3rd) and Sung-Won Choi (sharing 3rd.)
It was a brilliant final match for the new champion. Cho, who recently turned 38, defeated Jung-Han Heo in the battle for gold 40-28 in 10 innings, an average of 4.000. The finish was amazing: in the last three innings, Cho scored 8-7-11. With a win and 2nd place finish, Jae-Ho Cho and Jung-Han Heo climb to the positions 7 and 8 in the world ranking. The Vietnamese Nguyen Quoc Nguyen, who lost his Asian title, drops out of the top 14, and important group that received automatic entries into the main draw of the World Cups.
The tournament in the Vietnamese capital was played with 32 players, divided into eight groups of four, in which the best two qualified for the quarter-finals. Four Koreans (Jae-Ho Cho, Jung-Han Heo, Sung-Won Choi and Haeng-Jik Kim) played in the last eight against four Vietnamese (Nguyen Quoc Nguyen, Quyet Chien Tran, Nguyen Trung Hau and Quang Ho). The outcome was a complete Korean coup in the quarter-finals with four Korean winners advancing to the penultimate round.
Other accomplishments of the winner include a win the 2017 Verhoeven Open in New York, and one World Cup victory in 2014 in Istanbul. Congratulations to Jae-Ho Cho. We will surely see much more of his great play in the years to come.
Thanks to our friends at Kozoom for the story and pictures.