Hard Times Billiards Wednesday Night Tournament Bellflower California USA
Wednesday, January 13, 2016, 08:00pm - 11:59pm

Hits
: 71397
Hard Times Billiards
Wednesday Night Tournament
One night event for individual players
Generally starts around 8PM and runs till about Midnight
This recurring event started up in September 2015 and has been drawing 8-10 players
Entry Fee $15 per player.
Location
Hard Times Billiards - CLOSED
17450 Bellflower Blvd
Bellflower, California 90706 USA
CLOSED
http://www.hardtimesbellflower.com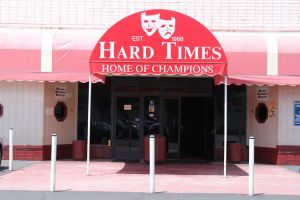 Contact Eddie Arreguin

*** THIS LOCATION HAS BEEN REPORTED CLOSED ***
If you find that this location is operating or has re-located... please send an email to 3cbilliards@gmail.com... Thank you.
Equipment:
When this room was open it had --
Four Verhoeven 5'X10' Heated Three-Cushion Billiard Tables
Two Gabriels 5'X10' Heated Three-Cushion Billiard Tables