Torbjorn Blomdahl Hails South Korea as 3-Cushion Billiards Heaven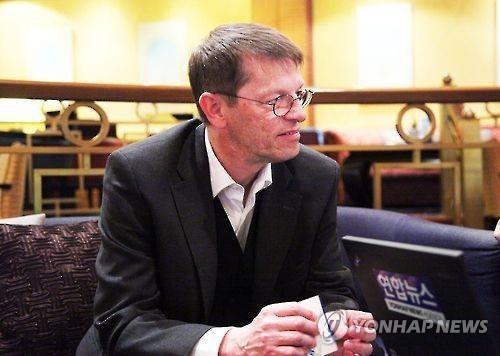 In a recent interview with Yonhap News Agency, World No. 1 ranked Torbjorn Blomdahl declared South Korea as a 3-cushion billiards utopia. With five World Union of Billiards (UMB) World Championships, nine European titles and 43 World Cup wins, Blomdahl is regarded as one of the greatest carom billiards players of his generation. He now lives near Stuttgart, Germany, but the three-time UMB Player of the Year feels South Korea is his real home.
"There is no country in the world where so many people play billiards or know about billiards," Blomdahl told Yonhap News Agency in an interview in Seoul. "Number of tables, clubs, or players, whatever you choose, I think Korea is the No. 1 in the world." Blomdahl came to South Korea on April 28 and will leave the country to compete in the next World Cup event in Ho Chi Minh City, Vietnam. The 53-year-old Swede has visited South Korea more than 25 times -- usually to compete in tournaments -- but this was so far his longest trip to the country.
Blomdahl envies South Koreans for their ability to enjoy billiards whenever they want. According to data from the Korea Billiards Federation, there are 22,456 billiards clubs in the nation as of the end of 2015. There are more clubs than "PC rooms," where people generally play computer games. "In the place where I live, I need to travel about 5 kilometers to find a billiards club and it has a pool table," he said. "But here, you walk about four meters and you find a billiards club."
Blomdahl, who can read and write, and even speak a little Korean, believes that the country's strong infrastructure and people's love for billiards will soon turn South Korea into a leader of the sport. "I think South Korea is on the perfect way because I heard that billiards are on the school program and all these kids playing billiards is fantastic," he said. "I think it's the only place in the world where you can do that."
South Korea has produced high-class carom billiards players in recent years, though the No. 1 ranking has been elusive for them. Sung-won Choi, who beat Blomdahl in the 2014 UMB World Championships final, had briefly topped the world ranking, but the Europeans have been South Koreans' biggest road block. Jae-ho Cho, the winner of the 2014 Istanbul World Cup, is currently the highest-ranked South Korean three-cushion player at No. 8, followed by Dong-koong Kang, who lost to Blomdahl at the 2015 Worlds final, at No. 11. But Blomdahl expects South Koreans to dominate the three-cushion scene in the future.
"They (South Koreans) have big numbers of high-class players, but in the end, the Europeans take top three in rankings," he said. "But I think this will change because with a level like this and the number of players and clubs, sooner or later, I think the Europeans will have no chance."
When asked which South Korean player has been his most difficult opponent, Blomdahl refused to single out anyone, saying that each player has different styles. "Dong-koong Kasng is maybe technically and tactically the strongest of them in all, but Jae-ho Cho is impossible to beat when he has his moments," he said. "As for Sung-won Choi, you should not be 36-36 against him, because you will probably lose in the end."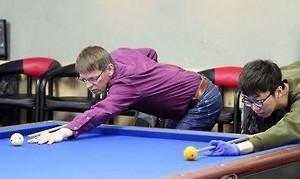 During his stay in South Korea, Blomdahl kept busy visiting billiards clubs across the country to meet with his fans. But he also took a trip to Jeju Island and watched a baseball game at Gocheok Sky Dome in Seoul, enjoying some time away from billiards. He also gave a lecture at Korea University's Sejong Campus, telling students about his career and personal life.
Blomdahl denied rumors that the main purpose of his visit was to find a sponsor, but he said he'd still like to have one. "That (sponsorship) will come automatically," he said. "I think many companies here have people in the board who love billiards so it can happen."
In South Korea, billiards halls have had a negative public image with cigarette-filled air and hazy lighting, and their floors often strewn with leftover Chinese food and liquor bottles. They have been regarded as a playground for adults, rather than a place to play a competitive sport. But Blomdahl said he doesn't think billiards has negative connotations here anymore. He emphasized that the people should look into the true value of the sport. "For me, it's one of the most beautiful ball sports in the world," he said. "It's also a sport which you can do it for 30 or 40 years."
Blomdahl, who played football and table tennis as a child, picked up billiards at 11. He learned the sport from his father, who was also a three-cushion player, and said billiards offers many positive things that you can't see in other sports. "It (billiards) is a gentlemen's sport," he said. "In football, some players fell down even if they didn't have a serious contact. But in billiards, there are no things like that. We help each other and try things together even with competitors."
Blomdahl had a perfect year in 2015, as he won the world title for the first time in 18 years and was crowned the Player of the Year. He also won the European Championship and took his third-career Super Cup after beating Daniel Sanchez, the overall World Cup winner last season. "I always try to have a plan for every shot I play," Blomdahl said about his strength. "Collecting information and knowledge about the game through the decades helps. My others skills are not so good, so I just focus on my strongest part."
But after last year's success, Blomdahl said he has less motivation than in the past and he is struggling with his game. The billiards player even said he is not confident of playing well at the World Cup in Vietnam that runs from next Monday to May 22. Blomdahl was the runner-up in last year's event. "I played my first tournament 40 years ago and many years have passed," he said. "I should allow myself a short break sometimes."
Blomdahl, hailed by fans as one of the four "billiards emperors" along with Frederic Caudron of Belgium, Daniel Sanchez of Spain and Dick Jaspers of the Netherlands, said that it's becoming more difficult for him to win events these days because he is getting older and there are so many good players. But Blomdahl said this doesn't mean he will put down his cue stick. He said he doesn't have a specific date in mind for retirement because he is "too stupid" to know when to stop the sport at the right moment.
"I love the game and I will continue playing," he said. "But after I retire, I want to be remembered as the honest sport man who never gave up in any game no matter how the score was."
(Source: Yonhap News Agency)