Carom Billiards in Houston, Texas - A New Era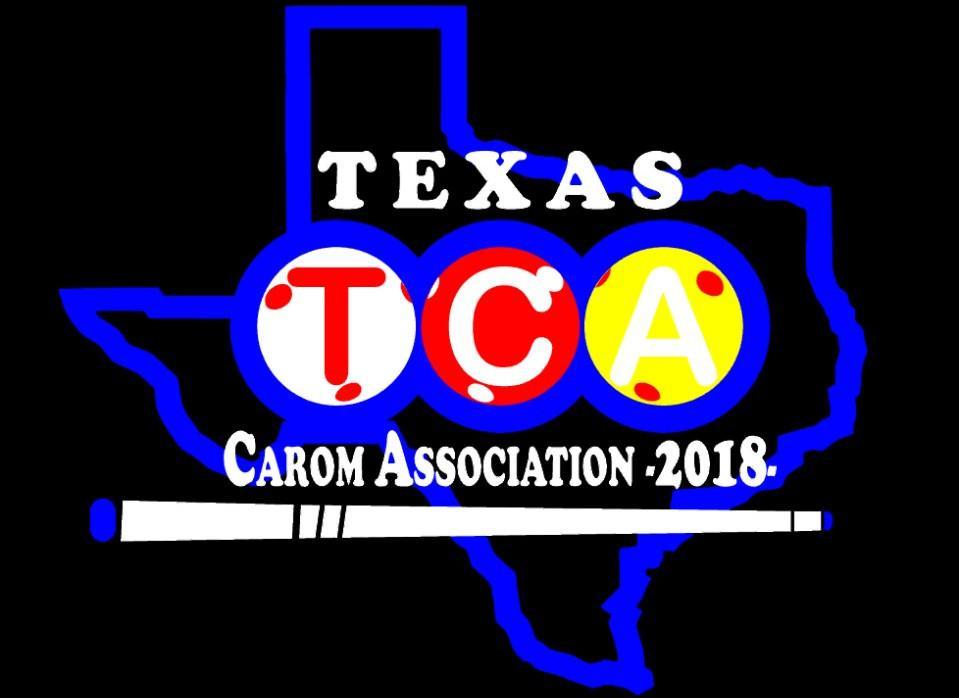 The sport of carom billiards is a relative newcomer to Houston, Texas. A decidedly pocket billiards / pool-player's town since the 1940's, the city was famous for rooms such as Big Tyme Billiards, Legends Billiards, and Bogey's Billiards. When I moved to Houston in 1979 I played pool at LeCue Billiards and later at The Cushion & Cue - both long since shuttered. But beginning with the turn of the millennium the carom games have arrived or - depending on whom you ask - have been re-discovered. Carom billiards rooms seem to be sprouting up like mushrooms, leading to a resurgence of interest in the sport here in Houston.
Most of Houston's carom rooms, a room with at least one reasonably maintained 5' x 10' heated regulation table, are located on the west side of town. A few scattered rooms can be found in the northwest area and one or two south of downtown as well. The larger rooms have 6 tables and more - a substantial investment for the room owner, and shear joy for the players. Many carom billiards players like myself are willing to drive 30-40 minutes or more to find a decent heated carom table on which to practice and compete. All told there are now close to 40 regulation carom tables in the Houston area, placing the city only behind Los Angeles as one of the top two carom markets in the US.
So, why is there this resurgence in carom billiards in Houston? I think because Houston in 2018 is one of the most diverse cities in the US with large Asian and Latino populations. Along with the Europeans those folks seem most attracted to the game over pocket pool. I think Americans gravitate mostly to pocket billiards because it is an easier "sell" to a date or a group of friends gathering after work. I also think Americans fancy pool more because of the instant gratification of sinking a ball into a pocket. Three cushion billiards requires much more patience and thought, to calculate shot systems, angles, momentum, and evaluate dynamic table conditions. Asians and Latinos have the requisite nature and temperament which is conducive to good carom play. And it helps that the sport today is immensely popular in their home countries!
I personally came to play carom billiards a little over 5 years ago after having played pocket billiards for 40 years (mostly one pocket and 9-ball.) In the fall of 2012, on a lark, I went as a spectator to a United States Billiard Association (USBA) Open Three Cushion tournament that was held at what was then Paris Bida. There I met USBA board member Doug Deitel, who was managing the tournament where some of the best players in the country were gathered to compete. I was immediately captivated by this insanely difficult game. Soon after I began learning the basics, and with Doug's patient weekly lessons I began my journey. Initially I struggled just to make a point. But as I gained experience and confidence I improved to begin making a series of points, and then to play for next-shot positions and advantageous defensive leaves. I still struggle, as do all carom players, because of the dynamic conditions of our sport and our bodies. Yet even on a day that I play poorly, I can hardly wait to return to the table to find my groove again. Such is our sport.
That brings us to the state-of-the game in Houston. Three-cushion billiards is played here mostly in rooms frequented by players who have an affinity for the owner, the staff, the other players or the condition of the tables. I've played in nearly every carom room in town and I tend to be drawn to the rooms with the best maintained tables. As for more formal competition, a room owner will occasionally host a local tournament with a $50 entry fee that will pay the first four places. I have hosted several of these local events and by adding money to the prize fund have attracted some of the better players in town with "game". I considered it an investment.
By reaching out in this way I now know that some GREAT carom players live here. Several are easily "A" level players with shot to inning averages of 1.0 and more. Many more are "B" players who consistently play to .600 or better. Many more are "C" players who play under .500. Sadly, it is the rare Houston A player who ventures out of state to compete in the national tournaments sponsored by the USBA. Understandably, most of the better local players have families and they must work at trades and professions to support them. Pocket billiard tournaments, unless they are televised with major commercial sponsors, pay pathetic prize money; carom tournaments pay even less. Moreover, travel to compete in bigger tournaments is expensive, and lost wages only adds to the expense. So it simply isn't done very often here - but that may soon change.
In late February 2018 Korean professional carom player Johnny Park, now living and working in Houston, called a meeting of serious three-cushion players to pitch an idea. With the goal of elevating our sport in Houston, a league was proposed - the Texas Carom Association (TCA). The initial group of 20 founding members included sub-C level up to A level players like Johnny himself. League matches are handicapped, initially on the honor system of self-assessment and mutual playing experience. By judiciously maintaining records, more and more accurate playing levels will be gathered over time. Members pay monthly dues that cover table time, meeting expenses and to establish a prize fund. The league formally meets once a week at a room of its choice. All the matches are scored and recorded so that members can establish reliable, credible averages, accurate handicaps, and rankings that are available for public inspection. Members unable to compete on league night must make-up their match and submit match records to the league secretary. The league season ends when all members have played all others one time - about an 8-week cycle. Matches are not refereed, but members waiting for their matches to begin will often assist by keeping score, inning counts and calling close points when needed.
In the very first month of league play the general consensus is already positive. The league is coalescing into a force for sportsmanlike play, establishing ethical player records, and most importantly, improving play - the laudable objective of any league. Word is spreading about TCA and other players are now lining up to play in the next league season. If this continues as expected, new leagues may form to manage the growing player population - and that is when the real fun will start. We envision inter league competition someday that can reasonably expect to produce champion-caliber players and generate the funding necessary to send those players to elite national and international tournaments.
Yes, one fine day one or more of TCA's or another Houston carom league's players will bring home a trophy, some serious prize money and bragging rights. Then Houston will find itself on the world carom billiards stage, drawing elite international players to compete here. A new era of carom billiards is upon us in Houston!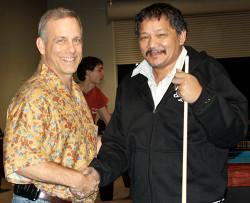 ABOUT THE AUTHOR: Jay Karahan (pictured left with Philippine pool and billiard champion Efren "Bata" Reyes) is Judge of Harris County Criminal Court-at-Law 8, a pocket and carom billiard player and a new contributor to 3CushionBiliards.com. Unlike fellow contributor, Andy Janquitto, Jay relishes every single lucky shot he's ever scored, for which he feels no shame whatsoever. And, Jay actually practices at replicating them as future intended shots. Please see judgejaykarahan.com for more about Jay, and Big Jolly Times for more of Jay's writings.