Korean Billiards Wunderkind Leading The Way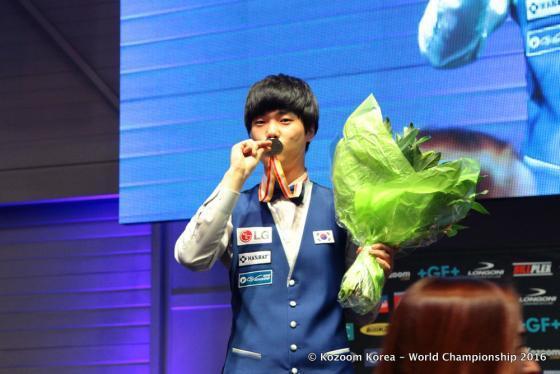 In France, Korea's Kim Haeng-jik fell just short of a world championship
Even though he just missed in the finals of the 2016 UMB World Championship, Haeng-Jik Kim (or Kim Haeng-Jik as is preferred in the Asian press) is still recognized as the leading player from Korea. Here is a wonderful article that appeared in the online news site Korea JoongAng Daily about his life and his future in billiards.
Billiards is a sport commonly enjoyed by Korean men of all ages. Most neighborhoods in Korea have at least one billiards hall in the area and nowadays, more and more women are playing the game as well. Among the many games played on the billiards table, three-cushion is deemed as a highlight.
In November 2016, Kim Haeng-jik, 24, became the world's second best three-cushion player at the UMB World Three-cushion championship. At the finals held in Bordeaux, France, he narrowly lost to Daniel Sanchez of Spain 37 to 40. This was his first entry to a world championship. He received 6,000 euros ($6,344) in prize money.
Kim is the youngest finalist since 2003, when the game started to open to only 40 or so of the world's top billiard players. Before him, Choi Sung-won was the only Korean to have reached the final round, in 2012 and winning the championship in 2014.
This year's UMB World Three-cushion Championship had 48 contestants, including the world's top 17 players. In his semi-final match, Kim beat former world champion Semih Saygıner of Turkey 40 to 18, but he couldn't overcome Sanchez, a three-cushion legend and a three-time champion as of this year. Kim fell back to as low as 25 to 36 during the game and although he came close with a score of 34 to 36, the win eventually went to Sanchez after 19 innings.
Billiards players are said to reach their peak in their 30s, after gaining experience during their younger years. However, Kim's growth was always somewhat faster. Having first grabbed the cue at age three in his father's pool hall, he won a national competition for adults at age 14.
In 2007, when he entered high school, Kim won the Junior World championship held in Spain. He then won the same championship consecutively from 2010 to 2013, becoming the first to become champion for four times. His younger brother Kim Tae-kwan was last year's champion, becoming the first brothers from the same family to win the championship.
Kim is right-handed, but he plays pool with his left hand as he was taught by his left-handed father. "Like boxing, left-handers have an advantage in pool, as a majority of players defend with a right hand — this can be an opportunity for left-handed players," said Na Geun-ju, an official at the Korea Billiards Federation.
Kim joined the Horster-Eck, Germany's highest-ranked team, in 2011. In 2013, he came back to Korea to join the army and after his dismissal, Kim won the Asian Billiards Championship in 2015, and became the youngest player to rank No. 1 in Korean billiards history.
In 2015, Kim signed a three-year sponsorship deal with wireless provider LG U+. Kim himself makes over one billion won in yearly revenue in prize money. "My ultimate goal is to enhance Korea's national prestige by becoming a globally-renowned billiards player," he said.
Story written by Park Rin courtesy of Korea JoongAng Daily