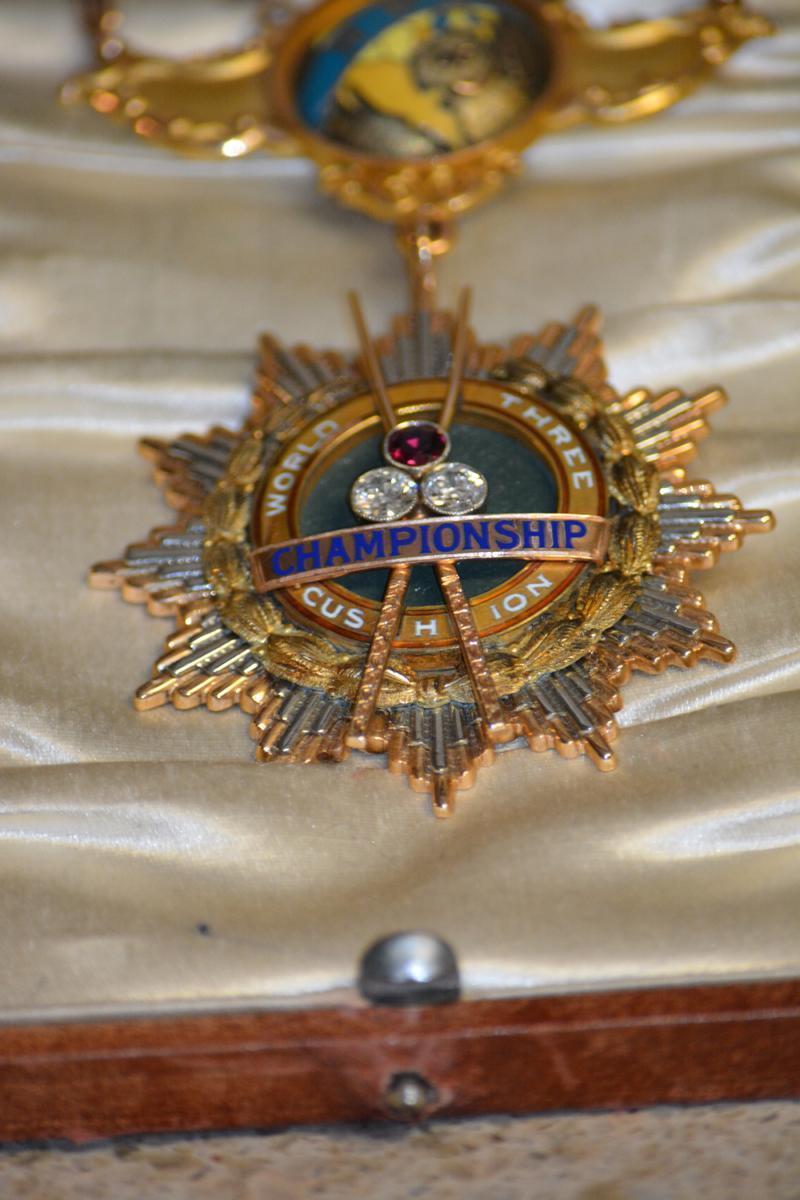 Three cushion billiards has a long history of championship events and a celebrated list of the players who emerged victorious. Modern records for the World Championship usually begin in 1928 with the UMB as the listed governing body and Mr. Edmond Soussa of Egypt as the first winner in the event held in Reims, France. It is there that we start our hunt to solve the Mystery of the Medal.
Our listing of UMB World Champions takes us all the way up to the present. Somewhere in that list must be our solution. Several organizations have laid claim at various times to the sanctioning of the championship. So in some years there may be conflicting records as to who was considered champion. Recently we were contacted by a gentleman from Greenwood, South Carolina who was in possession of what appears to be a 3-cushion billiard world championship medal. The identifying markings are scant and he has now reached out to 3CushionBilliards.com to help identify its authenticity and determine who might have won this coveted piece of history. Can you help identify this medal? If you can please contact us and let us know so we can solve The Mystery of the Medal! More pictures and a bit of the back story follows.
The Medal
Top Portion: NATIONAL BICENTENNIAL OF AMERICA
Middle Piece (World Globe): NBA of A
Bottom Piece (Medal): World Three Cushion CHAMPIONSHIP.
It has a ruby and two diamonds (old cut diamonds) and appears to be made of real gold!
The medal appears to be in its original leather presentation case with the markings "Dieges and Clust".
Closeup pictures of each portion are provided above and below.
The Mystery
Loy Sartin is the curator emeritus of the Benjamin E. Mays Museum and Historic Site in Greenwood, South Carolina where the medal now resides. Being curious as to exactly when and where this medal was awarded, and how it came into the possession of Dr. Benjamin E. Mays, Loy began an investigation.
Dr. Mays had quite an interesting life which is documented in the museum established in his memory. He was born in Greenwood, South Carolina in 1894 and lived there until age 17. A South Carolinian by birth, Georgia became his adopted state where he lived and worked for many years After obtaining his education he moved to Atlanta where he served as president of Morehouse College from 1940-67. Dr. Mays was also a close friend and adviser to Rev. Dr. Martin Luther King, Jr. Dr. Mays gave the benediction at the March on Washington, where King gave his famous "I Have A Dream" speech on August 28, 1963. And it was Dr. Mays who delivered the final eulogy for King at his funeral on April 9, 1968.
Along the way, Dr. Mays was a presidential adviser to presidents Truman, Kennedy, Johnson and Carter. Adding artist to his long list of accomplishments, he has paintings that hang in the S.C. Statehouse. And president Carter inducted him into the S.C. Hall of Fame in December 1983, just four months before his death. Dr. Mays has an amazing 56 honorary doctorate degrees. He was a prolific writer and spoke at over 200 colleges and universities. He authored 8 books. His first autobiography is titled: Born to Rebel, published in 1971 at age 87. For those who wish to learn more about this amazing gentleman the museum web site is: www.mayshousemuseum.org and the museum Facebook page is: Benjamin E. Mays Historic Site.
The earliest information we have about the mystery medal came from a copy of the last and will and testament of Dr. Mays. The medal had come into the possession of Dr. Mays some years before his death. It is not entirely clear how that came about, but one speculation is that he may have simply found it in a pawn shop. He kept that medal in a safe deposit box for an unknown number of years. Upon his death, in the reading of the will, the medal was precisely described and his explicit instructions were that it should be given to his great niece.
Around 2011 Dr. Mays' great niece decided to donate the medal to the museum as one more piece of the memory associated with her great uncle. And that is where the medal resides today. Although not strictly associated with Dr. Mays' life directly, Mr. Sartin was always curious how the medal had come into Dr. Mays' possession, and why he felt it so important that he placed its mention in his will.
Starting locally, Loy sought the assistance of a gentleman in Greenwood who had much experience in jewelry, diamonds, art, etc, His research led him to a photo of what appeared to be the bottom piece of the medal. It was this individual's opinion that the medal may have belonged to WIllie Hoppe who won a championship in 1952 in San Francisco (but not the UMB event which was held in Buenos Aires!.) But the top portion, which appears to have the only identifying date reference, could not be discounted. Since it reads "National Bicentennial of America", that could place the time-frame as late as 1976. Mr. Sartin therefore believes that the medal may have belonged to Raymond Ceulemans' who of course won the World Championship in that year in Ostend, Belgium! So why the reference to the Bicentennial? And what of the middle section with a world globe and the initials NBA of A? How do these three pieces fit together?
Loy Sartin has asked 3CushionBilliards.com to help! And now we are reaching out to the Internet and the world to solve The Mystery of the Medal. Do you recognize this medal? Can you shed some light on its origin and the meaning of the three pieces? Any assistance that our readers can provide would be greatly appreciated. We seek to learn who originally received the medal, when and where the event where it was awarded was held, and finally, how and why did this particular piece of history come into the possession of Dr. Benjamin E. Mays.
UPDATE (3/2/2017): The mystery continues! We now feel quite certain the medal was actually manufactured by Dieges and Clust, a firm known to have produced many important medals, plaques and trophies in the early 20th century. From Wikipedia:
Dieges & Clust were jewellers established in 1898 by Col. Charles J. Dieges (b. Oct. 26, 1865-d. Sept. 14, 1953) and Prosper Clust.
They produced many medals, including the Spanish–American War Medal, the 1904 Olympic Medal, The Eagle Scout medal (from 1916–1920), the Medal of Honour, and the Titanic-Carpathia Medals (at the request of "The Unsinkable" Mrs. Molly Brown). They made baseball's first Most Valuable Player Awards and many Baseball Press Pins as well as Lou Gehrig's farewell plaque. They also cast the Heisman Trophy (in New York and later Providence, Rhode Island) from its inception in 1935 through late 1979 when the company was sold to Herff Jones (a division of Carnation) on January 1, 1980.
We called Herff Jones to see if they might have any records from the Dieges & Clust acquisition that possibly referenced the championship medal Sadly... they do not. All the current employees are relatively new and barely recognized the old company. No secret boxes in the basement holding the solution. No old retired guy named Gus to call and ask! Sooooo.... we're on to the next set of clues!
If you have any further information that could help please send a message to us by clicking here! Thank you.