Who was Wayman C. McCreery?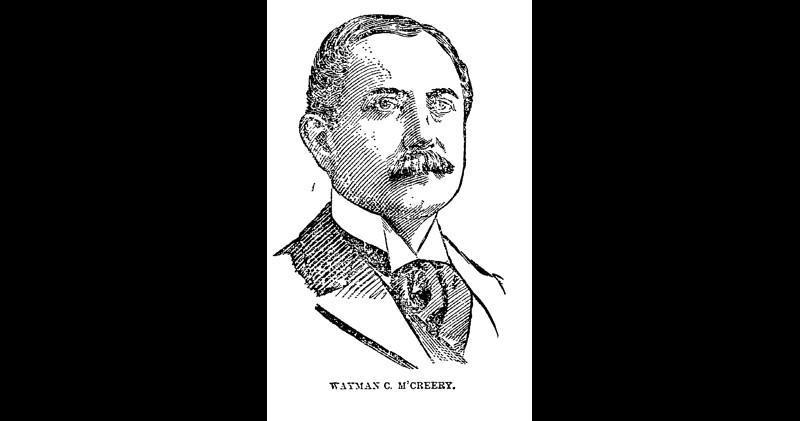 Wayman Crow McCreery (June 14, 1851 – ??? 1901) a prominent citizen of St. Louis, was highly regarded as one of the foremost billiard amateurs in the late 1800's. McCreery is credited with the invention and development of three-cushion billiards as a separate and distinct discipline for tournament and competitive match-play.
"Nothing can be wrong that conduces to perpetuate and improve the game of three cushions"
- Wayman C. McCreery
McCreery won the Amateur Carom Billiards Championship of Missouri in 1868, and defended his title "emblem" three times. He posted high runs during competition of 336 at straight rail; 54 at cushion caroms, and 14 at three cushion— in which his "remarkable skill has given him a worldwide reputation." In the estimation of Willie Hoppe, a 51-time world champion in three forms of carom billiards, McCreery was "one of the finest performers [at straight rail] in the country."
The first three-cushion tournament on record, won by Leon Magnus, was held in St. Louis at C. E. Mussey's Room in January of 1878. Mr. McCreery was one of five participants and, in all likelihood, a sponsor. Four years later McCreery challenged Magnus and defeated him in a now famous three-cushion contest for $200 a side with a winning score of 50–31 in 53 innings (.943 average). This stood as the record game for a fifty-point three-cushion match until 1902. McCreery's achievements in three-cushion include: 50 points in 53 innings; a 15 point match in 2 innings; a 10 point match in 1 inning from the spots; and a high run of 14.
According to a January 2, 1897 article appearing in the Saturday Evening News, soon after McCreery's appointment as St. Louis' internal revenue collector, he was described as "probably the most accomplished officeholder in the service of the government. He has held the college record for the long distance baseball throw, has been a champion amateur billiardist, is choirmaster of Christ Church Cathedral, is a good singer [and] has composed an opera."
In February 1899, McCreery participated with two other contestants, Martin Mullen and Wilson P. Foss, in the American Athletic Union's Class A Amateur Championship of America, at fourteen point balkline, held at New York City's Knickerbocker Club. They were described by the Brooklyn Daily Eagle as "without doubt the best three amateurs in the country". There, McCreery set two amateur world records: the first for a high run of 139 points in one game, and the second for maintaining a point average of 13.33, in the context of a race to 400 points.
In 1922 playwright Augustus Thomas wrote of McCreery:
"A moving spirit in the McCullough Club — in its organization, its management, and in its active expression — was Wayman McCreery, now dead. I am sure that ten thousand of his surviving contemporaries in the city of St. Louis will remember Wayman McCreery. Few men are so physically and intellectually equipped as he was. There was nothing that an athlete could do with his body that in a notable degree Wayman McCreery could not do. He was boxer, wrestler, fencer, runner, and swimmer, and all-round athlete. In addition to these he was a graceful step dancer. Intellectually he was equipped with a college training and had an interest in everything that interested the intelligent people of his day. He sang well enough to be a leading tenor in a fashionable choir. He wrote music of good quality. He was the author of the opera "L'Afrique," which was first done by amateurs in St. Louis and subsequently produced in New York, although with not very great success, by Jesse Williams. McCreery will be remembered by the sporting world as the inventor of the three cushion game of billiards, of which he was at one time the national champion."
Personal Life
Born on June 14, 1851, in St. Louis, Missouri, Wayman McCreery was a successful real estate agent, an Internal Revenue Collector for the port of St. Louis appointed by President Cleveland, the Secretary and Treasurer of the Security Building, the Choirmaster of Christ Church Cathedral, a composer, an athlete, and a participant in all the eminent social events of St. Louis. His father, Phocian R. McCreery, originally from Kentucky, settled in St. Louis around 1840. His mother was Mary Jane (Hynes) McCreery, the daughter of Colonel Andrew Hynes of Tennessee. McCreery's early education was at Washington University in St. Louis until the age of eighteen, after which he attended the University in Racine, Wisconsin, where he graduated with honors in 1871. Wayman McCreery developed a real estate business, first in partnership for twelve years and then as sole proprietor. He was highly respected in his field and McCreery's name is associated with some of the finest buildings in the city of St Louis. In 1875 McCreery married Miss Mary Louisa Carr, a daughter of Dabney Carr and granddaughter of Judge William Carr. They had three daughters and a son.
The memory of Wayman C. McCreery and his myriad accomplishments is destined to live on as he has been selected as the namesake for the McCreery Champion of Champions Tournament. The inaugural event was held from August 5-11, 2018 at a private estate on Long Island, New York.
References:
McCreey Champion of Champions Website
Wikipedia Entry
Fine article from a Belgian website