Team Tournaments Are Right On Cue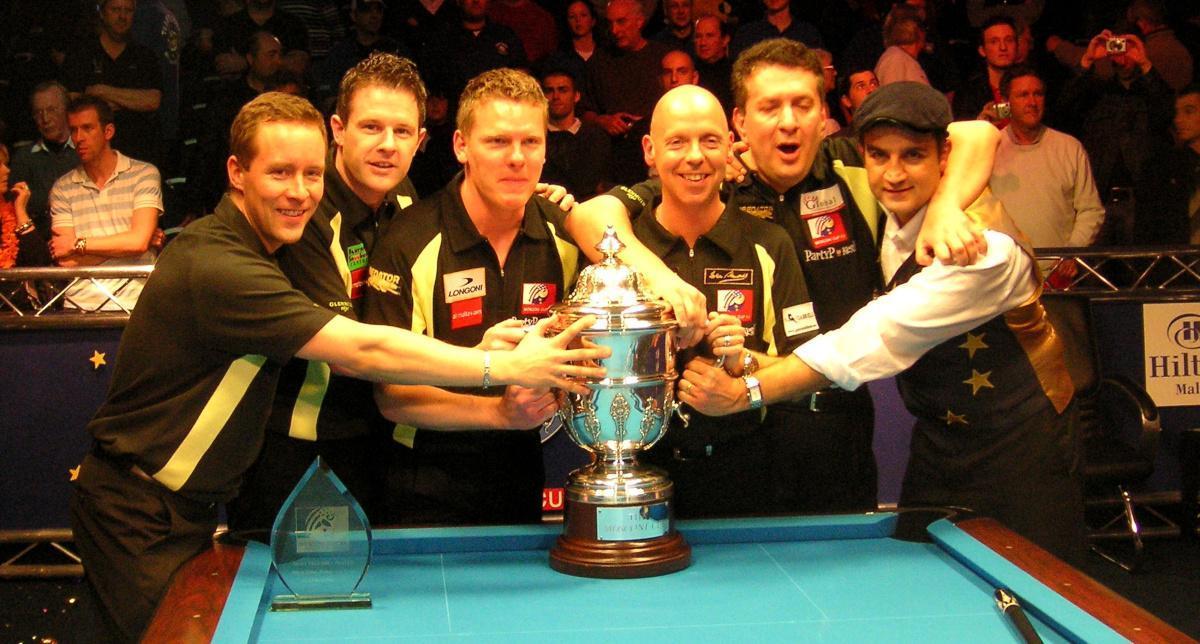 Cue sports, such as billiards, snooker and pool are traditionally seen as single player sports. One against one across the baize; just you and your cue against the world. But it isn't always that way. In recent years, cue sports have developed team competitions that bring the best of countries and continents up against each other.
Pictured above: The triumphant Team Europe with the Mosconi Cup (image by Christian Werner CC BY 3.0)
The Mosconi Cup in pool began in the 90's and the World Team Trophy had its debut in March this year, combining three different disciplines. The three cushion billiards winners were the European Men and the Asian Women. This is, of course, not a new idea; other individual sports have held team competitions for decades.
World team tournaments
The Davis Cup in men's tennis has been played since 1900, when Great Britain first took on the United States. It's female equivalent, The Federation Cup, followed in 1963. Both competitions bring individual tennis players together to play as a team. Even ten pin bowling has its own team competition, the Weber Cup, played between Europe and the United States.
Perhaps the most famous team tournament of them all is the Ryder Cup. This has been contested every two years since 1927 between the best golfers from America and initially Great Britain, before being extended to include the whole of Europe. A highlight of the golf calendar, the Ryder Cup produces displays of emotion rarely seen during a round of golf. International events like these attract so much interest from fans who want to follow the action and have a bet on the outcome, that bookmakers are falling over themselves to offer a range of welcome bonuses to attract them to their websites.
Team cue tournaments
While cue sports have been around just as long these other sports, they were slower to get a team competition going. The team pool competition, the Mosconi Cup, did not start until 1994, when the first tournament was held in Britain. This attracted a number of leading snooker players, including Steve Davis and Tony Drago. It has been held annually ever since, alternating between European locations and Las Vegas. The US are the current cup holders, having broken a run of eight European wins last year in London.
The World Team Trophy, held for the first time in 2019, takes team cue sports even further, combining pool, snooker and carrom into a single competition. These competitions may not stoke quite the fierce rivalry of the Ryder Cup, but they do mark a new era for cue sports, putting them firmly on the international events calendar.