Dick Takano Memorial Produces Four Qualifiers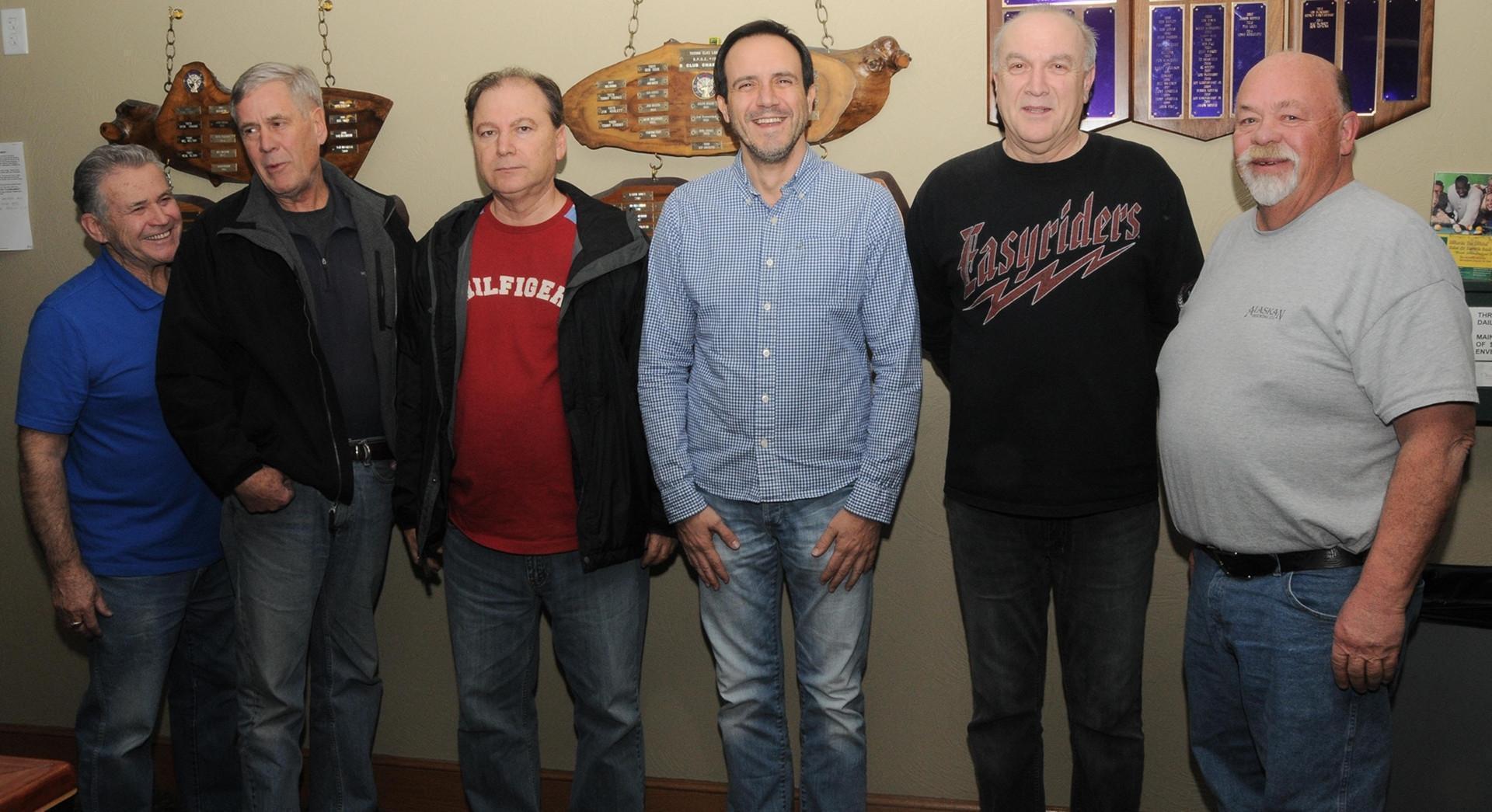 The Dick Takano Memorial USBA Qualifier was played at the Tacoma Elks Club December 4-6th. We had a total of 17 players from the West Coast, with two flights, one of 8 another of 9. All games were played to 30 points on our freshly recovered Verhoeven tables. The players not only showed some great talent, but also endurance. Thanks to all of the players for your participation, and sportsmanship during the event. Pictured above are the directors and our qualifiers (from L to R) Ed Brasfield Billiard Chairman, 4th Neal Olson, 3rd Jesus Quinonez, 2nd Ertan Tarhan, 1st Rob Spicknall, Tim Poole Tournament Chairman.
The finals brought up 8 players with their games in their flight carried forward to the finals. A total of 16 games were played during the finals. The order of finish was Robert Spicknall, Ertan Tarhan, Jesus Quinonez, and Neal Olson. We will be sending a check to the USBA qualifying all four players for the National Championships in March 2016 at Million Dollar Billiards in North Hollywood, California. The high run of the tournament was 10 by Ertan Tarhan.
A special thanks goes out to Ed Brasfield, Billiard Chairman, for his coordination of the event, including food and drink for the players the first two days. We also have gratitude to Ralph Miller and Tom Ducharme who ran the desk and kept us all moving along. Kudos go to Mac MacInroy for his dedication to be in early each morning to clean the tables and balls, and most important, make the first pot of coffee! Kip Hocking is responsible for creating the program and doing all the updates on the attachments below, thank you!
We had a guest in the area for the week while he worked in the Bremerton area. His name is Mike Pace, and he came in from Virginia. Although he could only play in the evenings after work he did get some action, but more important to him was the ability to watch this tournament. I think he was there every minute he could be. Mike wrote us a very nice thank you note which includes, in my opinion, some very pertinent observations he made about his experience with the game he loves. I am sharing this with everyone so you may think about how you feel about the game:
Tacoma Elks Lodge Billiards Club Members,
I would like to thank you all for allowing me the opportunity to come to your club, meet your players, play some billiards, watch your tournament and meet some of the great players in your region. You and your members greeted me with open arms and made me feel like I was part of your club. I am fortunate to have met you all and feel I have made friends for life. To that extent, I would like to share with you some of my experience and thoughts.
First off....You all are very fortunate to have such a great group of guys. I could see by your message board and club standings that you have a diverse group with a great mix of handicaps. I may not have counted correctly but it looked to me like you had 18 or so guys on your list. You don't know how fortunate you all are to have that many good players in one place. Many of you may not know just how fortunate you are to have all of this. I will explain and hopefully you will understand where I'm coming from.
I live in Virginia. There is only one 3 cushion table in my area located in Virginia Beach. Actually, it's the only 3 cushion table south of Washington DC. There have been others but their establishments have all closed long ago. This table is located about 2 1/2 hours one way from me. In order for me to get my 3C fix, it requires a day trip. I try my best to get my fill when I get the chance, which isn't very often. The owner of the pool hall, where the table is located, does not take care of it as he should. The heater does not work very well and the cloth is worn. You have to muscle the ball just to get it to go 5 rails. But it's all we have. I guess I should feel fortunate to at least have a table to play on. We have about 8 of us that play billiards, though not on a regular basis. The room owner constantly tells us he is going to sell the table because of the lack of play and replace it with a different pool table even though he has 72 of them of various sizes already.
So, imagine my excitement when I found out about your club prior to my business trip out to Bremerton. When I found out you had 5 tables, all freshly covered, I couldn't help but get excited. Once I got in touch with Tim and Darrel via Ron Kilby, they welcomed me with open arms. They both were waiting for me when I arrived and I got a chance to play Tim on Monday November 30th. Thank goodness Tim didn't play like he did in the tournament....lol...I wouldn't have had a chance. Thanks for taking it easy on me Tim.
I will tell you this. I would give anything to have what you guys have. You all have 5 great tables at your fingertips. I would gladly pay the $150 membership dues just to be able to play whenever I come into town, which is not very often. And I don't even live there. If I did now, I would gladly pay much more just for the opportunity to play. I used to live in Port Orchard back in the late 90's. I didn't start playing 3C until about 6 years ago. Had I known about the game back then, you would have had to kick me out every night to keep me from playing.
All you guys are very lucky. You have top notch equipment, top notch players in your region, top notch class and sportsmanship, and top notch members who care about the game. And I'm not even talking about the tournaments in your area. I got to witness one tournament in person in my lifetime so far. And it just happened this past week. I consider myself lucky.
Please appreciate what you have as much as I do and thank you all for making me feel welcome. I would consider myself lucky to be a part of your organization and would give anything to have what you have. Thank you all, again, for giving me the best early Christmas present. I truly enjoyed my time with you all.
Take care,
Mike Pace..
Thanks again to all and also to those who support 3 Cushion Billiards, a beautiful game played by beautiful people!!
Story submitted by Tim Poole