Tayfun Tasdemir is the 2022 UMB Three Cushion World Champion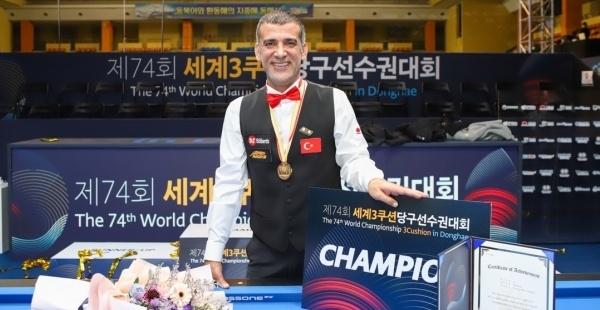 In a demonstration of skill and class, Tayfun Tasdemir has won the 2022 UMB 3-cushion world title. In Donghae City, South-Korea, he defeated Ruben Legazpi in a one-sided final: 50-14 in 15/14 innings. For Turkiye, it had been a nineteen-year wait since Semih Sayginer was world champion in 2003.
Tayfun Tasdemir, always amiable, always friendly to opponents and fans, reacted overjoyed at winning the most coveted title in three-cushion. He received the trophy of best in the world, the top prize of 20,000 euros and is also rewarded by the Turkish government with a big, one-off cash prize: between 30,000 and 50,000 euros.
Read more from our friends at Kozoom
And check out the official UMB report as well.