Kang Dong-koong Wins Season Opener In Dramatic Fashion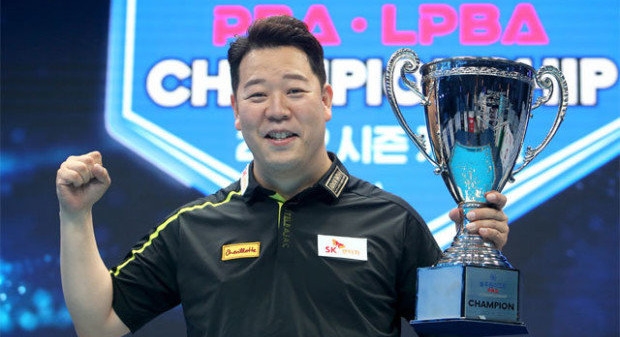 Kang Dong-koong of South Korea, won the Blue One Resort PBA Championship 4-3 against David Zapata from Spain to begin the 2021 PBA season. This is the second PBA win for Kang since his victory in the sixth tournament of the 2019-2020 season. Kang is now the only South Korean player to have more than one win in the short history of the PBA.
The Zapata-Kang match was one of the most dramatic ever played on the new PBA stage. Kang losing the first three garmes fell behind Zapata 0-3 and seemed all but out. But then he miraculously won all four remaining sets in notching his dramatic comeback victory 4-3. This is the first time that a PBA player achieved a win after losing three sets in the beginning and winning four sets in a row in a final round. "This is the biggest comeback win throughout my entire career," said Kang who was proud and well-deserved.
Having proven his grit and determination in this amazing comeback win against the reigning PBA Champion Zapata, Kang's next goal is the ultimate billiards competition - the PBA World Championship itself. His present victory is a bit of revenge for the loss he suffered to the champion Zapata in that very event at the end of last season. What better way to start the new PBA season than with such a satisfying victory. Our congratulations go out to Kang.