Phuong Vinh Bao Wins the 2023 World Championship Title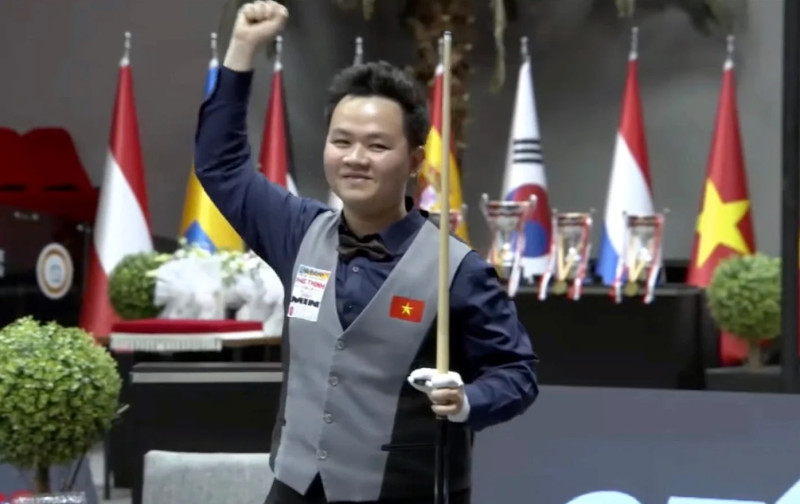 The illsutrious list of winners of the title of 3-cushion billiards world champion has been enriched by a completely new name. Phuong Vinh Bao, until recently a totally unknown billiard player from Vietnam, grabbed the 2023 world three cushion billiard title at the tournament held in Ankara, Turkey.
In a field filled with former world champions, world cup winners and the best players in the world, Bao proved a worthy successor to Tayfun Tasdemir the 2022 champion who shared a spot on the podium. The Vietnamese economist may be dumunitive in stature but proved mighty in his game. In humble fashion Bao celebrated his world championship victory quietly waving to the audience, making a heart with his fingers and smiling demurely in the cameras.
Never before had a World Championship final been contested between two Vietnamese players, and never before had a first time cueist ever appear in the final and win the title. Yet against all odds, It happened as 28-year old Phuong Vinh Bao, defeated his countryman Quyet Chien Tran in a convincing fashion: 50 - 34 in 33.
The experienced Tran, with two World Cups to his name, entered the final match as the favorite. But Bao played with flair and focus, hardly missing anything that was makeable on the finals table. Tran's signature position play never really came to be, and well before Bao's last point Tran looked like a man who knew it wasn't his day.
The billiard world didn't know Phuong Vinh Bao all that well before his appearance in the 2023 world championship, but he has won many fans in a short time will surely go on to great things in the future. Congratulations to our new World Three-Cushion Billiards Champion from Vietnam, Phuong Vinh Bao.