Ertan Tarhan Goes Undefeated To Win Russ Guppy Memorial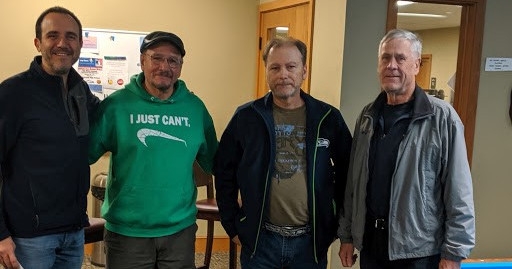 The 2019 Russ Guppy Memorial 3-Cushion Billiards Tournament was held on November 9-10 at the Tacoma Elks Lodge # 174. Although traditionally held at the Elks Lodge in Hood River, Oregon, this year it was held in Tacoma because the Hood River Elks Lodge removed its billiard tables. The tournament was held in memory of Russ Guppy, who over many years helped to promote the game of 3-cushion billiards in the Pacific Northwest.
The tournament was limited to 12 players and was played in a round-robin format, thus requiring each player to play 11 games in two days. The tournament was won by Ertan Tarhan, who finished with a perfect 11-0 record to claim the $500 first prize. Second place was taken by Jesus Quinonez, who finished 10-1. Neal Olson took third with a record of 9-2, and Moctezuma ("Monte") Rodriguez finished fourth, with a record of 8-3. No other player had more than 6 wins.
Because the Tacoma Elks Lodge only has 4 tables (Verhoeven) and doesn't have shot clocks, in order to ensure that all matches were completed within the two-day time period matches ended at the first to occur of (a) one player getting 25 points, (b) the completion of 35 innings, or (c) the end of one hour of playing time.
The players in the photo above, from left to right, are Ertan Tarhan (1st), Moctezuma Rodriguez (4th), Jesus Quinonez (2nd), and Neal Olson (3rd).
Next year, the Russ Guppy Memorial 3-Cushion Billiards Tournament is scheduled to be held in Ashland, Oregon.