Dani Sanchez Wins 20th Spanish Title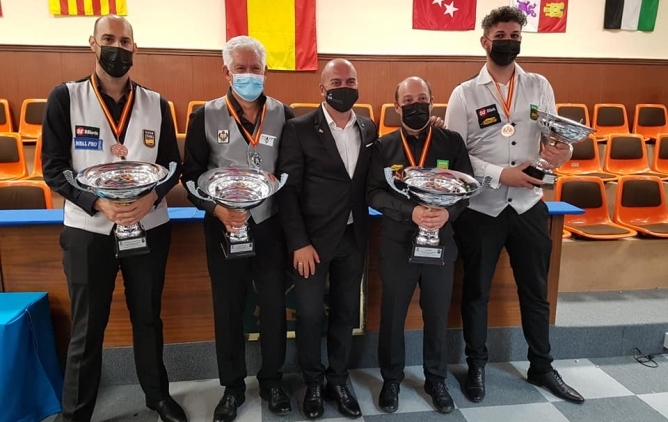 Dani Sánchez (2nd from right above) has captured the Spanish three cushion title for the 20th time in his career. He achieved this milestone in a superior final match against Ricardo Garcia. Sánchez won 40-14 in 13 innings and again left no doubt about his being the best Spanish billiard player ever.
The 20 Spanish championships of Dani Sánchez were won in 1994, then from 1998 to 2009 (12 in a row), from 2012 to 2016 (5 in a row), in 2020 and 2021.
The top 8 in the 2021 Spanish championship:
1 Dani Sánchez 2,062
2 Ricardo Garcia Alarcón 1,381
3 Ruben Legazpi 1,629
3 Adrián Legazpi 1,489
5 Jaime Sánchez Faraco 1,443
6 Jordi Garriga 1,353
7 Antonio Montes 1,242
8 Sergio Jimenez 1,333