Dick Jaspers Wins World 3-Cushion Grand Prix in Korea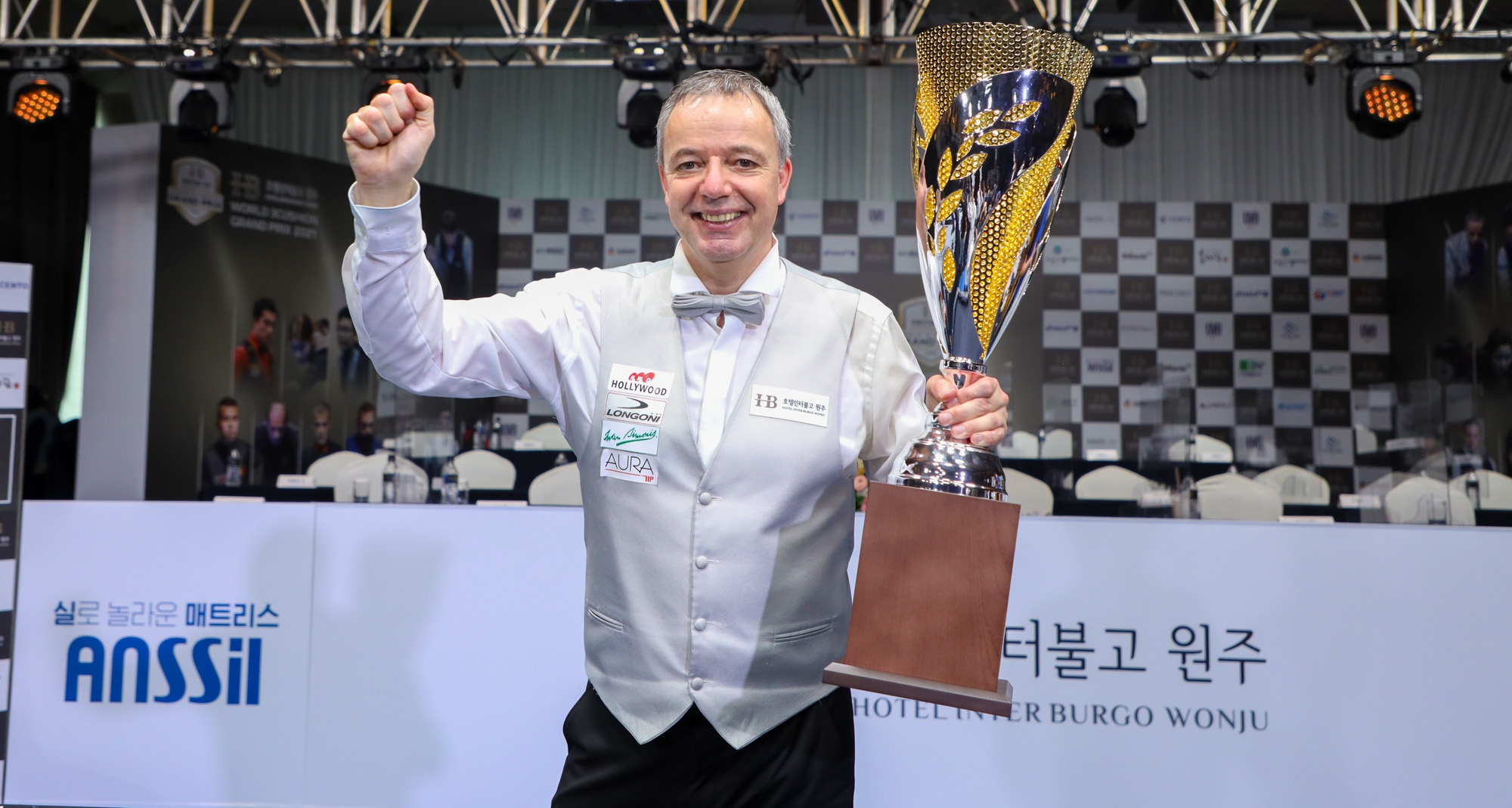 Dick Jaspers, the Dutch world number 1 ranked player, took the crown at the World 3-Cushion Grand Prix held in Wonju, Korea. This UMB sanctioned event marks a welcome return to top-level 3-cushion billiards competition on the world stage.
The tournament was played under strict health guidelines beginning with a quarantine period for the 16 visiting European players. Masks were not required during play, but were clearly visible in the audience and even at the podium honoring the winners. The event lasted two weeks with an incredible 250 matches and was live-streamed free on Youtube, Replays of the highlights of key matches continue to be available.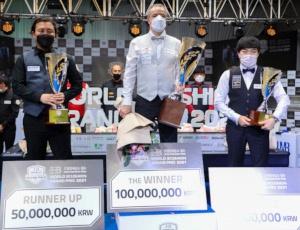 This was perhaps the longest and most grueling tournament in Jasper's billiard career, but his effort paid off with the single largest payday for him as a professional - 100.000.000 Korean Won or almost $87,000 dollars. Sharing the podium were two Koreans, Bong-ju Hwang and Jun Tae Kim and the Swedish world champion Torbjörn Blomdahl. The final eight featured four great Turkish players who outlasted many of the world's best in the preliminary stages.
As it turns out Dick Jaspers won his final match in a cakewalk. The match to three set wins was a quick one for the Dutchman: 18-3 in 10 innings, 17-11 in 8 and 23-4 in 7 innings averaging 2.320. The average of the Korean outsider Bong-ju Hwang was only .720. ''My opponent, who played a great tournament, could not live up to the expectations in the final'', Jaspers said later. ''He was so sad about it, to be honest, that he had to shed a tear.'' Hwang had beaten Jaspers in an earlier stage, so his loss with such a low score was certainly even more painful.
The final ranking of the last 8 players (match points, average and high run):
1 Dick Jaspers 15-2.173-13
2 Bong-ju Hwang 15-1.869-9
3 Jun Tae Kim 13-1.757-12
4 Torbjörn Blomdahl 12-1.822-11
5 Semih Sayginer 10-1.884-12
6 Lütfi Cenet 7-1.654-10
7 Murat Naci Coklu 6-1.723-10
8 Tayfun Tasdemir 4-2.000-18
Congratulations to the winner Dick Jaspers who leaves no doubt why he remains number 1 in the world today.