USBA Nationals Qualifier at Carom Cafe Billiards Beats Snow Storm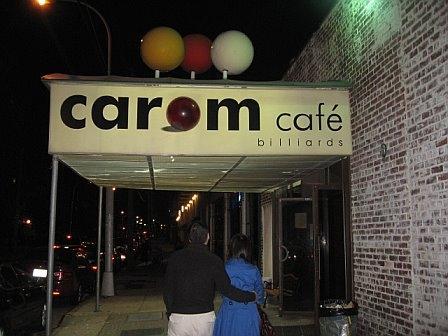 Despite the blizzard conditions and travel warnings, six brave souls with a love for the game came to compete in the USBA National Qualifier event held at Carom Cafe Billiards on Saturday January 23. Complete results are posted below.
In spite of one of the worst blizzards to hit the New York area, Tae Kyu Lee, Eric Kwon, Charles Brown, Chris Carpenter and Jorge John joined Carom Cafe owner Michael Kang in a 6-man round robin qualifier event. The weather outside may have been cold, but the play was hot as Eric Kwon went undefeated to take first place and win a trip to the USBA 3-Cushion National Championship to be held March 16-20. Michael Kang also qualified and will play in the nationals.
The key game in the event was Eric's 25-24 win over Michael Kang who placed second. Jorge John posted the high run of 8, while Eric played the best game with a 1.667 average (25 in 15).
Here is the detailed cross table prepared by our good friend and noted Tournament Director extraordinaire Charlie Brown: