Ken Higgins Memorial at Tacoma Elks Where Anything Can Happen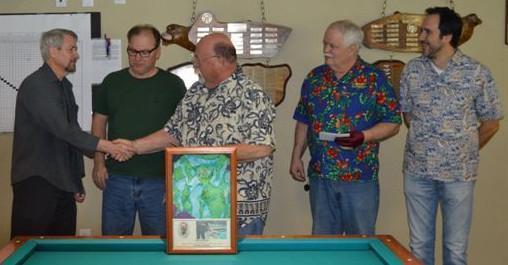 The Tacoma Billiard Federation, hosting the USBA Ken Higgins Memorial on March 4-6, attracted eighteen entrants. The tournament was run as a mixed handicapped event, where any player can win. That made for some exciting action. (Picture L to R above: Mark St Angelo, Jesus Quinonez, Tim Poole Tournament Director, Kip Hocking and Ertan Tarhan.)
Tournament director Tim Poole set two flights of nine while using the established USBA handicaps and mixed the flights accordingly with players from each level: A's , B+, B's, C+, and C's. The target scores for the players would in turn be set as: 30-25-21-17-15.
At the end of two days of play, the top two players from each flight from the A/B group would advance into the finals to play in a four man round robin. Likewise the top two from the C/C+ group in each flight advanced into the four man round robin finals for that division. This format yields interesting results, some expected and some unexpected. It also gives every player whose handicap is accurate an opportunity to share in the winnings.
In the end, the final standing for each division were:
C/C+ Division: 1st Dave Law, 2nd Salvy Hernandez, 3rd Richard Kenney, 4th Matt Lind
A/B Division: 1st Mark St Angelo, 2nd Jesus Quinonez, 3rd Kip Hocking, 4th Ertan Tarhan
There was one especially well-played game that deserves mention. Kip Hocking defeated Ertan Terhan in the finals with a score of 21 in 14 innings for a 1.50 average. Well done Kip! And an honorable mention goes out to the players with the longest drive, Mark St Angelo from New Mexico, and Matt Lind from Minneapolis, MN.
Thanks to Ed Brasfield, the Tacoma Elks Lodge, the volunteers who served in the Sports Bar, Tom DuCharme, Ralph Miller and Kip Hocking for their support of the event, and to all those who support Three Cushion Billiards in the Pacific Northwest. Mac MacInroy receives gets special thanks for his attention to clean tables and balls every morning. Thanks Mac!