Hugo Patino Wins the USBA 2016 3-Cushion National Championship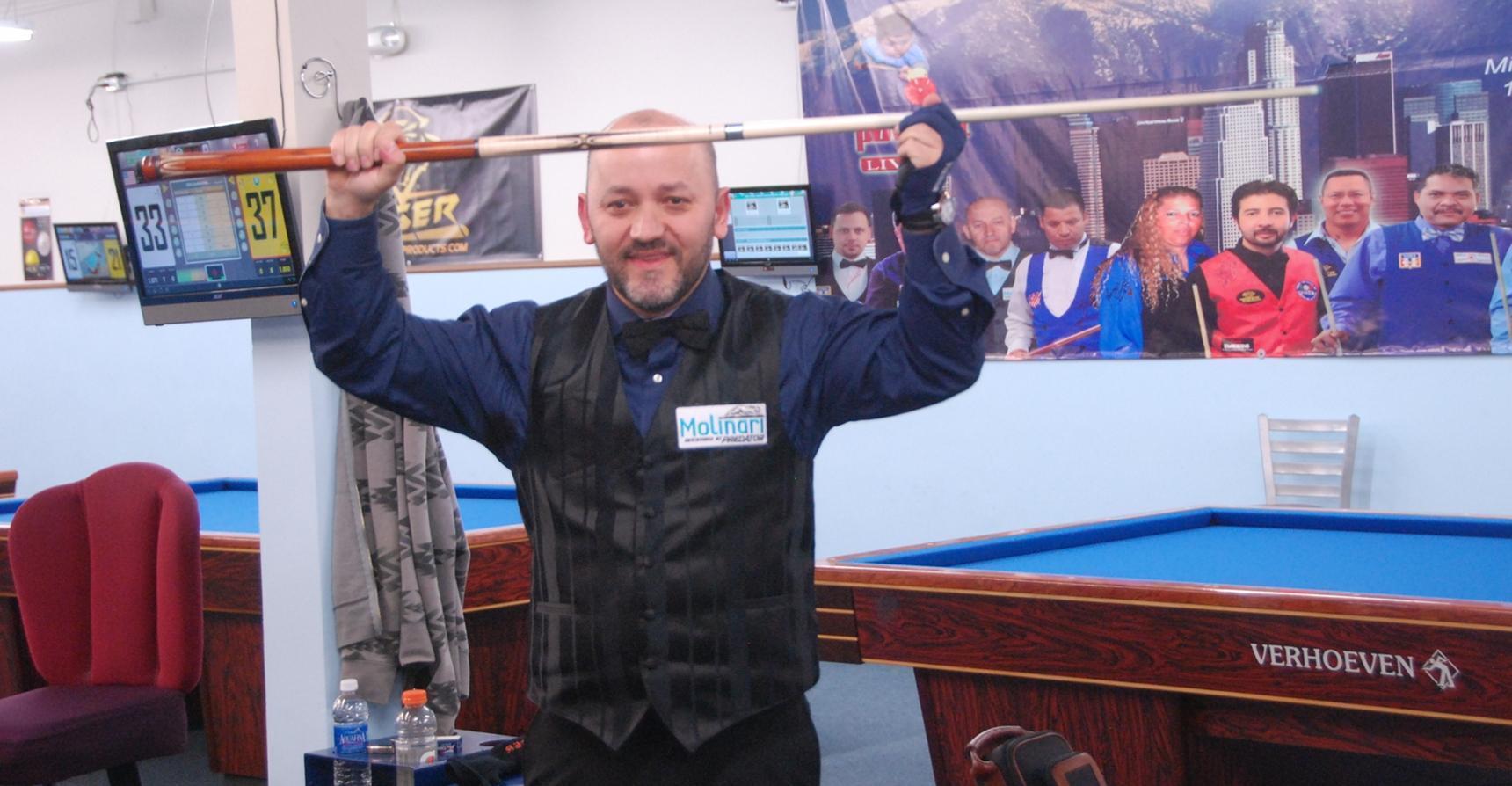 Hugo Patino wins the USBA 2016 3-Cushion National Championship. This is Patino's third championship title, having won thirteen years ago in 2003 and again in 2009. Pedro Piedrabuena, the 8-time former champion was 2nd. Jae Hyung Cho, also a former USBA champion was third. For Patino it was especially gratifying after overcoming unexpected losses in the semi-finals in order to advance. And his victory was even more sweet as he finally defeated his long-standing rival Piedrabuena in an exciting final match to secure the crown.
On Tuesday evening March 15th, 40 players met for the draw in the 2016 USBA 3-Cushion National Championship. On hand at Million Dollar Billiards in North Hollywood California were defending champion Pedro Piedrabuena, five former champions including 2-time winner Hugo Patino, 17 players who made it through the qualifying tournaments and 16 direct entrants who rounded out the field. The final list of entrants and how they qualified can be found here: Run-up to the USBA Nationals. All the charts, results and rankings for the entire tournament are found here: USBA Nationals Charts.
In the preliminary rounds the entrants were divided into five flights of 8 to play round robin format in a race to 25. The top 3 from each flight would move on to the semi-final rounds. Tie breakers were based on total points scored. With such a short match, any one of the talented players could run out at any time. That made for tense and exciting play.
The Preliminary Rounds Set The Tone for the Event
Current champion Pedro Piedrabuena led group A winning all 7 games, posting the best average for the flight of 1.591 and having the best game of 25-4 in 8 innings (3.125) against Jesus Quinonez. Mazin Shooni was second at 6-1 with only a loss to Pedro while posting a 1.032 average. Third was Vicky Pineda who also had the high run for the flight (8) and a 1.158 average. Flight A was the toughest flight with the highest flight average of 0.827.
Flight B was much more evenly matched but did not play at quite the same level as A. Hillario Augustin went undefeated with a 0.828 average and high run for the flight at 9. Youg Gull Lee (0.828) and Raye Raskin (0.649) both went 5-2 with Lee taking second on the tie-breaker total points scored. Lee also had the best game for the flight 25-8 in 22 innings (1.136) against Paul Feltman Jr. The flight average of 0.568 was the lowest for the five qualifying groups.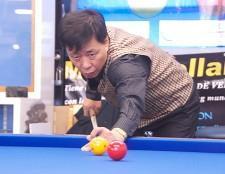 Flight C was a dog fight with no player going undefeated. Former champion Jae Hyung Cho topped the group with a 6-1 record, best average (1.191) and posted the best game against Billal Khalifa 25-6 in 11 innings to average 2.273. Three players ended with the same 5-2 record so the tie-breaker would determine who moved on. With 154 points Jose Lizarraga was 2nd and Ricardo Carranco with 152 was third. That tough loss to Cho placed Khalifa fourth with 145 points. Lizarraga had high run of 11. The flight average was 0.721.
Flight D was dominated by two-time champion Hugo Patino who went 7-0 averaging 1.277. Hugo also had the high run of 11 and best game of 25-5 against Ertan Tarhan in 9 innings averaging 2.778. Carlos Palafox was 2nd losing only to Patino to go 6-1 with a 0.905 average. The third spot went to Kyung Yim at 5-2. Flight average for group D was 0.638.
The final group E produced clear winners as well. Miguel Torres, another former champion, went undefeated 7-0 averaging 1.094 and posting high run of 9 and best game of 1.563. Carlos Alvarez was 2nd at 6-1 and a 0.778 average. Justin Lee was 3rd at 5-2 and a 0.822 average. The flight average was 0.636.
And with that 15 players moved on to the semi-finals. The semis split the players into three groups of five for round robin play in a race to 30 points. In the semi-finals the tie-breaker rule changed to highest average, so every inning and every billiard would count... and it did!
The Semi-Final Action Proved Even Tougher
Group A had two former champions Pedro Piedrabuena and Mazin Shooni. It was no surprise that Pedro went 4-0 to take the flight. He had the high run of 12 as well. But Carlos Palafox surprised Shooni as did Ricardo Carranco. Shooni ended 1-3 and was out of the tournament. Palafox at 3-1 moved on along with enjoying best game of the group at 1.579. Carranco would also advance with a 2-2 record and a 1.176 average as the best third place finisher.
Group B also had two former champions Miguel Torres and Jae Hyung Cho. It was Cho who outplayed the field this time going 4-0 and had best game of 1.875. Torres got stung by Justin Lee but at 2-2 was awarded 2nd spot with a 1.186 average. Torres did post the high run of 9 for the group. Carlos Alvarez (0.929) was third and Justin Lee (0.783) was fourth both also with 2-2 scores. But neither moved on as only the two best thirds had that privilege.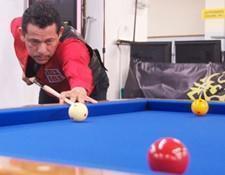 Group C was led by former champion Hugo Patino who seemed like a sure thing to move on based on his experience and performance in the prelims. But Patino had to fight for his life losing two games - one to Vicky Pineda and one to Young Gull Lee who was the 2015 second-place finisher. In fact, Lee went undefeated to win the flight at 4-0, Patino took second with a record of 2-2 and average of 1.039, and Vicky Pineda once again moved on also at 2-2 (1.028) as the last best third place finisher. Patino did have best game, but only a 1.304. Vicky Pineda had the high run of 13 which earned him half of the high run honors for the event. In fact it was Vicky Pineda's relentless march and great play that would yield even more fireworks in the final round.
The Finals Were Filled With Surprises
The eight finalists for 2016 were Jae Hyung Cho, Pedro Piedrabuena, Young Gull Lee, Carolos Palafox, Miguel Torres, Hugo Patino, Ricardo Carranco and Vicky Pineda. The finals were run as an 8-man round robin in a race to 40 points. The top four former champions in the group - Cho, Piedrabuena, Torres and Patino - all had the skills and experience to win. Young Gull Lee had made it to the finals for the second year in a row and was hoping to better his last year's second place effort. The three newcomers, Palafox, Carranco and Pineda had proven their skills in the prelims and the semi-finals, and were ready to do so once again.
With the early pairings keeping the previous champions away from meeting with each other, the match proceeded pretty much as expected. Except once again it was Vicky Pineda with a 40-22 win who sprung the early surprise, this time against Miguel Torres. At the midway point the leaders were Jae Hyung Cho 4-0, Pedro Piedrabuena 4-0, Hugo Patino 4-0 and Miguel Torres 3-1. Then things really started to heat up.
Vicky Pineda, having performed so well in the semi-finals and with an early win against Miguel Torres in the finals had one more big game to unleash. In a surprise upset Pedro Piedrabuena fell victim to Pineda 40-38 in 37 innings in their second meeting in the event. Pineda was playing a great tournament and really demonstrated his offensive and defensive skills in defeating the 8-time champion. Pineda's win put Pedro in a tough spot. He could not afford another loss.
In the next round Jae Hyung Cho met Pedro Piedrabuena in a match that saw Pedro fall behind early after Cho ran 7 followed by 13 to be the first to reach 20 and the break. But in typical fashion, and with nerves of steel, Pedro whittled away at the lead and came back to win the match 40-36 in 20 innings giving Cho his first loss. Cho's run of 13 did net him a share of the high run prize with Pineda.
The final round match-ups that would determine the championship were Miguel Torres vs Jae Hyung Cho and Hugo Patino vs Pedro Piedrabuena. Cho was in a must-win situation, having posted one loss against Pedro, he needed a win to hang in for at least a playoff match. But Miguel Torres with a run of 11 proved too strong and finished 40-31 in 26 innings (1.538) to end Cho's chance for a 2016 title.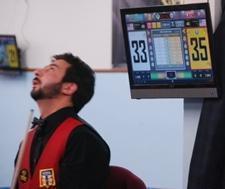 And so it was fitting that the Patino-Piedrabuena match - the final game of the event - would be the decider... and both players knew it. This was not unfamiliar territory for either player. Piedrabuena and Patino had met many times in the past. And in fact Piedrabuena had bested Patino in previous years in all their final round matches for a championship. But with courage, skill and steady nerves Patino piled on point-after-point. And with a high run of 10 took a lead he never gave back. The last three points to reach the final score of 40-33 in 21 innings (1.905) will be points Hugo will savor for many years to come. Congratulations to Hugo Patino, the 2016 USBA 3-Cushion National Champion.
The total prize fund for the event was $20,300. Here are the final results and prize payouts:
1st Place $4,000.00 Hugo Patino
2nd Place $3,000.00 Pedro Piedrabuena
3rd Place $2,000.00 Jae Hyung Cho
4th Place $1,800.00 Miguel Torres
5th Place $1,600.00 Vicky Pineda
6th Place $1,400.00 Carlos Palafox
7th Place $1,200.00 Young Gull Lee
8th Place $1,000.00 Ricardo Carranco
9th Place $800.00 Carlos Alvarez
10th Place $600.00 Justin Lee
11th Place $600.00 Jose Lizarraga
12th Place $600.00 Mazin Shooni
13th Place $500.00 Kyung Yim
14th Place $500.00 Hillario Agustin
15th Place $500.00 Raye Raskin
Best Game $100.00 Pedro Piedrabuena 2.667
High Run $100.00 Vicky Pineda & Jae Hyung Cho 13
REMINDER: All the charts, results and rankings for the entire tournament are found here: USBA Nationals Charts. And be sure to click any image in the Image Gallery below to start the slide show.
The USBA and Mazin Shooni, President wish to acknowledge the contributions and support of everyone who helped make the National Championship Tournament a success. Thanks goes out to:
Million Dollar Billiards and our gracious host Hector Ocampo
All the Staff at Million Dollar Billards: Freddy, Lourdes, Chavita, Fernando, Rudy, George Sr. & George Jr (Food guys)
Tournament Director Charles Brown and Merrill Hughes for running a great event
POVPool - Daniel Busch and Geraldine Thibodeau for a fantastic job on the Livestream
Professor-Q-Ball's National Pool & 3-Cushion News (pictures courtesy of Professor-Q-Ball)
Billizone.com - Electronic Scoring System
And the officual USBA Sponsors Tiger Products, Aramith Balls, Simonis Cloth and Verhoeven Tables
Story copyright www.3CushionBilliards.com