Third Annual Parker Hess Memorial Yields Winners in Three Divisions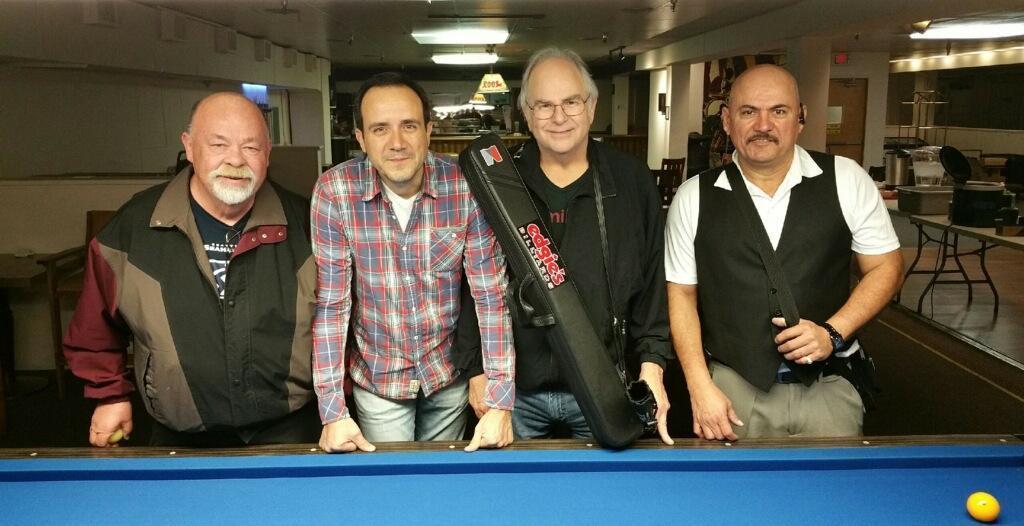 The third annual Parker Hess Memorial 3-Cushion Billiard Tournament (a USBA Endorsed event) was held at the Ashland, Oregon Elks Lodge on April 29 through May 1, 2016. Seventeen players, ranging from Edmonds, Washington to San Diego, California joined us for a great billiard event. Pictured above are the winners in the B division (L to R) Tim Poole, Ertan Tarhan, Raye Raskin, Rigo Cuevas.
The players were divided into one eight- and one nine-man round-robin flight. B, C+, and C players all played to 25 points. The exception was that when two C players played each other—in both the prelim rounds and the finals—each player started with five points on the string. (Averages for the C Finals were adjusted to reflect this, but not for the prelim rounds.) The top two finishers in each prelim flight from each of these three levels were sent to separate four-man round-robin finals flights.
In the B division finals, Ertan Tarhan from the Seattle area took first place with an impressive performance, winning all of his finals matches with a grand average of 0.843. In fact, Ertan had only lost one game in the prelims, and that was by a single point. Rigo Cuevas, an experienced player from the greater San Francisco Bay Area competing in his first Southern Oregon billiard tournament, placed second. Third place went to Raye Raskin, also from the Bay Area, and fourth place to Tim Poole from the Seattle area. The prize for the high run in the prelims went to Ertan for a run of 7.
In the C+ division finals, everyone assumed that Galen Lee, from the Bay Area, would finish first, given that he was undefeated in the prelim round, had a grand average of 0.619, and even handed Ertan Tarhan, the eventual B Division winner, his only defeat in the event. (So Galen, you can definitely say goodbye to competing as a C/C+ player ever again.) However, at the end of the final game of the tournament, John Fleming of Portland came from 7 points behind to beat Galen in the one hole, giving both players the same 2-1 win/loss record and the same number of total points. Since the third tie-breaker for this tournament was Head-to-Head, John overtook Galen for first place, leaving Galen to finish second. Third place went to Andy Dalisa, a local player who had a very strong tournament with the second best record in the C+ category in the prelims and a grand average of 0.488. Harvey Wixman from Hood River came in fourth. The high run prize went to yours truly for a run of 5 in the first game of the tournament (and unfortunately the only game in which I played decently in the entire event).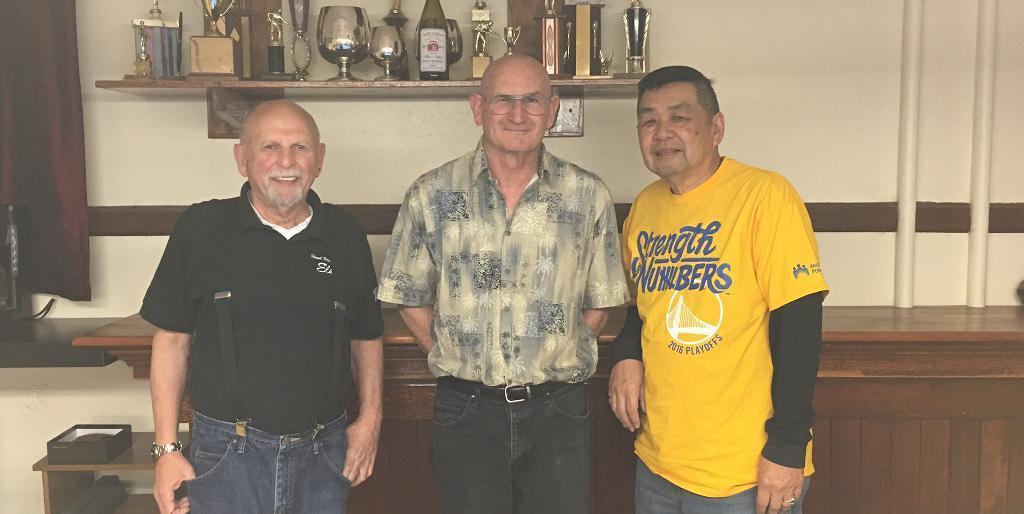 C+ Division Finalists - (L to R) Harvey Wixman, John Fleming and Galen Lee. Not pictured: Andy Dalisa
The C division finals were hotly contested, and the results were not known until the last match was completed. Bill Wood of San Diego, CA, ended up taking first place by total points, tying in win/loss record with second place finisher Victor Lee of Stockton, CA. Victor also had the high run in the C division prelim round with a run of 5. Harold Reid of Burns, Oregon was third and Ron Hopkins of Edmonds, Washington came in fourth.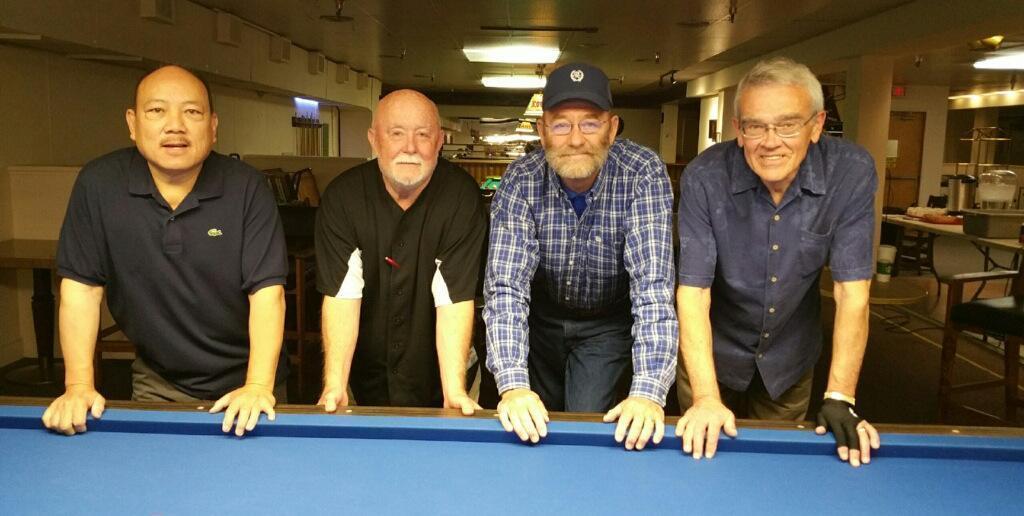 C Division Finalists - (L to R) Victor Lee, Bill Wood, Harold Reid and Ron Hopkins
For complete score sheets of all the flights and finals CLICK HERE!
I want to thank both Tommy Thomsen and Tim Poole for all their help in running the tournament desk, since we were all playing matches at the same time. Many thanks are also due to the officers and staff of the Ashland, Oregon Elks Lodge # 944 for supporting this tournament and making the lodge as comfortable as possible for all the players.
Finally, I want to thank all the participants, not only for attending, but also for being so flexible and cooperative. With 6 tables and 17 players and games all finishing at different times, it is often difficult to find two players who are both free to play on the next open table. Another complication is that our tables are in two different rooms on different floors, so just finding players when you need them is also a chore. All the players who attended made our job so much easier by staying available, letting us know where they would be hanging out, and by patiently waiting for their next game. In particular I want to thank both Ron Hopkins and Harold Reid for taking the initiative to help out with keeping the tables clean and helping to put everything back in order after the event. Overall, we had a terrific group of players, who all got along well and seemed to be having a great time. I hope to see everyone back here in the fall for the combination of our 54th annual fall team tournament and our fifth annual Marti Tracy Memorial singles tournament.
Mark Williams, Tournament Director