USBA Tour Event at Amazin Billiards Draws From New York and Boston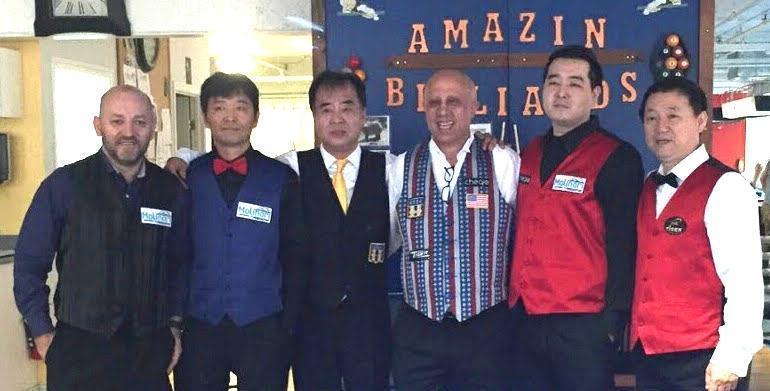 Was it Boston versus New York? Seemed so with a talented little New York constituency traveling to Boston to participate at Mazin Shooni's establishment. Fourteen players came together over the weekend of June 3rd and 4th and formed 2 flights of 7 players, played a round robin with the promise of 3 from each flight advancing to a 6 man single elimination final. There was $1000 added to the prize fund which was over $4000 with $1300 promised for the eventual winner.
A grateful group of spectators watched some fairly strong play in both the prelims and the final rounds. For example, Shooni had 3 separate runs of 10 during the prelims.
The two flights looked like this:
Flight A: Mazin Shooni, John Johnson, Sonny Cho, Joe Costa, Sang Jin Lee, Merrill Hughes and Ellis Lawrence
Flight B: Hugo Patino, Kevin Perry, Jamil Isreal, Michael Kang, Eric Kwon, Jim Shovak and Bob Ferrara
Sang Jin Lee went undefeated in flight A and advanced along with Mazin Shooni and Sonny Cho. In the B flight, Hugo Patino, Eric Kwon and Michael Kang advanced with Kang scoring a beautiful 5 and out on Jim Shovak in the final prelim match to decide who would advance. Jim challenged all the way, leading at times but had to watch from his chair as Michael, down 21 to 20 and facing an improbable make, scored and ran 5.
The matchups from there were:
Hugo Patino and Sang Jin Lee were seeded as a result of being undefeated in their respective flights and grabbed a bye. The matches played were Shooni versus Kang with Shooni emerging and Kwon versus Cho with Cho emerging.
The next round had matchups of Shooni versus Lee and Cho versus Patino. Kang and Kwon split 5th and 6th. Shooni bested Lee and Patino beat Cho to set up a final match between Mazin and Hugo. Cho and Lee split 3rd and 4th.
The final match was well played with Patino going out to an early lead and stretching the lead to 16 to 4. At that point Shooni ran a 13 (high run for tournament) and took the lead 17 to 16. His lead was short lived however as Patino continued his solid play and went on to win 30 to 21. The current National Champ, Hugo Patino had another USBA victory under his belt.
Congratulations to all the finalists and thanks to all the participants, locals of course and especially to all the New Yorkers who lit up the room with solid 3 cushion play. Thanks to Mazin Shooni and his staff for another job well done.