Houston's Thanh Vu Repeats At Goodays Open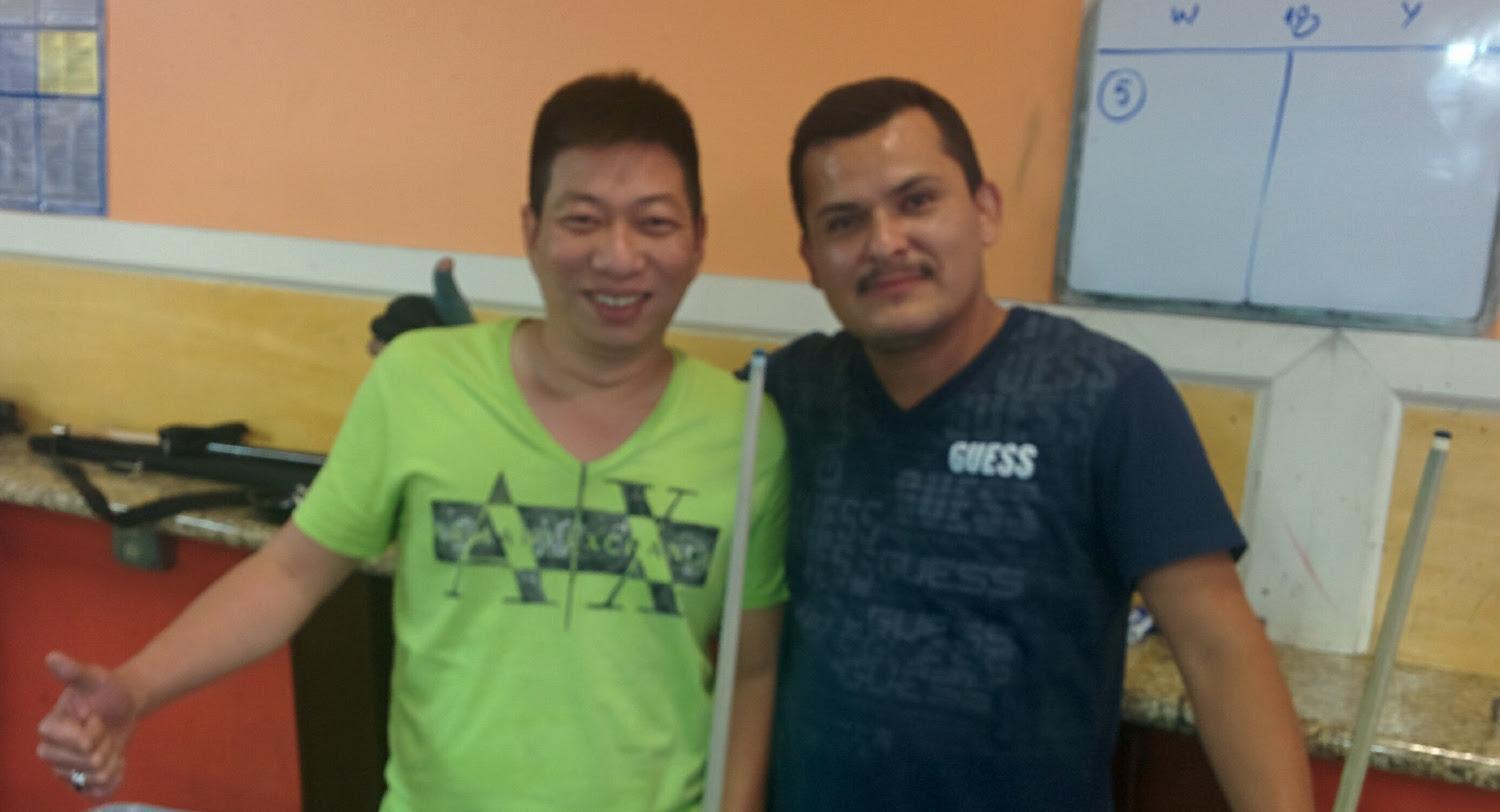 Thanh Vu won his second Open Handicapped event held at Bida Goodays on Saturday October 1st. Playing to 18 as "A" Vu beat Alex Sanchez, playing at C+. Sanchez had an interesting path to the final round as you will see in the story that follows. Pictured above are the two finalists (L to R) Thanh Vu and Alex Sanchez.
The Saturday event at Goodays Billiards drew 14 players. The handicaps were set by owner Tim Nguyen with Thanh Vu, Joel Rivera and Dung Nguyen playing to 18 as A. Vuong Nguyen, Luis Castillo and Tim Nguyen played to 16 as B+. Zeta (1st name), Minh Nguyen and Jorge Gonzales were at 15 (B). Go (1st name) played to 14 as B-. And the remainder of the field Doug Deitel, Fernando Corrales, Alex Sanchez and Vu (1st name) all played C+ to 13.
Two groups of four and two groups of three played round robin in the prelims with two from each group moving on to the finals. Thanh Vu and Minh Nguyen both won their games against Deitel so they qualified from Group 1. The same was true for Fernando and TIm who both beat Jorge in Group 2. Alex began his surprise performance in Group 3 beating Dung Nguyen and Go. Dung survived to move on as well. The final group was extremely close. Luis won all three of his games including posting the tournament high run of 8, but it was Vuong who moved on beating Joel in the last match.
The match-ups in the quarter-finals: Vuong edged out Jorge 18-16; Thanh eliminated Fernando 18-13; Minh just missed against Dung 18-17; and Tim bested Alex in their match... BUT!!! Here is where the twist came in. Due to a prior commitment, Tim had to exit the tournament and so gave his semi-final spot to his opponent Alex. And once again in the semi-final round Alex faced Dung Nguyen. In the prelim match Alex had won the game 18-7, so clearly Dung was looking for revenge. But it was not to be as Alex once again came out on top in a surprise 18-12 performance. In the other semi-final game Thanh Vu wasted no time at all in getting to 18 against Luis who was out in a brutal 18-3 loss.
In the finals Thanh Vu faced a determined and unpredictable player in Alex Sanchez. At times Alex made brilliant shots. At times his efforts were wildly inaccurate. And at times the balls just seemed to bounce his way. Thanh first caught then past Alex and looked to be on his way to victory. But at 17 he stalled and Alex had a chance to steal it all. Ultimately it was Thanh who made the last carom to take the game and first place 18-17.
The prize money and order of finish:
1st Thanh Vu $250
2nd Alex Sanchez $150
3rd Dung Nguyen $50
4th Luis Castillo $50
High Run Luis Castillo $50
Thanks to Tim Nguyen and Bida Goodays for another great event