Pedro Piedrabuena Tops at USBA Tour Open In Tucson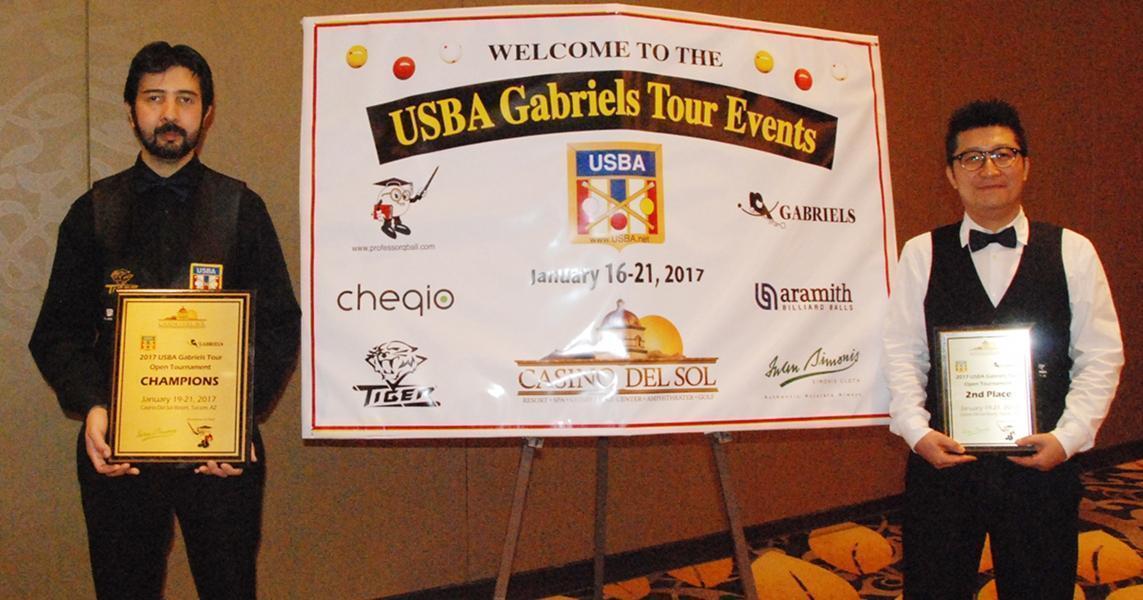 Following the successful USBA/Gabriels Tour B Tournament, the top players in the USA assembled at Casino Del Sol Resort in Tucson, Arizona for the USBA Tour Open event. Playing with his typical combination of consistent scoring and baffling defense Pedro Piedrabuena emerged victorious and was crowned the winner of the first USBA/Gabriels Tour Open Tournament. Pictured above Pedro Piedrabuena (L) and Mike Kim (R) who was second. Events will continue at Casino Del Sol under a 3-year sponsorship agreement.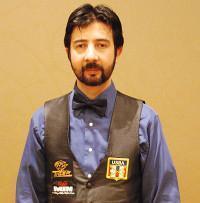 Forty players, including Piedrabuena who was joined by current USBA and Pan-American Champion Hugo Patino, and former Champions Mazin Shooni and Sonny Cho were readied for three days of 3-cushion battle. The event ran from January 19-21 and was Live-Streamed courtesy of POVPool.com.
When the USBA A players assemble for an event you just know the fireworks are about to start. And from the first day the results were no disappointment to the players or the fans. In spite of the "newness" of the tables, the A players showed their skill and talent with some truly excellent billiards.
The format of the event followed the B tournament that had just completed. The players were divided into eight groups of five playing round robin (this time to 25 points.) Two players from each group advance to the single elimination 16-player final round playing to 30 points.
The leaders for best game and high run occurred in the qualification rounds:
Best Game: Mazin Shooni 25 in 11 innings 2.273 average
High Run: Vicky Pineda 14
In the Round of 16 the biggest upset was Gilbert Najm who notched his second win against USBA Champion Hugo Patino. In the Qualification round, Gilbert beat Hugo 25-20 in 22 innings (1.326 average.) Nonetheless both players advanced from their group to the single elimination finals. As fate would have it they met again in the very first round. Patino was looking to avenge his one loss and was first to reach 29 in a 30-point game when he ended his last run. Najm was at 24 and it looked like he would fall victim to Hugo's plan. But with determination Gilbert ran 3 while Hugo missed his next try. Then Gilbert added one more and again Hugo missed. With the score 29-28 (Patino leading) Najm closed it out making two tough shots and miraculously won again, this time eliminating the USBA and Pan-American Champion from the event.
Mike Kim, an unfamiliar name to some, made it to the ultimate round where he faced Piedrabuena. Although he came up short this time we expect to see a lot more of Mr. Kim in future USBA events.
Finals Best Game: Pedro Piedrabuena 30-13 in 16 innings (1.875 average)
Finals High Run: Pedro Piedrabuena 9
Congrtaulations to Pedro Piedrabuena on another fine win in USBA competition.
Official Results Charts & Pictures - USBA Tour Open Tournament