Goodays Open Handicap Event Returns in Houston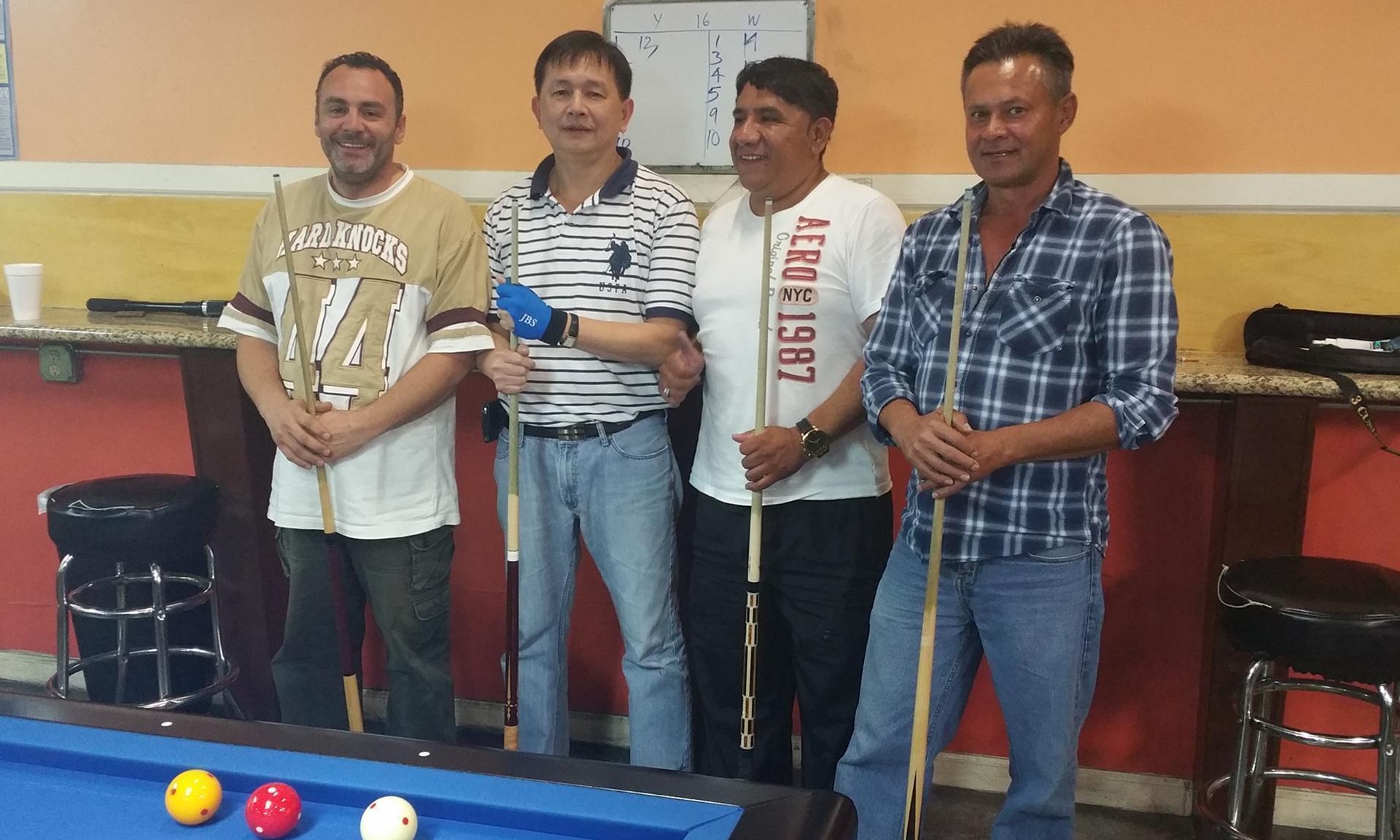 Once again Goodays Bida in Houston Texas sponsored an open handicapped tournament held on Saturday, March 11. An eager group of 16 players assembled for the one day event that boasted a $300 prize to the winner along with an HP Laptop Computer as a bonus. The event was won by Sergio Salazar playing as a B handicap. Tim Nguyen our host and tournament director was second. Everyone is already looking forward to the next event. (Pictured above from L to R are the final four: Ahmet, Tim, Sergio and Fernando)
Tim Nguyen and his brother Eric run one of the most player friendly billiard rooms in Houston. And to add icing on the cake, the Nguyen brothers are the only supporters of regular tournament play in the city. The most recent event no doubt continues that tradition as 16 players assembled for a one-day open handicapped tournament. The format was similar to that in past events. Four groups of four played in round robin for the preliminaries with two from each group moving on to the finals. The finals were played in an 8-man single elimination knock-out format.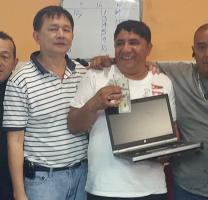 In addition to the prize money of $300 to first, $200 to second and $50 each to third and fourth the players also vied for a couple of exciting bonus prizes. Jay Karahan donated $100 to be awarded to the high run of 7 or more. And Tim Nguyen donated an HP Laptop computer to be awarded to the tournament winner. As it turned out no one could string together a run of 7 or more. Tim Nguyen managed a six while Doug Deitel managed only a 5. Maybe next time for the big money. But the laptop of course went to the winner Sergio Salazar standing next to Tim Nquyen in the picture.
All of the matches were hard fought and but for a few exceptions the handicaps assigned were an accurate reflection of the players' abilities. Unfortunately, even though the tournament play is picking up here in Houston, the players do not have the good habit of keeping averages, so the art of selecting the right numbers is a bit of folklore and guesswork. One thing is certain: Fernando, who came in tied for 3rd/4th has spent his last days as a C player!
Lunch was served to all the players and most stayed throughout the day to watch the final outcome. In addition, many friends of the players joined in the festivities as spectators and cheerleaders, making for a raucous day of good billiards, good food... and of course good beer!
Keep your eye on the tournament calendar and follow @3CBilliards on twitter to stay on top of all the tournament play around the country and especially the next event at Bida Goodays in Houston.