USBA Announces Largest Prize Fund for 2018 National Championship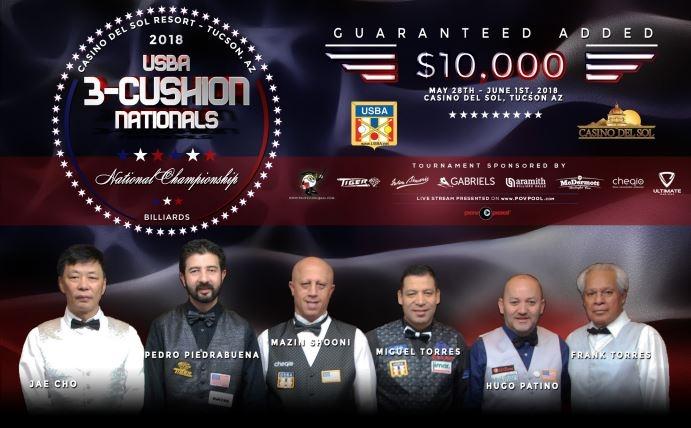 The United States Billiard Association presents the 2018 USBA 3-Cushion National Championship. This year's event promises to be the best US tournament the billiard world has ever seen. Start with the $10,000 guaranteed additional money added to the tournament yielding the largest prize fund in USBA history! Add the fabulous Casino Del Sol Resort in Tucson, Arizona who will once again host this magnificent event. Add the many additional events planned, including race to 5 mini tournaments with even more prize money to be won, and you have the makings of an exceptional 3-cushion billiard experience for all.
With the tournament open to the first 45 players to send in their entry, the best players in the nation are guaranteed to come out to battle for the title of National Champion! Expect previous champions including 8-time National title holder, Pedro Piedrabuena, 2016 champion, Hugo Patino, 2006 champion, Mazin Shooni, 2008 winner, Miguel Torres and many more of the nation's best to showcase their talent at this year's championship tournament.
Interested in playing? Here are the tournament details:
Dates: May 28th – June 1st, 2018
Location: Casino Del Sol Resort (5655 W Valencia Rd. Tucson, AZ 85757)
Special Room Rate: Available until May 15th Call NOW! 1-855-765-7829 (Use Promo Code: USBA)
Entry: $500 entry fee / If you played in a qualifier $300 entry fee / All Former Champions are already entered. If you would like to enter, please make check payable to "USBA" and send to:
USBA c/o Andrew Jaquinto
401 Washington Avenue Ste 900
Towson, MD 21204
The 2018 USBA National Championship will start off the week with a BANG!
The player's meeting and draw will begin at 8:00pm on Sunday, May 27th. While our tournament director, Dale Saunders, is putting together the flights and schedule, the USBA will have a "Race to 5 Points MINI-Tournament" with $370 added! Entry fee for the mini-tournament will be $40/player and open to 32 players. If the tournament fills up with 32 willing players and a purse of $1,650, the pay-outs would be as follows:
1st place - $500
2nd place - $350
3rd place - $250
4th place - $150
5th - 8th place - $100/each
Bright and Early...
Tournament Play begins Monday, May 28th, 2018 9:00am
All Players must be dressed to (dress code) standard in the tournament room at 8:45am for photographs and to give respect to our National Anthem.
Qualifier Rounds Format (Monday – Thursday)
Matches begin at 9:00am each morning
Race to 25
Round Robin - 5 Flights of 9 Players
Each player will play 2 matches a day (36 matches/day, 180 matches total)
The tournament director will do his best to rotate all players to play on all tables, however due to scheduling, it may not be possible.
Who Qualifies to move on to the Final Rounds?
Top 3 Players from each Flight, plus the next top 4th place player of the entire field based on 1) total wins, 2) points scored, 3) points against 4) best average.
Final Rounds (Friday, June 1st at 9:00am)
Don't miss the excitement of the FINAL 16 players! All 16 players are in the money...the further they go, the more money they receive
Race to 35
Final 16 in a Single – Elimination Seeded Bracket (20 matches)
All matches to be played out to determine place and pay-out
Shortly after the Final match is completed and we have our 2018 champion, Mazin Shooni, USBA president, will be hosting the awards ceremony and raffle!
RACE TO 5 MINI-TOURNAMENTS EVERY NIGHT!
Two 16-player single elimination tournaments each night; first player to 5 points advances. Entry per tournament is $25/each player. $100 added to each tournament, to make a $500 pot (with a full field of 16).
1st place - $300
2nd place - $150
3rd place - $25
4th place - $25
For more information or if you have questions, please contact Mazin Shooni (248) 910-4466 or This email address is being protected from spambots. You need JavaScript enabled to view it..