Lupe Cruz Wins Fourth Rushville Title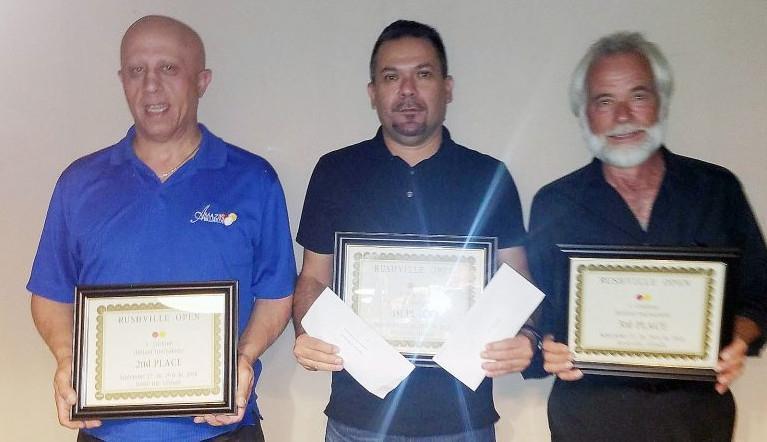 Lupe Cruz was the first repeat winner at the Professor-Q-Ball Rushville Tournament back in 2016, was the winner again in 2017, and continues his winning ways with a victory in the 2018 Fall Classic event. Pictured above (L to R): Mazin Shooni (2nd), Lupe Cruz (1st) and George Ashby (3rd).
September 27, 2018 at 2:00 p.m. 32 Players again converged on Rushville, Illinois (Pop. 3,100) for the Fall Edition of the semi‐annual Professor‐Q‐Ball Sponsored 3‐Cushion Billiard Tournament. Players originating from Illinois, Wisconsin, Minnesota, Iowa, Tennessee, Missouri, Nebraska, Michigan, Massachusetts and Florida came to do battle on six 5' x 10' pocketless monoliths. All with visions of taking home a part of the $4,700 prize money.
The four brackets of 8 players generated several exciting matches and higher than typical averages. Which seems to indicate the overall skill level of the 3‐Cushion players in the general Midwest area is on the rise. Two former National Champions, Mazin Shooni and George Ashby (Tournament Host) were seeded along with Lupe Cruz and Fred Lamers. All four seeds were previous winners of this event and Cruz was the incumbent entering this competition.
After the preliminary rounds the eight finalists met in final round robin to the determine the champion. The chart tells the whole story: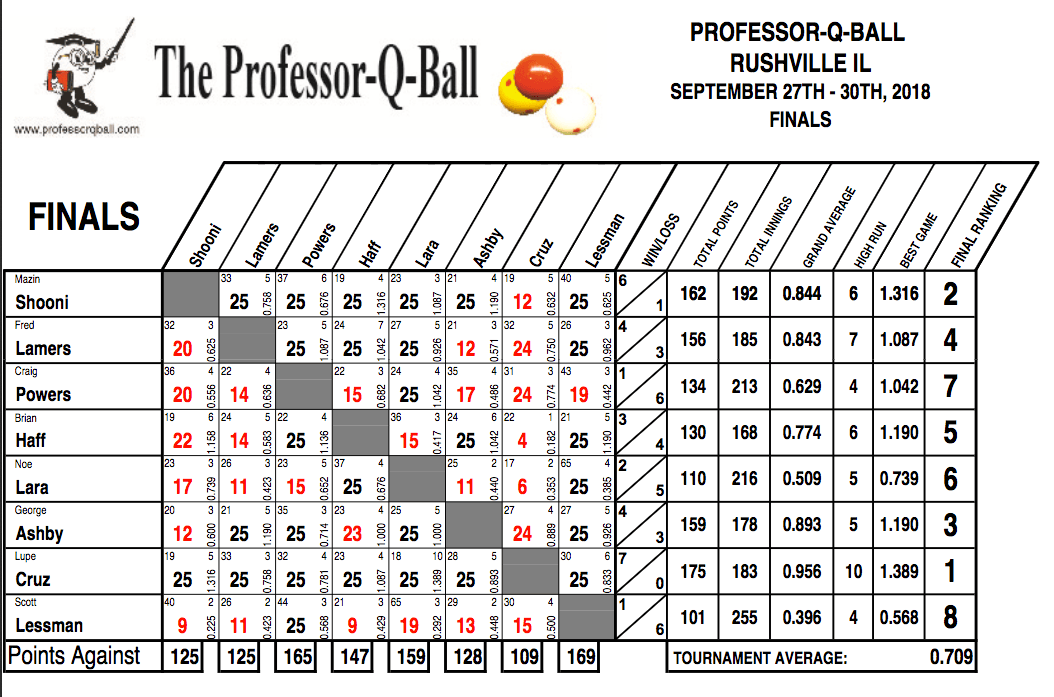 PROFESSOR-Q-BALL RUSHVILLE-FALL 2018 PRIZE PAYOUT
1 $1,100 Lupe Cruz
2 $875 Mazin Shooni
3 $700 George Ashby
4 $550 Fred Lamers
5 $450 Brian Haff
6 $350 Noe Lara
7 $250 Craig Powers
8 $175 Scott Lessman
9 $125 Olegario Gonzales
10 $125 Joe DeAmato
Also High Run of 10 in the money Lupe Cruz
SPECIAL THANKS to Tournament Co‐Director Dale Saunders for his technical expertise and hard work before and during the event. Dale created the schedule and kept the schedule "on‐schedule" or ahead of schedule all while keeping the stats and brackets up to date in‐house and on‐line.
Sponsors play a Big Part in the on‐going success of the Rushville events. Our Thanks and Gratitude for this event go to Paul Frankel and Professor‐Q‐Ball Publications, Noel Mendoza and Schuler Cues by Noel Mendoza ($500.00 Cue donation generated over $700.00 to the prize fund). Thanks too to The Moose Lodge of Rushville, Los Charros Mexican Restaurant, Tim Mumma, Mickey Campbell and the USBA Match Program for their cash contributions to the prize fund.
Last but not least, our APPRECIATION cannot be adequately stated for the generosity of our Friend and Master Cue Builder, the late Dennis Dieckman. As you may not know Dennis passed away recently to the chagrin of entire Billiard Community. He will be missed. For the third time Dennis provided $500.00 to the Rushville event. Not for the prize fund but to sponsor a communal event with food and drinks for all the tournament players. In this case we all assembled for Friday night dinner at The Moose Lodge of Rushville. Thank You Dennis!