48 Players to Meet In the 2015 World Championship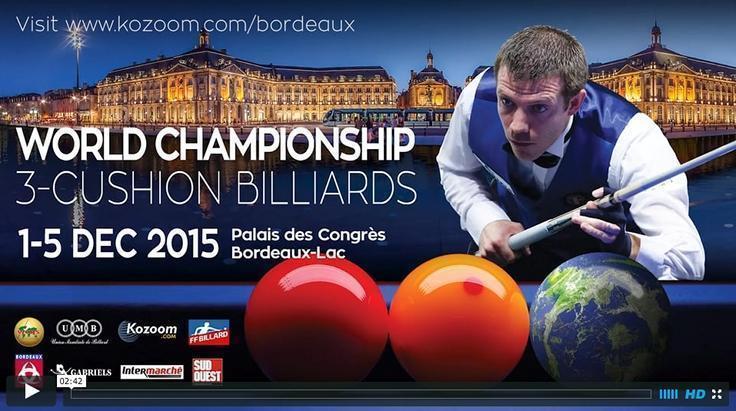 The biggest 3-Cushion Billiards event of 2015, the 68th World Championship, comes to the city of Bordeaux, France December 1-5. The UMB has announced the 48 players inscribed into the event as well as the sixteen 3-man groups for the Qualification round.
Sung-Won Choi the reigning 2014 World Champion is joined by 47 players from the four regions representing 24 countries. Korea from the Asian Confederation has by far the largest contingent, fielding 7 players followed by Belgium from the European Confederation with 4. Along with Choi there are eight more former World Champions who return for another shot at the coveted title: Torbjorn Blomdahl, Dani Snachez, Dick Jaspers, Eddy Merckx, Marco Zanetti, Frederic Caudron, Ryuuji Umeda and Semih Sayginer. Sayginer joins the group by way of one of two wildcard entries offered to the Organizing Federation, the other being Jean Riverchon of France.
This year Pedro Piedrabuena of the USA (Group P) competes for the first time as a ranking player. He is joined by USA's Miguel Torres (Group L) who is one of eight players nominated by the Pan American Confederation.
Here is the complete list and Qualification groups:
Group A: CHOI Sung-Won (KR), ARAI Tatsuo (JP), KIM Jae Guen (KR)
Group B: BLOMDAHL Torbjorn (SE), EL MESSERY Ihab (EG), REVERCHON Jean (FR)
Group C: MERCKX Eddy (BE), AVEIGA Luis (EC), SAYGINER Semih (TR)
Group D: JASPERS Dick (NL), KIM Hyung Kon (KR), UMEDA Ryuuj (JP)
Group E: TASDEMIR Tayfun (TR), KAHOFER Arnim (AT), BEHZAT Cetin (CH)
Groiup F: S
ANCHEZ Daniel (ES),
RUDOLPH Christian (DE), ALES Jan (CZ)
Group G: ZANETTI Marco (IT), MA Xuan Cuong (VN), VAN ERP Jean (NL)
Group H: CAUDRON Frédéric (BE), CATANO Huberney (CO), CHRISTOFOROU Christakis (CY)
Group I: CHO Jae Ho (KR), POLYCHRONOPOULOS Nikos (GR), LIZARAZO Andres (CO)
Group J: HWANG Hyung Bum (KR), LEGAZPI Ruben (ES), SISTERNA Juan Pablo (AR)
Group K: HEO Jung Han (KR), DUONG Anh Vu (VN), NILSSON Michael (SE)
Group L: FORTHOMME Roland (BE), NADY Riad (EG), TORRES Miguel (US)
Group M: SIDHOM Sameh (EG),
LEPPENS Eddy (BE), BARDALES Cayo (PE)
Group N: DE BRUIJN Jean Paul (NL), YÜKSEL Adnan (TR), NELIN Dion (DK)
Group O: KANG Dong Koong (KR), BURY Jérémy (FR), TEVEZ Christopher (PE)
Group P: TRAN Quyet Chien (VN), PIEDRABUENA Pedro (US), TELLEZ Erick (CR)
The event takes place at the Palais des Congres in the beautiful city of Bordaux and is hosted by Kozoom Multimedia Company. Bordeaux is slated to host the championship again in 2016.