Torbjorn Blomdahl Wins 2015 UMB World Championship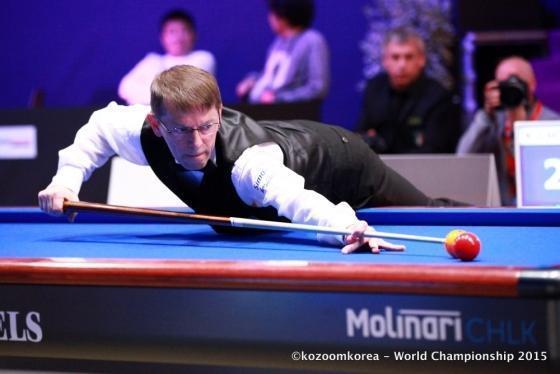 Bordeaux, France - December 5, 2015. Torbjorn Blomdahl of Sweden defeats Dong-Koong Kang of South Korea to win the 2015 UMB World Championship. This was Bomdahl's fifth title including match wins in 1987 & 1997 and having been the World Cup player of the year in 1988 and 1991. His return to the top cements his reputation as the greatest player of his generation.
When Bert Van Manen published his highly acclaimed book The Blomdahl Era (link here) he may not have known, but surely could have anticipated that Torbjorn Blomdahl would continue to add to his already impressive resume as one of the greatest 3-cushion players of all time. It was 18 years ago that Blomdahl last stood atop the podium as 3-cushion champion of the world. That is the longest period between a champion repeating in the history of the event. For Blomdahl the intervening years have nevertheless been filled with more accomplishments, victories and records than any active player. Here are some highlights from his career:
Five time World Champion
Winner of 43 World Cup Tournaments
Winner of 11 World Cup Titles
Best average in a World Cup Event 2.739 (recently equaled by Sanchez)
Nine time European Champion
Four time Swedish National Champion
And now, in 2015 and for the fifth time Torbjorn Blomdahl is the World 3-Cushion Champion. We here at 3-Cushion Billiards say fifth time even though there may be some dispute whether Blomdahl was a two-time world champion or a four-time world champion coming in to the tournament held this year in Bordeaux France. A final note about the history of the world championship and the uncertainties, competition and in-fighting between organizations will explain.
Some twenty-five years ago, a dispute erupted between the UMB and BWA (Billiards World Cup Association). two competing organizations. As a result, the UMB decided not to organize the world championship tournament between 1988-1991. And so the overall winner of the World Cup series of tournaments held in those years was recognized (by some) as the world champion. And in two of those years that winner was Torbjorn Blomdahl, which is why we credit him with four previous championships, not two. The one thing that is certain today and is not in dispute - Blomdahl is once again on top of the world.