Final World Cup for 2015 in Hurghada Egypt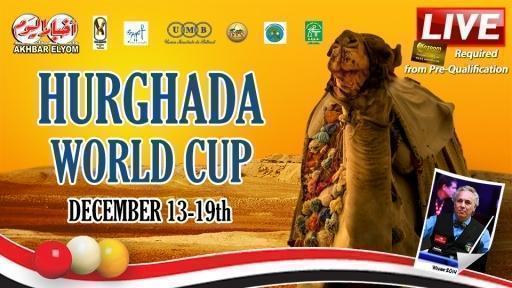 The final World Cup tournament of 2015 will start Sunday, December 13 in Hurghada, Egypt. The event will determine the overall winner of the world cup series for the year. The Hurghahda World Cup has attracted a field of 149 players all determined to gain as many ranking points as they can in the last UMB event of 2015.
Overall World Cup Winner to Challenge in Super Cup
The overall world cup winner earns the right to challenge the new World Champion Torjborn Blomdahl in the Super Cup organized by Ludo Dielis which will be held in Antwerp Belgiuim on March 5, 2016. The current ranking for the year shows four players near the top, all who have a shot at the crown (Player, country, world cup points):
Dani Sanchez (Spain) - 208
Dick Jaspers (Netherlands) - 202
Torbjorn Blomdahl (Sweden) - 196
Tayfun Tasdemir (Turkey) - 174
Through qualification rounds, 15 of the 149 players will eventually join twelve seeded players and five wildcard players in the 32-man single elimination main tournament. Unfortunately, two of the best Korean players had to cancel their appearance this year. Dong-Koong Kang, winner of the LG U+ tournament and second in the Bordaeaux World Championship, and four-time Junior Champion Haeng-Jik Kim. Some event changes have resulted.
Top 12 Ranked Players & Wildcards Seeded in Main Event
With the player's cancellations, this year 16 qualifiers will move up to the main event. The official list of the twelve seeded players still includes Kim who will not play. His spot will be filled by one more player from the qualification rounds.
Torbjorn Blomdahl (Sweden)
Eddy Merckx (Belgium)
Dick Jaspers (Netherlands)
Tayfun Tasdemir (Turkey)
Dani Sánchez (Spain)
Sung-Won Choi (Korea)
Marco Zanetti (Italy)
Frederic Caudron (Belgium)
Jae-Ho Cho (Korea)
Hyung-Bum Hwang (Korea)
Haeng-Jik Kim (Korea) *** WILL NOT PLAY - CANCELLED ***
Jung-Han Heo (Korea)
The wildcard players and their federation sponsors are:
Choong-Bok Lee (Korea), ACBC
Roland Forthomme (Belgium), CEB
Jose Juan Garcia (Colombia), CPB
Sameh Sidhom (Egypt), ACC
Mohsen Fouda (Egypt), ACC
The first rounds start on Sunday, December 13th at 11:00. Kozoom will be streaming the event live to members. Early rounds are free so check out the excitement!